Pastor-scholar Mitch Kim '96, M.A. '06, Ph.D. '10, on the church's call to show 'unity' to the world and to 'never waste a crisis.'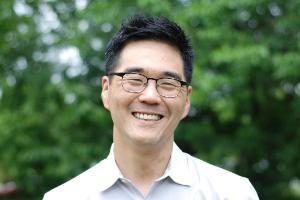 As senior pastor of Wellspring Alliance Church in Warrenville, Illinois, Dr. Mitch Kim's job falls into three main buckets: Preaching, leading, and pastoring. When COVID19 forced churches to close across America for months, these three categories remained constant--as did the church's call to serve its congregants and communities with increased intentionality.
"COVID19 is forcing our hand to be more missional in our outlook," Pastor Mitch says. "It's causing us to ask important and critical questions."
One phrase that has stuck with Pastor Mitch during COVID19 is to "never waste a crisis."
"Nobody taught me in seminary about how to lead through a pandemic and how to lead a church when nobody can come to church," Pastor Mitch said. "But Wheaton taught me to think critically and constructively about problems in our world. Though problems may change, tools for critical engagement remain the same."
Pastor Mitch noted that his academic preparation at Wheaton equipped him for his career by teaching him how to think critically and engage differing perspectives. As a philosophy major during his undergraduate years at Wheaton, Pastor Mitch named Dr. Arthur Holmes '50, M.A. '52, as a professor and mentor key to this process.
"He taught me that all truth is God's truth, no matter where it might be found," Pastor Mitch said. "So we don't just listen to our preferred sources of information, but we critically engage all sources under the authority of God's Word in order to see all truth."
Pastor Mitch noted that, in addition to exposing what he calls our "illusion of control" and "addiction to excitement," COVID19 has disproportionately affected impoverished communities of color throughout the country--something the church "can't turn a blind eye toward."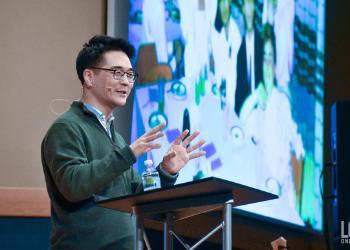 "COVID19 has highlighted the political, racial, and socioeconomic fissures and divisions of our nation significantly," Pastor Mitch said. "The question in my mind is, 'Lord, how can a church united heal a nation divided?'"
Part of the solution, Pastor Mitch says, is to leverage opportunities to ask thoughtful questions and to create spaces for congregants to listen to each other--especially when they disagree--because of their mutual love and respect for one another.
"I want our relational capital to be strong enough to handle any division that we might face, and that we could respect one another enough to genuinely listen and to hear each other," Pastor Mitch said. "Such conversations are scary, but God's grace is sufficient for us, and his power is made perfect in our weakness. So, as our weaknesses are exposed, his grace and glory can shine all the more."
In light of unique challenges COVID19 poses to church congregations and communities nationwide, Pastor Mitch noted there are two main opportunities for church and ministry leaders: First, to attempt to deepen discipleship efforts through creation and cultivation of home groups; Second, for the church to bring unity, healing, and restoration in a world where divisions are being exposed.
"So much of leadership is feeling the pain and hurt of others," Pastor Mitch said. "I don't think the answer in a time of division is, 'Here, I have the right answer, listen to me.' I think we have to be good listeners."
Pastor Mitch noted that, in his church, there are both Republicans and Democrats. There are also congregants who subscribe to The New York Times, and those who listen to Fox News. In the midst of these potentially polarized and divisive worldviews, Pastor Mitch prays that we might " live in such harmony with one another, in accord with Christ Jesus, that together [we] may with one voice glorify the God and Father of our Lord Jesus Christ (Romans 15:5–6).
As we face the future and COVID19 stretches on and things in America in particular begin to feel exhausting, Pastor Mitch has been strengthened also by the promise of Galatians 6:9--"Let us not become weary in doing good, for at the proper time we will reap a harvest if we do not give up."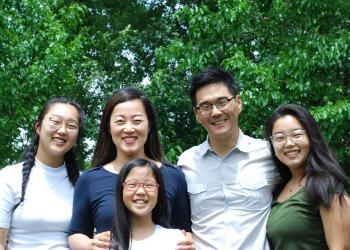 One tangible way Pastor Mitch has "gone deeper" during this season is by pursuing times of solitude before the Lord in addition to spending quality time with his wife, Eunsil; and daughters Elise, Ana, and Eden. He encourages his congregants to join, serve, and grow with a home group, as he hopes home groups become Wellspring's primary arena for discipleship as well as a mission for people to figure out how to reach people in their communities for Christ.
"It's critical for us to persevere," Pastor Mitch said. "This crisis should not be wasted. God is inviting us to delve more deeply into the riches of His overflowing grace, to see another facet of His glory, and to share that to the people who are around us." --Allison Althoff Steinke '11