Professor Noah Toly has received a grant from the Council for Christian Colleges and Universities.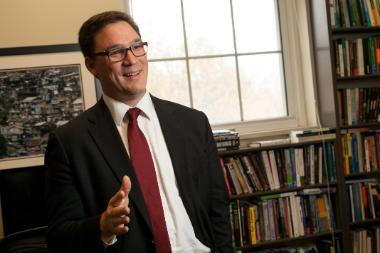 "In some ways, [this grant] was a collaboration waiting to happen," said Noah Toly, Professor of Urban Studies as well as Politics and International Relations, Director of the Center for Urban Engagement, and Director of Wheaton College's Aequitas Program.
Toly is one of a group of co-principal investigators who were awarded a three-year networking grant from the Council for Christian Colleges and Universities (CCCU). The CCCU is a higher education association with the mission of advancing the voice and purpose of Christ-centered institutions around the globe. One of the requirements of the networking grant is that the recipient be a CCCU institution that works closely with faculty from other schools in an effort to expand the reach and voice of the grant.
The $30,000 grant will allow Toly and the rest of the team to discuss the future of liberal arts. Their research is titled, "Between Pandemic and Protest: Exploring the Future of the Liberal Arts in Higher Education."
"This conversation they're into in terms of the purpose of liberal arts—how do liberal arts colleges work well? What has been their traditional tools and do they still make sense? Can they be adapted? Or what are some of the principles behind them that could be adapted to new situations?—we need to rethink the reason behind doing a certain approach," said Stan Rosenberg, who was part of the deciding committee for the grant as the Vice President of Research and Scholarship for Council for Christian Colleges and Universities. "[Their grant] is timely, it's significant, and it has the potential for some significant impact. I'm really pleased. It was a grant proposal that made tremendous sense to our committee."
Toly will be working alongside faculty from Spring Arbor University, Valparaiso University, Calvin University, the University of Dallas, Baylor University, and Harvey Mudd College. "These folks were chosen to represent a still broader group of collaborators from a variety of disciplines at several different institutions," explained Toly.
The grant will be used to fund, encourage, and stimulate conversations between people in a variety of fields from a range of institutions, from Christian higher education to secular schools, asking for their thoughts and questions about liberal arts.
The first phase of the project is getting the conversation started through a series of interviews. There are four distinct "channels" that the group is looking at: definitional, formational, institutional, and liberation-related questions. As the name suggestions, definitional questions will be related to how people define liberal arts, whether that's in relation to higher education or not. An example of a formational question would be "What are the practices and pedagogies of liberal arts education, and what hallmarks of those should we highlight and repeat so that we can develop certain habits or virtues in our students?" said Toly. Institutional questions look at what "healthy homes" are for the liberal arts—where does this way of learning thrive best? And finally, the liberation-related questions stem from the idea of what liberal arts liberates one from. "From what and for what does liberal arts free us, and how can we answer that question as part of our case for the liberal arts in the 21st century?" said Toly.
The individuals being interviewed as part of the first phase of this project could be anyone from institutional leaders, such as provosts and presidents, to principals of K-12 education to non-liberal arts colleges who are looking to incorporate the "ethos and identity" of the liberal arts.
As a co-leader of the institutional channel of interviewing, Toly's first interviewee is Wheaton's own: Provost Karen Lee.
"In a season when challenges like a global pandemic, an economic downturn, and social unrest have intensified the challenges faced by higher education, Christian intellectuals have a great opportunity to engage questions about the future of higher education in a thoughtful, faith-based community of inquiry that will culminate in print and digital media records for posterity. History will look back upon this moment and learn from the choices we faced, the problems we solved, and the decisions we made," said Lee.
The second phase of the group's grant will be sharing all the interviews via a website, followed by a conference next summer, and finally culminating a written product, such as a book.
"We're not only concerned with how liberal arts intersects with or is embedded in higher education. We're actually interested in all the ways in which we see liberal arts as relevant to our lives and how we can understand liberal arts in other contexts," said Toly.
The liberal arts way of learning doesn't only apply to higher education. Toly hopes that the outcome of the team's conversations and the work that this grant will fund is a handful of products that individuals from any level of education (whether that's higher education or homeschooling, a church or K-12 educators) will benefit from.
"And if people are sitting around thinking to themselves that we don't have time for liberal arts, we have a pandemic on our hands. We have racial injustice and protests on our hands," said Toly. "I think the question for us is how do we make the case that the liberal arts is a very good preparation for engaging just those issues."
– Alexandra Shimalla