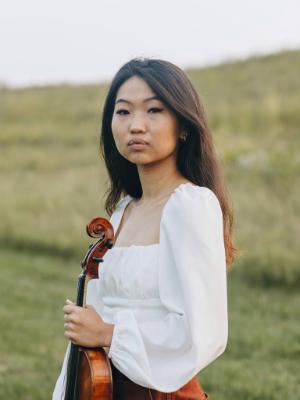 "I felt really out of my element and scared going into Wheaton," Allison Chang '21 remembers. She was the only incoming viola major that year, and on paper, she had less technical or formal music training than other new Conservatory students. She describes her freshman self as being "the small, scared performer who couldn't play in front of Studio Class because I thought I wasn't good enough."
However, she quickly found friends and mentors who encouraged and challenged her to grow as a person and as a performer. She's especially grateful to Guest Lecturer (viola) Rose Griffin, with whom Chang has studied since freshman year.
"Mrs. Griffin is a big part of why I am a lot more confident as a performer, as a woman musician, and as a person in general," she says. "She said I'm someone who knows how to constantly improve. But she said that comes with the danger of overanalyzing and getting stuck in your head, criticizing yourself instead of letting things be moments of growth."
Chang also looked up to violists Emily Gilman '19 and Emily Pacchioli '19, who were co-section leaders for the Symphony Orchestra's viola section at the time. "They really did such a great job at showing me how to manage time and how to perform well . . . I wanted to be a leader like them," Chang says, and from them, she learned a lot about what it means to be a Christian musician.
"Previous to my Wheaton experience, I had always thought that a performer is someone super flashy, who is always very confident—very much like 'I am the best' and 'I'm going to play for you and you will listen to me,'" she says. "And I mean, I still agree with some of that, but I realized that there's a sense of showing vulnerability when you play that makes you a good performer because that allows you to connect with the audience and the people that you're performing for."
With Mrs. Griffin's encouragement and training, Chang competed in Wheaton's annual Conservatory Concerto Competition during her sophomore year. The endeavor seemed daunting at first. "I spent a lot of time freaking out and not really knowing how best to prepare myself for something that felt so big to me," she admitted. "But it was a really important moment for me, as I was able to stand on the stage, memorize my piece, play the whole thing with my eyes closed, and feel proud of what I did."
Junior year, Chang found she was able to take a few steps back and think more deeply about how far she'd come since freshman year, as well as where she saw her faith intersecting with the art of music. Performing in the 2019 Christmas Festival was one such opportunity. "It was a really cool moment to see how many people were more open to listening to what God could do for them in their lives—even if they weren't Christians—when it came in the form of music," Chang reflects. "During Christmas Festival, the preparation season is killer for all the [performers] and faculty. But the fact that everyone was taking time and feeling rest through the music—that was crazy to me."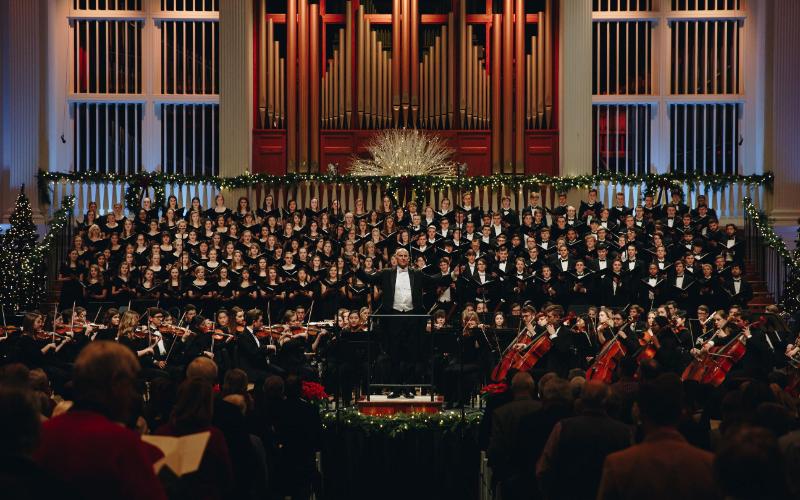 Now, serving as the section leader for the viola in one of two orchestras, Chang finds that she's able to offer the same kinds of guidance and hospitality that she received as a new student. In addition to building relationships with the violists, Chang leads sectional rehearsals, assigns bowings, and reports directly to Mrs. Griffin and the conductor, Professor of Music Daniel Sommerville.
"I really try my best to reflect on what I've learned from Mrs. Griffin and the two Emily's on how to not only run the section, but to be communicative about changes happening and to be welcoming to people," Chang said. "And I love that the viola section has always been a family. There's not really this weird sense of competition between anyone."
Most recently, Chang performed her senior recital to a group of 20 in-person guests. The recital was live-streamed for others, but Chang said the small, intimate setting helped ease some of her anxieties about performing. "These people are here because I invited them and because they support me and want to listen," she remembers thinking. "I can just make this music in this space with them, and it will live here."
Chang describes music as an offering, a theme she has reflected on over the past year as she approaches graduation. "Music is one of the most accessible and clearest ways that we can give back to the community and to God for what He has done for us, as well as it just being a beautiful way of self-expression and creativity and demonstrating vulnerability and openness with others."
"It's a means of not needing to 'say' something all the time," she adds. Sometimes you can just use what you're given . . . and that is enough."
—Eliana Chow