Wheaton College's gap year program at HoneyRock ushered in its largest cohort yet this month.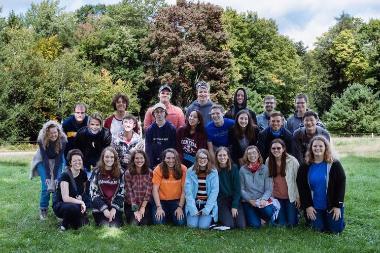 If you drive roughly 360 miles north of Wheaton College's main campus outside Chicago, IL, you'll end up in the north woods of Wisconsin. Nestled in its own bubble of wilderness is HoneyRock, Wheaton's Outdoor Center for Leadership Development.
Each year, this remote center welcomes summer campers, fellows, graduate students, and Vanguards.
The Vanguard Gap Year Program launched in 2015 with a cohort of 12 students. Through a combination of dedicated growth and the unexpected influence of COVID-19, the program saw an influx of applicants over the summer, resulting in an incoming class of 25 students, the largest the program has ever seen.
Vanguard is a Christian gap year in an outdoor environment, where students are able to earn eight hours of college credit. They also go on trips (camping, international travel, and an urban immersion experience in a local community) and participate in three six-week work rotations while growing in their faith. As Olivia Cassel '18, a Vanguard Program Coordinator and graduate student, explains: "They spend six weeks learning real skills—anything from how to train horses to how to weld to how to serve food to 50 people to how management works."
Some students may join the program to get clarity on what they want to study in college or to uncover their passions and skills. "Vanguards want to do something different for a year that is purposeful and growth-oriented, but not in a traditional academic context," says Charlie Goeke '08 '13MA, Vanguard's Program Director. "The idea of growing at a place like HoneyRock in the North woods and in an intentional community with the outdoor context in this non-traditional classroom environment is appealing for students."
Other students join because they've deferred from Wheaton College (or another school) for a year and want the experience that Vanguard provides. That's what Sarah Lambert did. She needed an academic break before starting another four years. "I had never explicitly sought out a gap year program," says Lambert '20, who was part of the program's first cohort and who recently graduated from Wheaton College with a degree in Urban Studies. But the sheer coincidence of discovering that Wheaton was offering this new program that was in a camp environment, which echoed her summer camp experiences as a child, seemed like a no-brainer.
"I showed up to the state of Wisconsin, having never been there before and I was going to live there for a year with a bunch of people who I had never met…It was uncharted territory," says Lambert.
And it was transformational.
Because of her experience on the group's urban immersion trip, which happened in Memphis, Tennessee, that year, she discovered a new passion that became her major in college. "I was able to put academic language to my experiences and understanding to the things I saw growing up in New York. It was super valuable and essentially the reason why I became an Urban Studies major."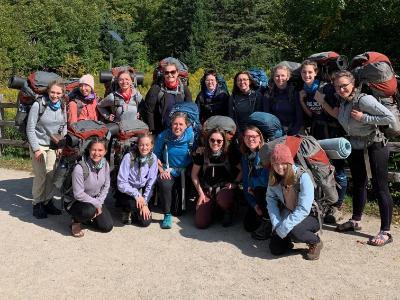 Gap year students like Lambert, or "gappers," as they're affectionately called, travel from all over the country to attend Wheaton's faith-based gap year. This year's cohort represents 12 states, ranging from California to Georgia.
Before the summer began, the Vanguard program's attendees were hovering around 16 or 18. But once more soon-to-be-incoming freshmen realized what their first semester of college would look like this year due to the coronavirus pandemic, many of them decided to take a gap year, and the number of Vanguards increased.
"Because of our remote nature, we have this different model of doing life at HoneyRock—that's different than even main campus—that allows people to live somewhat normally," says Goeke. "We've figured out a way to navigate COVID-19 in a safe manner, but also in a way where students can still have that really formational community experience."
The center required the incoming Vanguards to self-isolate for 14 days prior to arrival. Within six days of arrival, they were required to take a COVID-19 test with negative results, explains Goeke, who has been involved with HoneyRock since 2007. Once the new gappers got to HoneyRock, they were required to self-monitor symptoms daily, submitting those results weekly, until HoneyRock was able to say that their isolated community bubble was safe. However, there is a quarantine plan to be used if necessary, and face masks and social distancing are required when they leave the premises or interact with staff who don't live at HoneyRock, such as Goeke.
"These precautions allow for us to have that semblance of normalcy of human interaction and community and really press into those relationships without some of the barriers the pandemic has provided — while being safe and smart," says Goeke.
Community is a foundational aspect of the Vanguard experience. Ask anyone who attended Vanguard or works closely with the program, and you'll hear that the relationships formed during the year are one of the biggest takeaways for the participants — it's one of their biggest gap year benefits.
"The friendships I formed during Vanguard mean the world," says Lambert, who still speaks regularly to the people she met during her time at HoneyRock, both the other Vanguard students as well as the graduate students working in the program. "I think in so many ways, the mundane in and out is what makes Vanguard the experience that it is. It's so unique, and you get out of it what you put into it. You're essentially putting in your whole life, and there's so much to receive from it."
Another significant reason why students join the Vanguard program is to grow in their faith, surrounded and supported by fellow believers, as Olivia Cassel describes it. Students are given a small, intentional community where they learn and grow as Christians, are given the space and support to wrestle with larger questions of faith and can explore what it means to be a Christian in today's world, explains Goeke.
Seth Chun '20, another recent Wheaton graduate from Vanguard's first cohort, echoes this sentiment. Chun's biggest takeaway from Vanguard was the idea of surrender. "There is a big difference between learning from the past and clinging to it. When we refuse to let go of our old self, we impede the path of growth and we struggle to feel it because we're forcing ourselves to be pulled in two different directions. When we walk forward in life with an open mind, heart, and hands, we find that growth can be gentle. We feel as though we're being guided into place, rather than forced into something," says Chun, who graduated from Wheaton College with a bachelor's degree in English and now works for the College as a media producer.
"School is an avenue for learning," says Cassel. "But it's not the only avenue." --Alexandra Shimalla
Vanguard Orientation Week Photo Gallery