Madison Cash '21 is an English literature and Spanish double major. This school year, she's working as the public relations manager for College Union (CU), the student group responsible for planning campus-wide social events such as coffee houses, the talent show, concerts, and dances.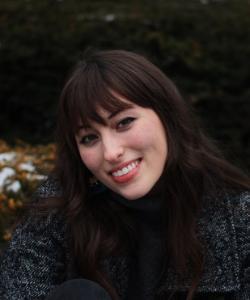 "College Union has expanded my definition of what love looks like," says Madison Cash '21. "I came into the year with expectations of, 'This is a job. I'm going to do the job. I'm sure I'll get along well with my team,'" she says. "But I was absolutely blown away by how much people on my team prioritize others, and how deep a community can be when you're all working toward a common goal of loving other people."
That community-building and work looks a lot different this semester. For most of its history, CU has operated within a set calendar of events and careful protocols, which outline when to start planning and who to collaborate with to ensure an event runs smoothly, including sound and technology teams, college administration, and other student leaders. However, in order to abide by COVID-Safe, Thunder-Strong guidelines, the team has had to reimagine how they plan and execute events.
"We actually have a huge privilege this year of being able to reinvent the wheel and bring our creative vision to our events," Cash says. During the two weeks before the semester began, Cash and the CU team spent 10 to 15 hours a day brainstorming, planning logistics, and sketching out a team vision to ground them during the year.
So far, the group has hosted a Pixar Movie Night on Fischer Field, Ultimate Yard Parties (a twist on Ultimate House Parties, where student houses decorate and plan games around a theme of their choice and compete to be the best house), and an outdoor Antoine Bradford concert featuring Owl and Swan (Sarah Beth Thomas '21 and Caleb Ballard '21) and Jacob Cuevas '21. Each event was limited to the Wheaton bubble, but still gave students the chance to gather and relax together.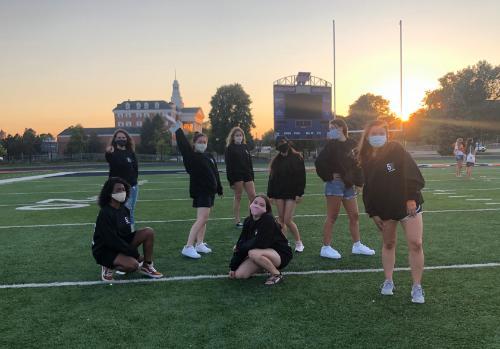 "We really came in wanting to provide spaces for mourning and for rejoicing," Cash says. "Living in this tense time of national unrest and national illness, fear, and anxiety, we're really trying to provide a space where people can come and not escape from that reality but be able to find community in that reality together."
This year, CU is one of only three campus organizations that are allowed to plan and host events for more than 50 students to attend while socially distanced. (The other two are Residence Life and the Chaplain's Office.) As such, the team has made an effort to collaborate with smaller student groups in hosting events, using CU's platform as a space for other voices and ideas to be shared. A large part of Cash's role involves meeting with other student leaders in the planning and execution stages of these events, one of which is the Unidad Coffee House event on Oct. 22, a collaboration with the Latinx student group on campus.
Other aspects of Cash's role as PR manager include writing campus announcements to advertise upcoming events, coordinating with Student Media Team for event coverage, and running CU's Eventbrite—an online event signup and ticketing platform. She's also one of the main people visualizing how to organize crowds in a socially distanced form. With her strengths in planning and organizing, Cash says, "I really love the technical side of my job: figuring out how many people need to be where, how lines are going to work, and where the entrances are going to be. I love that kind of stuff because I like to make sense of the space I'm going to be in."
Cash also shares that she's learning practical skills that will carry her forward into grad school and her future career. "There's a lot of hard work that goes into every event," she says. "We're using our expertise and learning actively about different platforms, different advertising agents, how to email professionally, how to write a campus-wide email—a lot of things that are really helpful for the workforce are also happening in CU."
She chuckles as she remembers a particular challenge she faced while preparing for CU's first event. When Cash first learned how to use Eventbrite for the purpose of regulating the number of students present in a space at a particular time, she spent over 40 hours troubleshooting with the program. "[Technology] is not my forte," she says.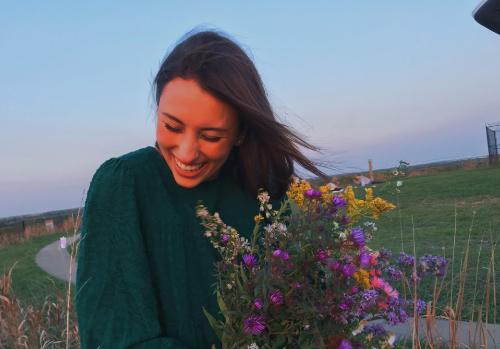 "There's a lot of stuff that I don't know what to do about," she says. "But I think the atmosphere of CU lends itself to asking for assistance if you don't know what's going on. There will pretty much always be someone who has an idea of what to do." Her team is always a text away for one another: Their group chat has become a space for sharing ideas, sending encouragement, and helping one another in both work and life.
"The fact that God brought these people into my life has been a huge answer to prayer," Cash says, reflecting on the team's commitment to one another and their campus. "I'm very grateful that the Lord has given me this experience in my senior year to round out Wheaton for me."
— Eliana Chow