Resources for Eating On and Off Campus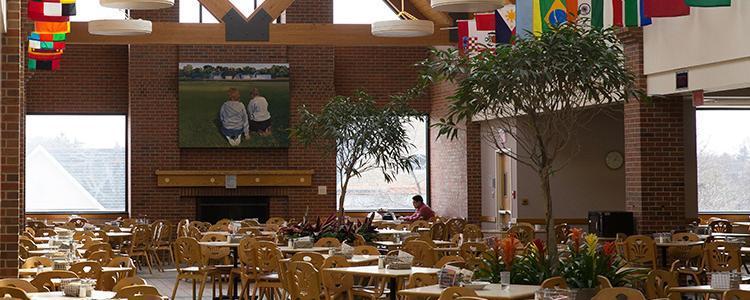 On Campus Dining
Anderson Commons is the main campus dining facility. Meal plans are available, although one-time dining is always an option. Bon Appetit, the food service at Wheaton, is consistently ranked among the best in the nation! To find Anderson's hours and menu of the day, go to Bon Appetit's website.
The Stupe is located on campus in lower Beamer and provides options such as burgers, fries, and other items from the grill. It also offers a student bundle which includes a burger (veggie option available) or grilled chicken sandwich, drink, french fries or sweet potato fries, and dessert for only $4.82.
For more information, go to Bon Appetit's website.
Sam's Cafe is the on-campus coffee shop located in lower Beamer. It offers a variety of coffee, smoothies and snacks for students on the go.
Off Campus Dining
Wheaton has a variety of great places to eat within walking distance from campus.
See below for some close grocery store locations.
Aldi, 20 W Loop Rd, Wheaton
Jewel Osco, 2031 N Main St, Wheaton
Mariano's, 625 S Main St, Wheaton
Trader Joe's, 680 Roosevelt Rd, Glen Ellyn
Valli Produce, 155 E North Ave, Glendale Heights
Check out this search engine to find food pantries in the DuPage County area. For students living outside of DuPage County, try this search engine to find some food bank suggestions.
See below for a few of DuPage County's Food Insecurity resources:
On Campus Shopping
Come to the Wheaton College Campus Store to find textbooks, Wheaton apparel, school supplies and more! Visit their on-campus location in the Student Services Building (across from Anderson Commons) or their website.
The Corinthian Co-op is a free store for college students, staff and families with coats, clothes, and small household items. It is located at 818 College Ave. (Check their website for hours of operation.)
Off Campus Shopping
See below for some thrifting options close to campus.
Stars Resale Shop, 1072 College Ave, Wheaton
Twice Is Nice, 893 Geneva Rd, Carol Stream
Goodwill, 520 Schmale Rd, Carol Stream
Savers, 1231 N Gary Ave, Carol Stream
Jubilee Furniture, 730 N Ave, Carol Stream
See below for a few local options!