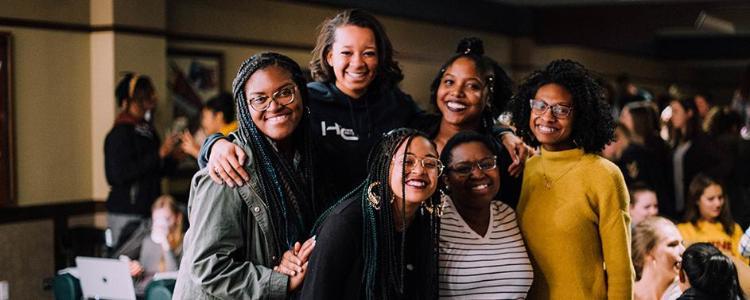 We are here to support graduate students of color by hosting events and social activities that create space for strengthening a sense of belonging within the graduate community.
Students of Color Events
The purpose of our quarterly Graduate Students of Color Dinners is to create space for connecting with other Wheaton College staff, faculty, and graduate students of color. These dinners are reserved for domestic graduate students of color in an effort to focus specifically on the experiences of students who have grown up in the US. Our hope is that this is a space where both students and faculty are encouraged and empowered.
Once a quarter, Grad Life hosts a meal for members of a specific ethnic community. The purpose of these lunches is to foster a sense of identity and belonging through creating space for connecting with peers and scholars from a common ethnic or cultural heritage.
The J. Derek McNeil Scholars Project exists to provide doctoral students of color in professional mental health programs with a two-year system of mentoring and support to facilitate the development of a robust pipeline of faculty and graduate students of color to enhance CAPS with their scholarship and expertise and to contribute to a more diverse and equitable representation of professionals in the mental health field. For more information, please visit their website.
Christ-Centered Diversity Statement
Wheaton College seeks to live out the deep truth of the Scriptures for all aspects of life, including the area of diversity. We do this not simply to be "current" or simply in response to cultural trends. We have given much thought and taken great care to clearly articulate our beliefs based on biblical truth and teaching and are committed to living it out in our community. Please take the time to read and understand our position on this very important matter.