Select Bibliography of the Works of Charles Williams
Reading Williams: Where to Begin
A selection of titles by Charles Williams for readers looking for a place to start:

The Descent of the Dove: A non-fiction work outlining the history of the Holy Spirit in the Church.
Descent into Hell: One of Williams's seven novels described as "supernatural thrillers." The action takes place in Battle Hill near London where a new play is being staged and the hill itself appears to be a mysterious doorway between this world and the afterlife. Williams also develops his themes on The Doctrine of Substitutionary Love in the novel.
The Figure of Beatrice: A study of the figure of Beatrice in the works of Dante Alighieri.
The Image of the City and Other Essays: A selection of essays by Williams which is helpful in viewing the diversity of his work, and provides great insight into his thought and various recurring themes in his works.
The Place of the Lion: One of Williams's seven novels described as "supernatural thrillers." In this story archetypes are embodied as gigantic animals roaming the earth, such as the Lion of Strength and the Butterfly of Beauty. Their interactions in the world cause havoc, but also produce engaging insights into the hearts of the humans they encounter. This book was highly admired by C.S. Lewis when he first read it in February 1936, and helped start the friendship between Lewis and Williams.
Charles Williams Resources
Film footage of Canterbury Festival Plays and Dorothy L. Sayers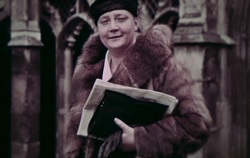 Enjoy viewing rare 1930s footage from three Canterbury Festival play productions by Charles Williams and Dorothy L. Sayers, and footage of Sayers herself, in these silent film excerpts by amateur British filmmaker Sydney Bligh, discovered in 2011.
Film footage by Sydney Bligh, shared by kind permission of Helen Jarrett and The Canterbury Amateur Film Archive at Canterbury Christ Church University.