About Wheaton Spaces
At Wheaton College, we believe each space on campus tells a story—and that our students give those stories meaning. That's why we're running a series called Wheaton Spaces, where we spotlight the spaces significant to our students, staff, faculty and alumni.
Todd M. Beamer Student Center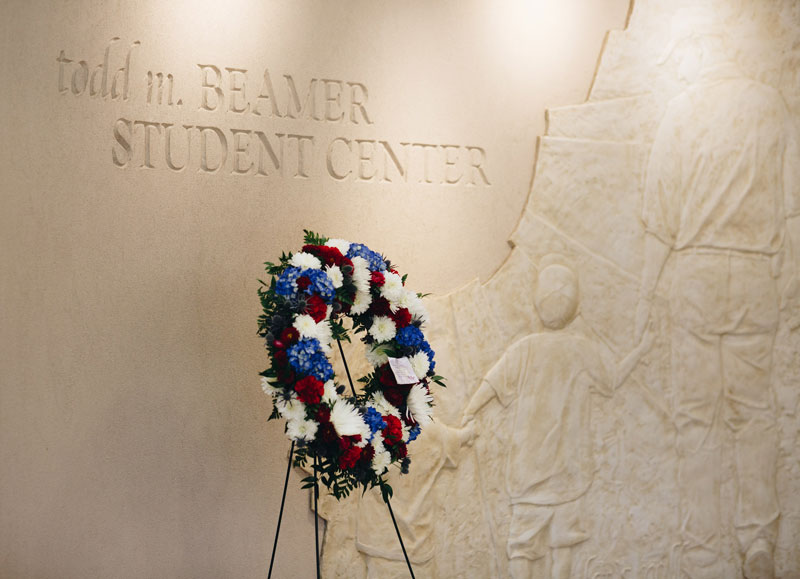 In 2002, Wheaton College started a fundraising campaign for a new student center. They would call it the Todd M. Beamer Student Center for the 1991 Wheaton College alumnus who lost his life during the 9/11 attacks.
Just one year prior, Beamer was on United Airlines Flight 93 bound for San Francisco. Forty-some minutes into the flight, al-Qaeda hijackers took control of the plane. But Beamer and a group of other passengers made plans to storm the cockpit and take back the plane's controls—ultimately flying it into the ground to subvert the hijackers' plans. On the phone with a dispatcher, Beamer was heard reciting the Lord's Prayer and Psalm 23, later saying to the group: "You ready. Okay, let's roll."
Flight 93 crashed to the ground in a field in Somerset County, Pennsylvania, killing all 44 passengers on board. But the plane missed its intended target, which some have speculated was the White House or the U.S. Capitol Building in Washington, D.C. No one on the ground was injured.
"It just made sense to have a student center named after a hero who was so courageous like Todd," said Wheaton College Dean for Student Engagement Dr. Steve Ivester '93.
The Todd M. Beamer Student Center was unveiled Homecoming Weekend 2004. As students enter the lower level of the building—now nicknamed Lower Beamer--their first sight is a bas-relief of a likeness of Beamer with his sons, with the engraved words: "Let's roll."
"Todd's story should always be remembered and honored," Ivester said. "I think the bas-relief moves each rising generation of students that walk the halls of the Beamer Center to be inspired by the courage Todd displayed on Flight 93 and to remember their own calling to be faithful courageous followers of Jesus Christ."
Twenty years ago, what's now known as "Lower Beamer" looked very different. It housed the locker room for the football team, a small weight room and a couple of aerobic bikes and cross-country ski machines.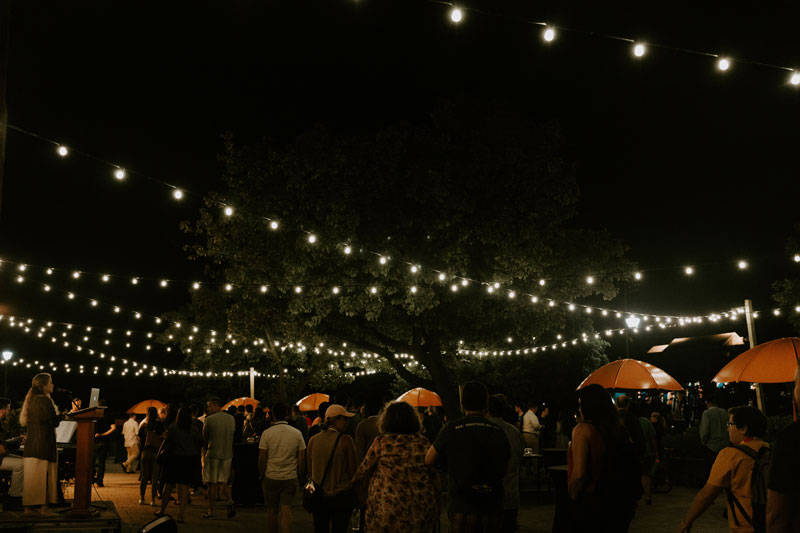 The student center was actually located across campus in a building constructed back in 1950 and called the Memorial Student Center, which now contains the Business and Economics department, the Politics and International Relations department, and the Wheaton Center for Faith, Politics and Economics. For decades, the MSC served students well—but by the early 2000s, it became clear that students needed something more.
For one thing, the space was so tight in the campus post office that students had to literally squeeze by one another to get their mail. Students actually had a name for it: "the CPO Shuffle." For another, the student events space was cramped, fitting just 5% of the student body. Also, when students picked up some food from the Snack Bar, there was no place to eat it, and there was limited office space and meeting space for student organizations, particularly for students of color and international students.
"It was just inadequate for the growing diversity of the student body and the changes in culture and lifestyle," Dr. Steve Ivester said.
These days, the 100,000-square-foot Lower Beamer—or "Low Beams" as students have nicknamed it—buzzes with activity most of its opening hours, from 6 a.m. to 1 a.m.
It contains the Stupe Cafe, an eatery filled with ample space—tables and chairs and booths—where students can enjoy a quick burger or a salad.
Sam's coffee shop, named for Dr. Samuel Shellhamer, the beloved former vice president for student development, is another popular spot. James Sorenson, who graduated in May 2019, would regularly order medium lattes from Sam's and then snag a stool at one of the shop's counters to do some "social studying," which he described as making a feigned attempt at studying but really hoping that friends would interrupt to chat.
Adjacent to Sam's and the game room, filled with pool and ping pong tables, is a new lounge, unveiled at the start of the 2019 spring semester, with clusters of comfortable armchairs and low coffee tables. Students are often found poring over a textbook, tapping away at their laptops, or meeting together for quiet conversations. "It's coffee house-esque," Ivester said.
On Thursday nights, the quiet atmosphere amps up as the College Union's weekly Coffeehouse event comes in. On these evenings, students moonlight as musicians or comedians or storytellers in front of their peers.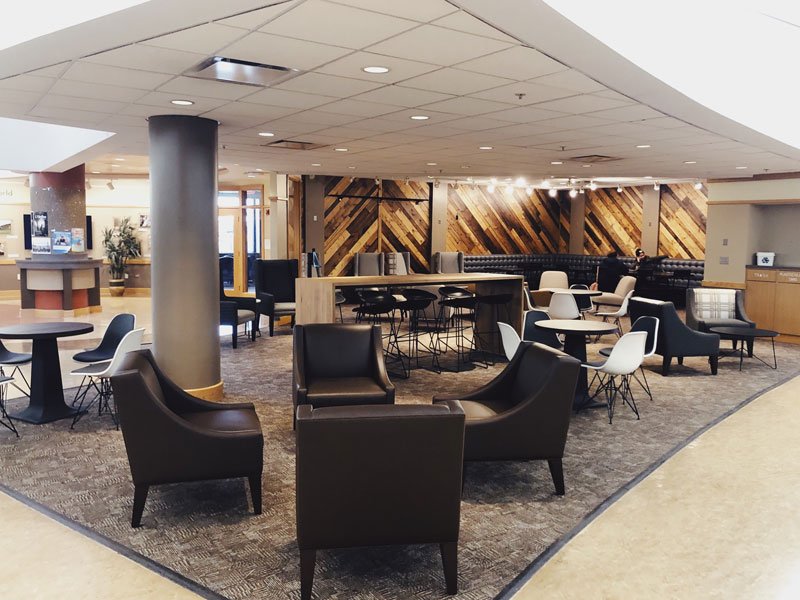 Student-facing offices, such as the Office of Multicultural Development, the Office of Christian Outreach, and the Student Activities Office, are also located in Beamer, as is CPO, the College Post Office, the keeper of care packages and Amazon boxes.
Sorenson couldn't imagine Beamer without CPO. "CPO is classic," Sorenson said. "Anytime I'm walking through here, I'm always going to check CPO."
Up the stairs, there's a long counter with bar stool seating, where students can study while overlooking Soderquist Plaza through two large picture windows. The Beamer Center also contains the offices of student publications, such as the award-winning literary journal Kodon and the weekly student newspaper The Record.
Looking back, Sorenson said, "I've probably spent more time in Beamer than anywhere else on campus for my entire college experience."
The Todd M. Beamer Student Center has really become what Wheaton set out for it to be—the hub of student life on campus, a place where students find community and a home away from-home.
"The hope is that students find a sense of comfort on campus outside of their residence halls here—and that it would be a place of belonging and familiarity and hospitality, that relationships would be built up and friendships would be deepened," Ivester said.
Story by Emily Bratcher
Photos by Gabi Satola