For his consistency and artistry in nurturing diversity and unity among the body of Christ at Wheaton College for 34 years, the Alumni Association remembers and honors Rodney K. Sisco '84 as Alumnus of the Year for Distinguished Service to Alma Mater.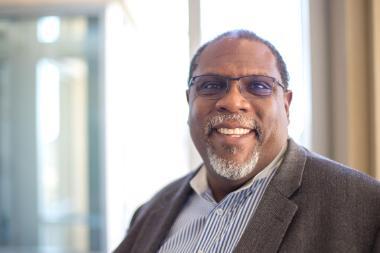 The Wheaton College Alumni Association will posthumously recognize Rodney K. Sisco '84 with the 2019 Alumnus of the Year Award for Distinguished Service to Alma Mater. Sisco's family will accept the award on his behalf.
Sisco, a Philadelphia native, graduated from Wheaton College in 1984. He then worked at Wheaton as an admissions counselor before becoming the director of the Office of Multicultural Development (OMD) in 1988. He remained the OMD director until his death on December 30, 2018.
During his 34 years working at the College, Sisco skillfully helped Wheaton navigate some of the "growing pains" associated with deepening ethnic diversity. "He was good at loving and affirming the mission of the College while also challenging the systems, policies, and procedures that weren't as effective at serving a changing student body," said Dr. Paul Chelsen '91, Vice President of Student Development. "He was an incredible teacher, mentor, and cultural coach."
Many students and alumni testify to their gratitude for Sisco's hopeful, consistent, and gentle presence.
"Rodney Sisco was a faithful, courageous, gentle, joyful servant of Christ on the campus of Wheaton College," said Wheaton College President Dr. Philip Ryken. "He is uniquely irreplaceable in terms of his impact on student life. He persistently and singularly embodied of Christ-centered diversity in a way that was legible to students, faculty, and staff on campus."
Sisco also offered national leadership on diversity in Christian higher education. He served on the Racial Harmony Commission of the Council for Christian Colleges and Universities; the Board of the National Christian Multicultural Student Leaders Conference Inc.; and on the Diversity Task Force of the Association of Christians in Student Development, which recognized him with its Jane Higa Award for Racial Harmony.
"During his tenure, Rodney helped Wheaton College become more aware of cultural issues related to diversity and more proactive in creating change," said Wheaton College Alumni Association Executive Director Cindra Stackhouse Taetzsch. "With his gentle, affirming presence, Rodney embodied Christ's love by encouraging and supporting thousands of Wheaton College students and alumni over the decades."
The Distinguished Service to Alma Mater Award has been presented annually since the mid-1950s to alumni who demonstrate excellence through service to campus life, to students, and to the College as a whole. Faculty who have received this award have also achieved excellence in their field of study. A list of previous awardees is available here.
The Alumni Association will present the award to Sisco's family at an awards presentation and reception held on Thursday, October 3 from 4 to 6 p.m. in the Coray Alumni Gymnasium.