For the National Day of Encouragement, Graduate School Chaplain Dr. Greg Anderson shares some encouragement to students and encourages us to be a "Barnanbas" to someone else.
Being Barnabas: Reflections on Encouragement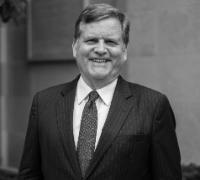 I recently mentioned a story in Graduate Chapel where a woman in my last church came up to me and asked, "Did you used to be handsome?" When I queried her as to why she would ask such question, she responded: "I have met your wife and she is beautiful."
"Did you used to be" can be some of the most discouraging words in our language. Our "used to be's" get in the way of our present. Many of you had (or will have) the courage to leave your jobs, homes, and even countries to come to Wheaton. You used to be something there. Now you are just another new person, missing what and who was left behind.
When I started as the Graduate School Chaplain a few weeks ago, after twenty-four years away from the U.S., I was filled with fear. I wasn't sure what I was getting into. I needed encouragement.
When the Apostle Paul went from being Saul, he went to Jerusalem and tried to join the disciples of Jesus. They were afraid of him—he "used to be" their enemy and persecutor. Then in Acts 9:27 we read, "But Barnabas took him and brought him to the disciples…." Barnabas's name means "Son of Encouragement." Everywhere he is mentioned in Scripture, he is encouraging people. When he parts with Paul, it is because Barnabas refuses to give up on John and Mark. What an unsung hero!
Who is your Barnabas? I have one. The person in the office next to mine was there to meet me and answer any questions I had. He became my advocate and helped me. He was there from the beginning. He was there when I needed him.
As I get more adjusted to Wheaton, I see less of my friend with the Barnabas gift of introduction and encouragement. Today we ran into each other in the Billy Graham Center parking lot—fortunately we were on foot rather than in our cars. I observed that he knew everyone's names and encouraged everyone he met as he made his way to his office. I believe he has the gift of encouragement.
For those of you who are new, there are all sorts of programs to help you fit into your new home. A former graduate student told me today how much better Wheaton is getting at welcoming. But besides the programs, the amazing team of Mary Yeboah and Anna Chase—and all of the Graduate Student Life Office workers and programs—there is a "Barnabas" (or two or three) around you.
For those of you who have been around for a while, please pray that the Lord would allow you to be an encourager to those of us who are new. Please come along side of us, encourage us, and help us become a community of care and ministry that will reflect the love of our Lord. Someday someone might ask, "Didn't you used to be at the Wheaton Graduate School?" My prayer is that you will smile, say yes, and tell them about one of the most encouraging times of your life.
______________
Be Encouraged by Chaplain Anderson's Recent Chapel Talk: "Children of the Heavenly Father"