Wheaton College welcomes Dr. Jordan Ryan, who is serving the College as an Assistant Professor of New Testament.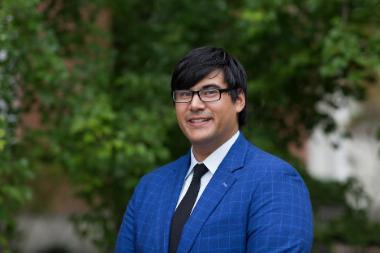 Name: Jordan Ryan
Education:
Ph.D., Early Christianity and Early Judaism, McMaster University
M.A., Biblical Studies, Toronto School of Theology, 2011
B.A., hon., Religion, University of Toronto, 2009
What was your favorite class in college?
My favorite class was Introduction to Ancient Philosophy, which I took in my very first semester at the University of Toronto. I especially enjoyed reading Plato and Aristotle. Questions like "what is justice?" and "what is the nature of virtue?" and "how do we know?" immersed me in the life of the mind. Those questions have continued to inform my intellectual life, as well as my faith life throughout the years.
Before Wheaton, what were you doing?
I was Assistant Professor of New Testament at the University of Dubuque Theological Seminary. Before that, I was here at Wheaton for one year as Visiting Assistant Professor of New Testament and Archaeology. It's great to be back!
What big question are you trying to answer through your work?
Much of my academic work focuses on the person of Jesus of Nazareth and understanding him in his context within Jewish Galilee. The biggest overarching question that my work addresses is "what was Jewish life in Galilee like in the Roman period?" My approach to this question takes the archaeological record seriously alongside the literary evidence. Ultimately, I aim to contextualize the message and ministry of Jesus within the world of early Judaism and to take his participation in public life in Jewish society seriously. As a result, the question that I addressed in my first book was "what role did the synagogue play in Jesus' proclamation of the Kingdom of God?"
What's one interesting or intriguing thing that you have learned recently?
I recently read an older book by the famous archaeologist Bellarmino Bagatti that surveyed archaeological remains related to the ancient Christian villages of Galilee. Although the book is definitely dated in many ways, it was fascinating to read about his travels and experiences with the contemporary Arab Christian communities in Galilee as well as his attempt to survey and preserve as much as he could of the archaeological remains relating to ancient Christianity as well as Judaism and Islam in that region.
Do you get butterflies the night before the first day of school?
I actually get sort of excited, and I just can't wait for the first class. I like teaching, and I like meeting students, so the first day is something I really look forward to.
What would you have liked to tell the freshman version of yourself about going to college?
I think I'd tell myself to enjoy my time as an undergraduate, to make sure that I actually read what I was assigned (especially in some of those philosophy classes), and above all, to put more time into continuing to serve the local community.
When you're not teaching or researching, what do you like to do?
I have a lot of hobbies. Students who know me might know that I'm a fan of heavy music and that I play guitar. My most unusual hobby is probably that I collect retro video games from the 80s and early 90s, especially for the NES, though I don't really have much time to play them anymore. That hobby started out when I was a musician in my early twenties because I liked the 8-bit chiptune music in those games. I'm also a big fan of the Toronto Blue Jays, and of reading mystery novels.
Learn more about the School of Biblical and Theological Studies here.