Wheaton College welcomes Dr. Nathan Luis Cartagena, who is serving the College as an assistant professor of philosophy in the Philosophy Department.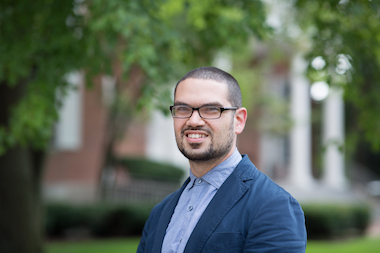 Name: Nathan Luis Cartagena
Education:
Ph.D., Philosophy, Baylor University, 2018
M.A., Philosophy, Baylor University, 2015
M.A., Philosophy, Texas A&M University, 2013
B.A., summa cum laude, Philosophy and Christian Thought, Grove City College, 2010
What was your favorite class in college? Why?
Second year Koine Greek. I loved spending a semester working through Galatians and another on the first half of John. My professor and classmates were amazing, and helped me learn to read non-English texts with extreme care.
Before Wheaton, what were you doing?
Completing a Ph.D. in philosophy at Baylor University.
What big question are you trying to answer through your work?
What does sanctification look like in a racialized world? To answer this question, I'm retrieving the work of Thomas Aquinas and studying and writing on critical race theory.
What's one interesting or intriguing thing that you have learned recently?
Sharks have electric sensors on their heads to help them hunt. I learned this while watching a show about Great White Sharks with my daughter—who LOVES sharks.
Do you get butterflies the night before the first day of school?
No, though I do get giddy, as if it were the night before Christmas because I love teaching.
What would you have liked to tell the freshman version of yourself about going to college?
Don't make grades an idol.
When you're not teaching or researching, what do you like to do?
Go on adventures with mi esposa and hija.
Read more about Wheaton College's Philosophy Department here.