Wheaton College welcomes Dr. Michael Hakmin Lee, who is serving the College as an Assistant Professor of Ministry Leadership in the M.A. in Ministry Leadership program.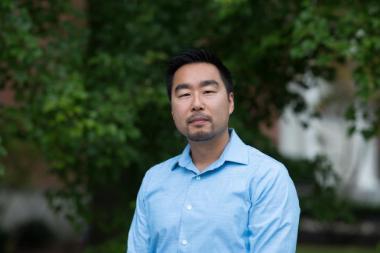 Name: Michael Hakmin Lee
Education:
Ph.D., Trinity Evangelical Divinity School, Intercultural Studies, 2015
Th.M., Dallas Theological Seminary, Systematic Theology & Intercultural Studies, 2007
B.A., University of Texas at Austin, Biochemistry, 1999
What was your favorite class in college? Why?
Nothing stands out during my college years (besides playing lots of intramural sports) but I do recall my first course in intercultural studies (Cultural Dynamics in Ministry) being formative during grad school as it introduced me to the discipline of missiology and scholars like Paul Hiebert, which ended up redirecting the focus of my studies.
Before Wheaton, what were you doing?
Before Wheaton, I was finishing up studies at Trinity Evangelical Divinity School and teaching courses at several schools while trying to be a good husband and dad to three active boys.
What big question are you trying to answer through your work?
One has to do with the reasons and the process by which former evangelicals abandon the Christian faith and what we ought to do about this reality.
What's one interesting or intriguing thing that you have learned recently?
According to a 2017 national Barna survey, doubting is commonplace among American Christians. 65% of American adults who self-identify as Christians (or have in the past) have experienced spiritual doubting (questioning what they believe about religion or God). Soberingly, the Barna survey found that 12% reported losing their faith while 7% held on to a "weakened version of their faith."
Do you get butterflies the night before the first day of school?
It's usually a mixture of excitement and some anxiety.
What would you have liked to tell the freshman version of yourself about going to college?
Probably nothing! Everything he had to learn and experience—the good, the bad, and everything in-between—is part of who I am today.
When you're not teaching or researching, what do you like to do?
I enjoy spending time with my family, playing and coaching sports with my boys (baseball, judo, basketball), the occasional fishing trip, and learning new skills on YouTube.
Learn more about Wheaton College's M.A. in Ministry Leadership.