The #MyWheaton blog shares first-person stories from Wheaton students and alumni.
Julia Primuth '19 takes us behind the scenes with the chapel band.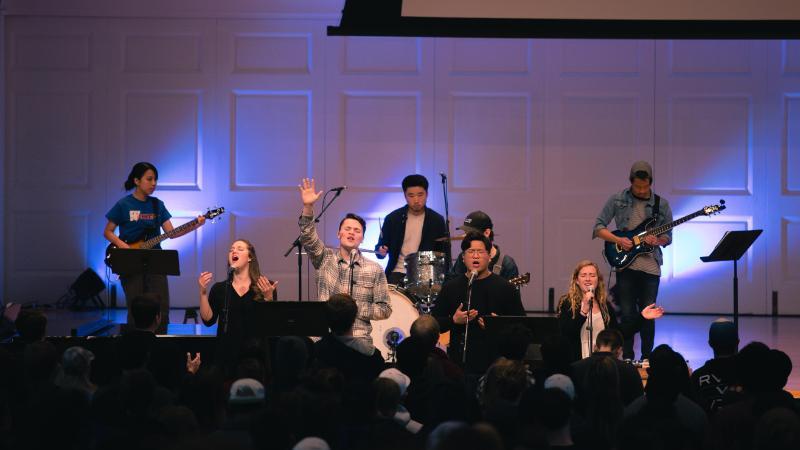 On any given Thursday night in the East Wing of Edman, you can find the random assortment of Wheaton students known as the Chapel Band—one pounding a kick drum, another writing and rewriting her baseline, another delicately running his fingers over the keys of a grand piano, and two guitarists pulling melodies out of thin air. And then there are two people without instruments, watching it go down, in somewhat of a stupor because chord sheets really can turn into a full live jam session.
I came into this year, probably like most people would, feeling the pressure of leading 2,000 people in worship to its fullest degree. But perhaps more daunting than this was leading a band of musicians that were unspeakably more proficient in music theory than I was. I wasn't sure how I could be both a leader and a peer, how to lean on them for assistance in the theory department and how to set guidelines for practices and times together that would help us become a team.
In that first week of training during Orientation Week, my brain told me that if we were to become comfortable with each other, we should jump in with ice-breakers, the get-to-know-you questions and the ever-dreaded hot seat. I think part of me was just trying to imitate what had been demonstrated for me in every other Wheaton group I had been a part of. But my gut stopped me, also daunted by the fact that we had three events to prepare for and had never played a note together in our lives so practice was really our top priority.
We all sat around our instruments, kind of just looking at each other before that fateful moment. Even though it was just us, I could tell we were all a little nervous. I gave the four count, and we were up and running, very shakily but we played through the first song. The next song went better, and the next song after that. After Orientation Week, we were solidly established as a team.
As the months progressed, we slowly, steadily became a well-oiled machine, not without our sputters here and there. Beyond the music, though, our relationships deepened as we spent time in and out of practice, sharing our struggles and worshipping together. Between the trips to the arcade and late night Los runs and the trusty Thursday night practice, I learned to value the smaller parts of relationship—the simple beauty of creating something out of nothing. These actions of relationship were not always as large as fun group outings. Sometimes it was the joy we all felt when we did just what we came to do, nothing more, nothing less.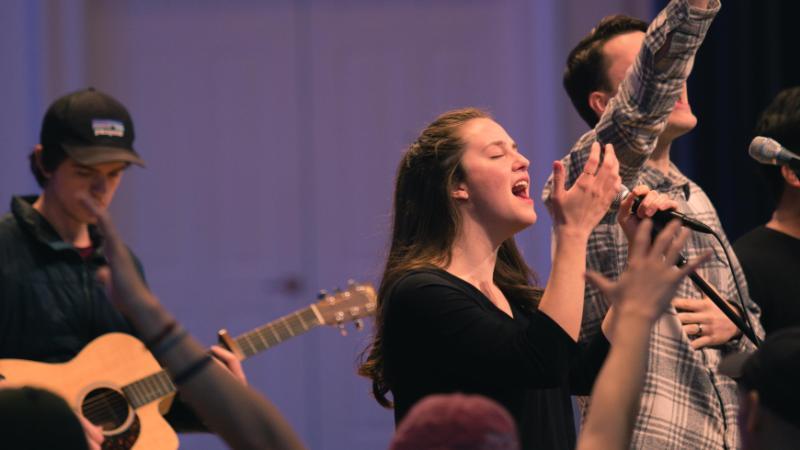 Looking back on those first few practices, I'm so glad I didn't force the team bonding. As someone who always got a little clammy around those type of things, I certainly felt the relief of that pressure being lifted. But I learned something about human relationships from this experience that will carry over into other teams I will be a part of—relationships take time. This has been hard to grasp for me at Wheaton, where the desire to be known is so strong sometimes we sacrifice depth and stability for immediacy. While icebreakers certainly produce a type of closeness, it doesn't always translate into careful relationship formation. We could have jumped in with all the deep details of our lives spilling out in awkward phrases during "hot seat," but we decided instead to let those details slip out through our worship with one another.
There is a strength there that we could not have achieved through any other means, and I am so grateful that this group of quiet, incredibly talented musicians taught me to be patient for long enough to glimpse their depth on their terms, not mine.
Julia Primuth '19 is an international relations major with a nursing certificate.