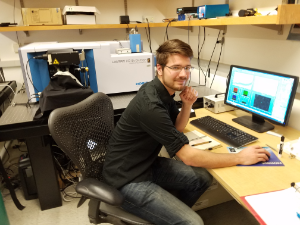 Wheaton College junior Benjamin Hess was recently selected as a 2018 Goldwater Scholar.
The Goldwater Scholarship honors academic excellence among mathematics, science, and engineering students and is one of the most prestigious undergraduate academic awards in the nation.
Hess, a geology major, is one of 211 honorees this year, selected on the basis of academic merit from more than 1,280 students nominated by campus representatives from over 2,000 colleges and universities nationwide. The scholarship includes a $7,500 award. Hess was named an Honorable Mention for the award in 2017.
This year, Hess was recognized for his intensive geochemical research on fulgurites and apatites, but his interest in geology began long before he arrived at Wheaton.
"Like many kids, I went through a rock collecting phase," he says. "I just never grew out of it. I've always been fascinated by the absolutely beautiful and brilliant minerals that form in the ground and was curious as to how minerals so beautiful could grow. That curiosity still drives me: how do processes within the earth form the diversity we see in minerals and rock formations across the globe?"
At Wheaton, Hess has pursued several significant research projects. He worked with Professor of Geology Dr. Jeffrey Greenberg to study the Harney Peak Granite intrusion in the Black Hills of South Dakota, and also worked with Greenberg and Professor of Geology Dr. Stephen Moshier to characterize the chemistry and structure of a rare, massive clay fulgurite found in Glen Ellyn, Illinois. This year, Hess has pursued independent research on the fulgurite at the University of Chicago's labs.
Last summer, Hess completed a competitive National Science Foundation-funded summer research internship with the American Museum of Natural History in New York City. There, he investigated volatile and trace elements trapped within the mineral apatite as a means of tracking magma evolution. As a part of the project, he and his fellow researchers traveled to Argonne National Laboratory in Lemont, Illinois, to use their sophisticated particle accelerator.
Greenberg describes Hess as a "junior colleague" in the geology department.
"Benjamin has the confidence to take on significant research challenges and stretch himself into diverse areas. He's persistent and has a strong work ethic, and he has set an ambitious new bar for students in the geology department," Greenberg says.
Moshier adds that Hess's ambition and initiative have opened new doors for future Wheaton students as well.
"Benjamin shows great enthusiasm for all things geoscience. He coordinates our department's series of career interviews with alumni, and has also sought out incredible research opportunities for himself, such as his work at the University of Chicago. He has the confidence to learn things on his own, and the relationships he's developed in the field will pave the way for future Wheaton students."
Next year, Hess will spend the fall semester studying at the University of Leeds, England. There, he'll use the university's specialized labs to continue his research on Wheaton's clay fulgurite and gain additional research experience in geochemistry. After graduation, he plans to pursue a Ph.D. in metamorphic or igneous geology, hoping to research the evolution of hydrothermal igneous and metamorphic systems in tectonically active environments.
"In a world filled with so many tangible needs, sometimes I wonder why I should pursue a career as a research scientist. But my journey into research the last two years have convinced me that I'm doing what I should be, and I honor God by studying his creation. To me, the Goldwater award is an affirmation that I'm doing exactly what God has gifted me to do," he says.
The Goldwater Foundation is a federally endowed agency established by Public Law 99-661 on November 14, 1986. The Scholarship Program honoring Senator Barry Goldwater was designed to foster and encourage outstanding students to pursue careers in the fields of mathematics, the natural sciences, and engineering. Since its first award in 1989, the Foundation has bestowed 8,132 scholarships worth approximately 65 million dollars. Recent Goldwater Scholars have been awarded 91 Rhodes Scholarships, 131 Marshall Awards, 150 Churchill Scholarships, 100 Hertz Fellowships and numerous other distinguished awards like the National Science Foundation Graduate Research Fellowships.