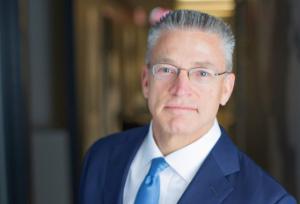 Gary Haugen, founder and CEO of International Justice Mission (IJM), will address candidates for the bachelor's degree in the arts, sciences, and music education during the Undergraduate Commencement ceremonies at 3 p.m. on Sunday, May 6, 2018.
Prior to founding IJM in 1997, Haugen was a human rights attorney for the U.S. Department of Justice, where he focused on crimes of police misconduct. During the time he was founding IJM, he continued as a senior trial attorney with the Police Misconduct Task Force of the Justice Department's Civil Rights Division, enforcing action against police departments with patterns or practices of misconduct.
In 1994, Haugen served as the Director of the United Nations' investigation in the aftermath of the Rwandan genocide, leading an international team of lawyers, criminal prosecutors, law enforcement officers, and forensics experts to gather evidence that would eventually be used to bring the perpetrators of the genocide to justice. In the 1980s, he served on the executive committee of the National Initiative for Reconciliation in South Africa, chaired by then-Bishop Desmond Tutu and Michael Cassidy of African Enterprise. He graduated magna cum laude with a B.A. in Social Studies from Harvard University, and earned a J.D. cum laude from the University of Chicago, where he was the Ford Foundation Scholar in International Law.
Haugen is a popular speaker at leading universities and global conferences and was recognized by the U.S. State Department as a Trafficking in Persons "Hero" – the highest honor given by the U.S. government for anti-slavery leadership. He is the 2007 recipient of the Wilberforce Award recognizing an individual who has made a difference in the face of formidable societal problems and injustice. His work to protect the poor from violence has been featured by Foreign Affairs, The New York Times, The New Yorker, The Times of India, Forbes, The Guardian and National Public Radio, among many other outlets. He is the author of several books, including Good News About Injustice (InterVarsity Press) and The Locust Effect: Why the End of Poverty Requires the End of Violence (Oxford University Press).
Wheaton College Commencement ceremonies will be streamed live at wheaton.edu/streaming, including the Graduate School Commencement ceremonies on at 3 p.m. on Saturday, May 5, the traditional Baccalaureate Service at 9 a.m. on Sunday, May 6, and the Undergraduate Commencement ceremonies at 3 p.m. on Sunday, May 6. Video of these events will be posted to youtube.com/wheatoncollege.
For more information about Commencement services at Wheaton College, call the Office of Media Relations at 630.752.5015.