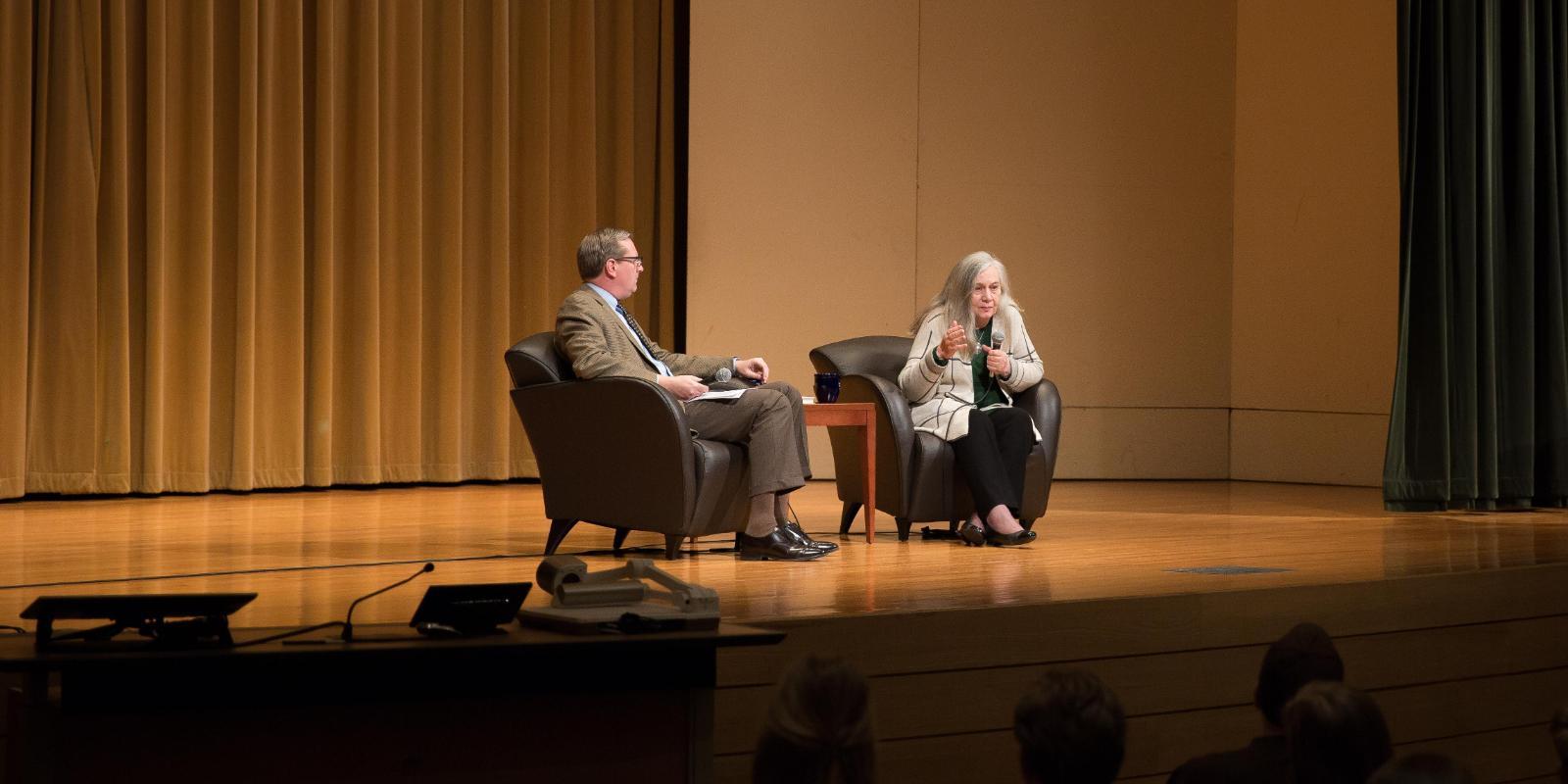 This year's Wheaton College Theology Conference, Balm in Gilead: A Theological Dialogue with Marilynne Robinson hosted the second highest number of attendees in its 27-year history, second only to the 2010 conference featuring N.T. Wright.
The conference, organized by Professor of Christian Thought Dr. Timothy Larsen and Associate Professor of Theology Dr. Keith Johnson, featured addresses by Robinson and theologians Rowan Williams and Timothy George.
Theology and the Good Life
Robinson's Pulitzer prize-winning novel, Gilead, is Wheaton's Core Book for the 2017-2018 academic year, and addresses themes in Wheaton's Christ at the Core general education curriculum.
In Gilead, Robinson explores what it means to live and to die well through the character of John Ames, a dying Congregationalist pastor, who is writing a letter to his seven-year-old son. Reflecting on his life and ministry over the years, Ames shares his story honestly and offers profound theological insights on grace, redemptive suffering, the beauty and ephemerality of life, and the abiding love of God.
"It is because Ames takes his spiritual life, especially his responsibility to love others, so seriously that the letter moves from being merely a personal recounting of his life story to his son to being instructions for all readers in how to live the good life," explains Clyde S. Kilby Professor of English Dr. Christina Bieber Lake. "John Ames has lived a good life—not perfect and not perfectly happy—but a good life."
In the opening session, Larsen, an historian, explored the idea of Wheaton as a real-life analog to the theological and ecclesiastical world of the Reverend John Ames. "The town of Gilead, John Ames, and Marilynne Robinson herself are much closer to Wheaton College, Illinois, than most people would suppose," he said.
"Irenic Decency"
Unlike many previous theology conference speakers, Robinson is best known for her novels, not her theology. However, her work exists between many intellectual spheres, such as literature and theology and mainline Protestantism and evangelicalism.
Robinson acknowledged her relationship to evangelicals in her keynote address, "You people know who I am, right? I'm the outlier here," she quipped. Yet Robinson was quick to add that she was "charmed by the irenic decency I've discovered here."
The conference provided an opportunity for students and attendees to engage in a thoughtful theological dialogue with Robinson and with her published work from a variety of perspectives, including those of theologians, historians, literary scholars, and church leaders.
In his discussion of the theology Robinson develops in her six essay collections, Johnson described Robinson as a "fearlessly contrarian" figure who remains unpolarized in today's polarized world. Her work offers "a realistic yet optimistic vision for American life that weaves new threads connecting the red and blue states," Johnson says. "Robinson is an ally and critic of everyone at once."
This position was evident in the charitable dialogue between Robinson and Rowan Williams, former Archbishop of Canterbury. During an interview moderated by Bieber Lake and Associate Professor of Theology Dr. Vincent Bacote, both speakers highlighted the vital task of cultivating a moral imagination and acknowledged the spiritual necessity of slowing down and paying attention to the ordinary yet glorious.
Other scholars also apprised Robinson's work through the lens of their respective disciplines. These included Associate Professor of English Dr. Tiffany Eberle Kriner, who discussed space, time, and doctrine in Gilead; Dr. Patricia Andujo, who explored Robinson's treatment of the African-American experience in Gilead; and Dr. Han-luen Kantzer Komline, who discussed the relationship between Robinson's work and Augustinian theology.
During the final talk of the conference, "Marilynne Robinson and the Art of Preaching," author and Associate Professor of Christian Spirituality at Duke Divinity School Dr. Lauren Winner examined the relevance of Robinson's work to the church.
An 'Exhilarating' Opportunity
"In some ways, this conference represents the very best that Wheaton College has to offer," says Bieber Lake. "There is important theological work going on in the fiction of Marilynne Robinson, and it was exhilarating to have the opportunity to discuss together the strengths and weaknesses of her vision of God's presence in our lives here."
"It is hard to point to another novel by a living author that takes the Christian faith so seriously that has also won a Pulitzer prize," Larsen says of Gilead. "This was an opportunity to expose students to one of the greatest minds of our time, and to shows students what they could become."
For those who were unable to attend, several of the conference lectures are available on Wheaton's YouTube channel. Additionally, continuing a 25-year partnership between InterVarsity Press and the Wheaton Theology Conference, in spring 2019, IVP Academic will publish what may be the largest collection of critical engagement with Robinson's work to date in an upcoming conference volume.
The 28th annual Theology Conference, "Who Do You Say I Am?": Why the Humanity of Jesus Matters, will take place April 4-5, 2019. More information will be available later this year at wheaton.edu/theologyconference.