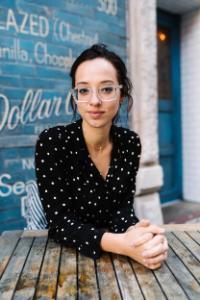 Wheaton College alumna Nadia Dervish was named a Fulbright Finalist through the English Teaching Assistant (ETA) Program.
The award will allow Dervish to spend the 2018-2019 academic year in Turkey, where she will serve as a cultural ambassador for the U.S. by teaching English and providing assistance to local English teachers.
Dervish learned about the ETA program after receiving a Critical Language Scholarship from the Department of State Bureau of Cultural Affairs. The scholarship allowed her to spend last summer taking intensive Turkish language courses at Azerbaijan University of Languages in Baku, Azerbaijan.
After learning that fellow CLS participant was a Fulbright English Teaching Assistant, Dervish applied for the ETA award. Dervish says the Fulbright experience will enhance her professionally, and that she also has a personal reason to continue her study of the language.
"My father is from Northern Cyprus and the paternal side of my family speaks Turkish," Dervish says. "I didn't speak Turkish growing up, and I would like to continue learning the language in order to have conversations with my family in their native tongue."
Dervish, who majored in English and minored in Urban Studies, graduated from Wheaton in 2017. As a student, she was involved with programs including Youth Hostel Ministry, the Shalom Community, and Wheaton in Chicago. Additionally, Dervish worked as a Refugee Resettlement Case Manager intern at RefugeeOne in Chicago.
"Wheaton provided me with eye-opening opportunities that have shaped who I am now and who I desire to be," Dervish says. "The programs I was involved in taught me a lot about what it means to learn from others and live among different people. Wheaton taught me the value of listening, learning, and walking through life with people who are vastly different from me."
Dervish's professors say their former student will thrive in the Fulbright program.
"Nadia is refreshingly open to taking on new challenges," says Dr. Miho Nonaka, associate professor of English. "She is not the kind to be paralyzed by the fear of failure. She possesses deep interest and appreciation of people and life."
Dr. Noah Toly, who directs Wheaton's Center for Urban Engagement, agrees. "When it comes to capitalizing on opportunities for experiential learning and community engagement, Nadia Dervish is among the most creative students I have taught," Toly says. "As she has done with her previous opportunities, I know that Nadia will make the most of her experience in Turkey."
The Fulbright Program is the flagship international educational exchange program sponsored by the U.S. government and is designed to increase mutual understanding between the people of the United States and the people of other countries. Recipients of Fulbright grants are selected on the basis of academic or professional achievement, as well as demonstrated leadership potential in their fields. The Program operates in over 160 countries worldwide.