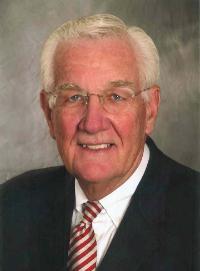 C. William Pollard '60, a leader in business, ethics, and corporate governance, will address candidates for master's and doctoral degrees during the Graduate School Commencement ceremonies at 3 p.m. on Saturday, May 5, 2018.
Wheaton College will also honor Pollard with an Honorary Doctorate in Education during the Undergraduate Commencement ceremonies on Sunday, May 6.
Pollard led The ServiceMaster Company for a quarter century, serving twice as its Chief Executive Officer. During that time the company was recognized by Fortune magazine as the #1 service company among the Fortune 500, and by the Wall Street Journal as one of the most respected companies in the world. He is currently Chairman of Fairwyn Investment Company, a private investment firm.
Pollard has also served as a director of public companies and charitable, religious, and educational organizations. For over 25 years he served as Director and Chairman of the Executive Committee of the Billy Graham Evangelistic Association, where he is now a director emeritus. He is a trustee emeritus of Wheaton College, where he served over 31 years as a trustee of the College and twice as Chairman of the Board. He currently serves on the Advisory Board of the Wheaton Center for Faith, Politics, and Economics.
Pollard is the author of the best seller The Soul of the Firm and his most recent book, The Tides of Life. He received the Hesburgh Award for Business Ethics from the University of Notre Dame and was recognized by Harvard Business School as an American business leader of the 20th century. In 2016 he and his wife Judy received the Philanthropy Award from the Council of Christian Colleges and Universities for their outstanding contributions to Christian higher education.
A native of the Chicago area, Pollard graduated in 1960 from Wheaton College and received a JD from Northwestern University School of Law. From 1972 to 1977 he served on the Wheaton faculty, and as a vice president of the College.
Wheaton College Commencement ceremonies will be streamed live at wheaton.edu/streaming, including the Graduate School Commencement ceremonies on at 3 p.m. on Saturday, May 5, the traditional Baccalaureate Service at 9 a.m. on Sunday, May 6, and the Undergraduate Commencement ceremonies at 3 p.m. on Sunday, May 6. Video of these events will be posted to youtube.com/wheatoncollege.
For more information about Commencement services at Wheaton College, call the Office of Media Relations at 630.752.5015.