The Health Professions program administers the Liberal Arts/Nursing major (LA/N) and provides advising and supports students planning to enter a nursing program after graduation with another major.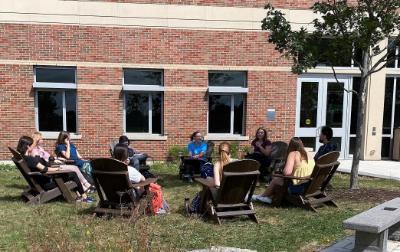 Healthcare practitioners are needed in the United States and throughout the world to address the needs of those suffering from illness and disease and to promote health and wellness to all individuals. A career in Nursing opens the door for a fulfilling life journey of care and ministry for those in need.
Since 1982, our program has prepared students for the Nursing profession by providing a solid Christian liberal arts foundation, including pre-nursing courses, during the years the student is at Wheaton College. Students who wish to pursue a career in Nursing can choose from two pathways. Advising conversations assist students to determine which pathway will best support their goals and future aspirations.
Pathways to Nursing
Pursue three years of study in Wheaton's Liberal Arts-Nursing Major
Apply and continue for an additional one or two years at a CCNE or ACEN accredited School of Nursing (see Programs and Special Relationships below)
Receive a Bachelor's degree with a major in Liberal Arts-Nursing from Wheaton, and a BSN or MSN (depending upon program) from the second institution
Students who wish to choose the Dual-Degree option should do so under the direction and consultation of the Director of Health Professions and officially declare the LA-Nursing major.
Pursue a Bachelor's degree in any major/discipline at Wheaton College
Apply to a Graduate Nursing Program
Some students choose to pursue an accelerated Bachelor's degree in nursing instead of the graduate program. Meeting with the Director of Health Professions provides information and assistance choosing courses best suited for admission to various nursing programs.
Wheaton College has special relationships with the following nursing programs:
Liberal Arts-Nursing Majors are welcome to consider the following schools having formal agreements:
Students pursuing the nursing profession after graduation are welcome to consider:
Wheaton College has a supportive relationship with Case Western Reserve University, Frances Payne Bolton School of Nursing. Students pursing either of the Wheaton College pathway options may apply to the Master's in Nursing program, students in the Liberal Arts-Nursing Major may apply to the Senior Year in Professional Studies program, and students earning any Bachelor's degree at Wheaton may apply to the Graduate Entry program.
A supportive relationship exists with Emory University's Nell Hodgson Woodruff Nursing School inviting student application from Liberal Arts - Nursing major to complete the BSN Transfer Option for two years of study after three at Wheaton College.
Students are welcome and encouraged to research and apply to other nursing programs outside of those with specific relationships or agreements, with the consultation of the Health Professions Office.
Fall 2021 White Coat Ceremony with Wheaton College Students for Elmhurst University 3:2 Liberal Arts Nursing Program.