Highlights from the Health Professions Department
Past Events
Sunday Night Dinner with Dr. Dale Robinson
Dr. Robinson is a practicing OB-GYN in Oregon and will be speaking with students about the specialty and the intersections of faith and medicine in primary care practice.
Loma Linda University Informational Session & Pizza
Advice on applying to graduate school and Q & A time. Loma Linda offers the following graduate programs:
Bioethics, MA; Child Life Specialist, MS; Dentistry, DDS; Global Health, MPH; Health Care Administration, MBA; Medicine, MD; Nutrition & Dietetics, MS; Occupational Therapy, MOT; Pharmacy, PharmD; Physical Therapy, DPT; Social Work, MSW; and more!
Sean Gleeson, MD - Physician Conversation & Dinner
Dr. Gleeson will visit campus to share his experiences as a pediatrician and physician leader in the field of pediatrics.
"Bending the Arc" Movie Screening
The extraordinary doctors and activists whose work 30 years ago to save lives in a rural Haitian village grew into a global battle in the halls of power for the right to health for all. Dr. Paul Farmer, Dr. Jim Yong Kim, activist Ophelia Dahl, Todd McCormack, and investor Thomas White began a movement in the 1980s that changed global health forever.
Sunday Night Dinner with Anneliese Petersen '16
Hear from Wheaton alum Anneliese Petersen '16 who currently works at Lawndale Christian Health Center. She will attend medical school next fall and went to India during her HNGR experience while at Wheaton.
Sunday Night Dinner with Shelby Patty Edgren '15
Shelby will talk about her experiences at RUSH's College of Nursing and her current job on the Mother & Baby floor at Rush Medical Center.
Catered Lunch with Alyssa Pfister '01, MD
After Wheaton Dr. Pfister attended Quillen College of Medicine in Tennessee. She currently works with Serge Global at Kibuye Hope Hospital in Burundi and is a professor at Hope Africa University.
Sunday Evening Dinner with Wheaton graduates
Current General Master's Entry RUSH College of Nursing Students, Madison Sheafe '16, Lucy Sleigh '16, and Kelly Bradley '17 share their experiences in the program.
Dr. Arthur Ammann '58 - Biology Alumnus
Dr. Ammann, a physician and clinical professor at the University of California San Francisco Medical Center, spoke on "Why Plagues Don't End: A Tale of Two Epidemics."
Conversation with Dr. Amanda Cuda '97, MD, MPH, FAAFP
Dr. Cuda shared her experiences with a career as a military doctor.
Attended Uniformed Services University of Health Sciences
Currently a family physician in the Seattle, Washington area
Earned a MPH degree in 2013 from the University of Washington

Johns Hopkins School of Nursing Visit to Wheaton College
Opportunity to meet with Admissions Director from JHU! Come hear about their Master's Entry Program for this nursing school located in Baltimore, Maryland. There will be a presentation and then plenty of time for Q & A. Dinner will be provided.
Dinner and Conversation with Dr. Richard Gieser '59
Dr. Gieser invites students to dinner to discuss medical opportunities and experiences abroad with Dr. John Tannouse (Wheaton parent).
Mock Interview Event for Pre-Med Students
A group of Wheaton alumni physicians return to campus to practice interviewing skills and offer feedback to pre-med students.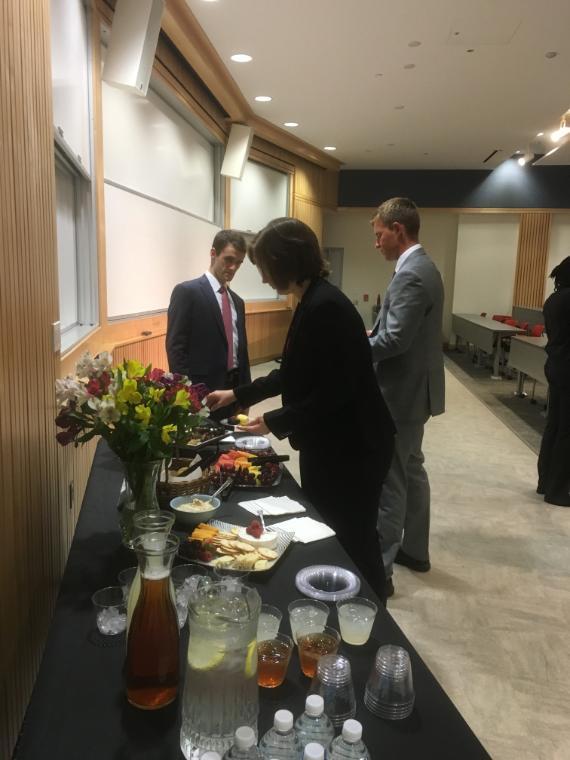 Mock Interview Evening