Posted August 25, 2017 by Academic and Institutional Technology
Tags: Upgrades
New Banner Self Service Employee Dashboard
Effective Date: September 25, 2017
September 25, the new Employee Dashboard will be available when you log into the Wheaton Portal and access the Banner Self Service Employee folder.
Key Benefits and Features
You will notice several important changes in the new Employee Dashboard:
New Access to Web Time | Any employee entering or approving Web Time must now use the new Employee Dashboard. The "Enter Time" quick link is provided for Web Time Entry and Approvals.
Introduction of MyTeam | For those in supervisory roles, information on those reporting to you is available, including time off balances.
Greater Access and Efficiencies | The dashboard format provides a clean and modern look and feel with easier viewing and navigation to your personal, employment, and other job-related information.
Here are screenshots of what you will see in the Wheaton Portal: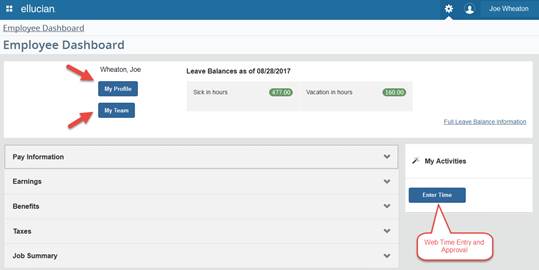 Note: The leave balances displayed are current as of the last payroll processed.
Impact on College Community
Enjoy exploring the new Employee Dashboard. Please take the time to verify and, if necessary, update your personal information and Emergency Contact on My Profile.Your ID photo will be added to your profile in the future.
This is the first step of our Banner 9 upgrade process. You will continue to see additional features and functionality become available over the next 12-18 months. Therefore, do not be alarmed if you click on a link in the new dashboard that brings you to a page in the old Banner 8 style. To learn more about this upgrade, you can read the article "No Ordinary Upgrade: Banner 9."
If you have any questions or concerns, please contact Academic and Institutional Technology at 630.752.4357 (HELP) or by email at ait.service.desk@wheaton.edu.