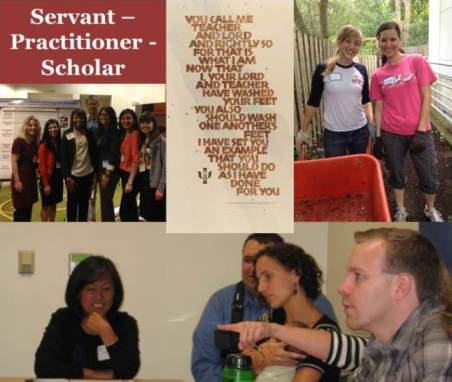 The Wheaton College Psy.D. Program is a servant-practitioner-scholar program which is developed to form clinical psychologists who are capable of benefiting from and contributing to theoretical and applied empirical scholarship, understanding of the interface of psychological and spiritual understanding of the person and competent to intervene to enhance human welfare.
Servant
Our students develop a service orientation. We focus on nurturing the growth of servant-practitioner-scholars – that is, practitioner-scholars who view professional practice as service. One of our program's core foci is cultivating our students' passion and skills for serving the "least of these" (Matthew 25:40, New International Version; see Matthew 25:31-46).i For example, during the first month in the program, 1st year Psy.D. students spend a day with program faculty serving a community service provider through volunteer work. As a community, we strive to embody Christ's love to all; training students to pursue excellence in scholarship and clinical services particularly to communities and persons who have been traditionally marginalized and unjustly treated in our global society. In the program's last APA self-study, Wheaton Psy.D. graduates were found to characterize their servant nature by the ways in which they gave of their time and services; providing an average of 7 hours of reduced-fee services per week, and 2 hours of free services per week. Alumni also reported that 36 % of their clients were low income or poor, and 31 % were racial minorities.
Practitioner
Our students develop into competent practitioners. Under the direction of the Director of Clinical Training, the Wheaton College Psy.D. program works with over sixty organizations in the Chicago area that partner with the program to supervise and train students in their clinical work. Many of these organizations serve communities and persons who have been traditionally marginalized and unjustly treated in society. Students begin clinical training in their second year in the program, and must complete a total of three clinical practica prior to pre-doctoral internship. In the fourth year, students must pass a Professional Qualifying Exam (PQE). The milestone PQE is an opportunity for clinical faculty to evaluate the student's progress in development of clinical competence and practice and is looked upon by students as a highly formative part of the program. Students complete a pre-doctoral internship typically in their fifth year in the program (see Student Admissions, Outcome and Other Data for more details). Wheaton College Psy.D. graduates work in a variety of contexts, often serving in a way that embodies Christ's love to their communities.
Scholar
Our students value and contribute to scholarship. The Wheaton College School of Psychology, Counseling, and Family Therapy is rich and fertile ground for applied research. Our Psy.D. students begin attending Research Labs during their first year. Research Labs often produce scholarship that is presented by students at conferences such as the American Psychological Association Convention, International Neuropsychological Society Conference, Christian Community Health Conference and the Christian Association for Psychological Studies International Conference. As a benefit of the program, students may apply once annually for a conference travel grant to defray conference related expenses. During the second year in the program, a 3-course Research and Statistics sequence with the requirement of lab participation provides students the skills necessary to work on their dissertation project. A student's fourth year in the program generally includes data collection, analysis and writing of the dissertation. In the program's last APA self-study, Wheaton College Psy.D. graduates were found to continue to contribute to scholarship with a respondents averaging publication in journals once and presenting at conferences 3 times over a 2.5 year period.
_______________________________________
iFlanagan, K. S., Pressley, J.D., Davis, E.B., Aten, J.D., Sanders, M., Carter, J.C., Jackson, A., and Kent, J. (submitted). Spiritual Formation Training in the Wheaton College Psy.D. Program: Nurturing the Growth of Servant-Oriented Practitioner-Scholars. Journal of Psychology and Christianity.