The School of Psychology, Counseling, and Family Therapy offers many ways students can get involved to grow in their leadership, service to the underserved, and development of community with others.
Research Opportunities for M.A. Students
Interested M.A. students have the opportunity to gain research experience during their graduate school training by participating in research groups with faculty and students. Students may have the opportunity to participate in conference presentations and can apply for a stipend from the psychology department to assist with related expenses.
Graduate Student Opportunities
The Wheaton College Graduate School has a thriving student life community. Students of the School of Psychology, Counseling, and Family Therapy programs often serve on Graduate Student Council, in Graduate School Chapel, and on the Student Life team.
GPSA - Graduate Psychology Student Association
The Graduate Psychology Student Association (GPSA) is an organization of the graduate students in the Masters and Psy.D. Programs. Its purpose is to provide student involvement in the establishment, modification, and implementation of the policies and procedures governing the graduate psychology programs. It provides encouragement and fellowship for the students as well as providing opportunities to develop skills and direction in professional development. Officers, Standing Committee and Student Faculty Recruitment Committee members are elected by the student body each year to represent the classes/levels of each program (Catalog of Wheaton College). Memberships to all other committees are on a volunteer basis. GPSA also provides a forum for students to discuss department issues as a group and to bring their views to the faculty.
Officers:
President - Presides at meetings of the GPSA. Meets with the Department Chair, Sponsor, or appointed faculty members to communicate outcomes of GPSA meetings as needed. Attends graduate faculty meetings periodically.
Vice President - Three Vice Presidents (PsyD, CMHC/CM and MFT) are responsible for the fulfillment of the first function of GPSA by meeting periodically with cohort representatives from their respective programs. As such, each VP will be asked to be in communication with cohort reps, be present at faculty meetings (e.g., PsyD faculty meetings, Admissions and Academic Requirements Committee, and Graduate Training Council; CMHC faculty meetings; MFT faculty meeting) and be in communication with their respective Program Director. Vice Presidents will also assist President in the executive responsibilities. Vice Presidents will preside at GPSA meetings and serve as substitutes in the President's absence.
Treasurer - Monitors budget, expense commitments and completes procedures for expenses and other financial matters.
Secretary - Records and distributes all meeting minutes and GPSA correspondence and keeps the GPSA files.
It is preferable, but not necessary that two officers be from the Psy.D. program and two from the M.A. program.
Class Representatives - Two representatives from each Psy.D. year (1st - 4th) and two from each M.A. class are elected or volunteer; at most a total of twelve representatives. A representative for the Psy.D. pre-doctoral interns is desirable, but not required. Class representatives serve as spokespersons for their class and assist in coordinating various activities, such as, sign-ups for events, requesting volunteers, etc.
Student Life Enrichment Director (SLED) - develops and coordinates social activities for the graduate psychology community for the school year. One or two assistants may be recruited from the student body.
Sponsor - The Psychology Program Administrator serves as a resource of information and liaison for coordination of GPSA activities.
Standing Committees of Psychology Department that may have student representatives:
Clinical Training Committee
Admissions and Academic Requirements Committee
Multicultural Committee
Professional Membership
The School of Psychology, Counseling and Family Therapy encourages its students to pursue memberships in professional organizations during their training. We have student members of the the American Counseling Association, American Association of Marriage and Family Therapists, Christian Association of Psychological Studies (CAPS) >>, American Association of Christian Counselors (AACC), and the Association for Neuropsychology Student Training (ANST). Involvement in these organizations allows students to make contact and collaborate with other students and professionals in the field, stay informed on current research both in the field of psychology as a whole and in the field of Christian psychology specifically, and to gain experience being involved with and presenting research.
Every year, students from Wheaton's graduate programs have the opportunity to submit research for review to present at the national conferences of organizations such as ACA, AAMFT and CAPS.
Continuing Education Unit (CEU) Opportunities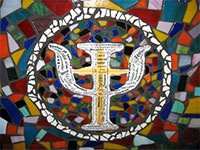 The School of Psychology, Counseling, and Family Therapy at Wheaton College is approved by both the State of Illinois, Department of Financial & Professional Regulation as a continuing education sponsor for Social Workers (159001237), Professional Counselors (197000212), Marriage & Family Therapists (168000202), and Psychologists (268000032), and may offer continuing education hours for events that meet continuing education requirements for the state of Illinois; and by the National Board for Certified Counselors as a Continuing Education Provider for National Certified Counselors (4597).
Upcoming Events
Check back soon for upcoming events!