Posted February 28, 2017 by Academic and Institutional Technology
Tags: Phishing Attempts
Phishing Alert | "Available Office Hours?"
Effective Date: February 28, 2017
Some employees recently received an email claiming to be coming to Wheaton College to buy unwanted textbooks. The email requests that the employee respond to the email with their availability and room number.
This is a phishing attempt. Do not respond. Thank you to all who reported this scam.
If you responded to this scam, please contact us at 630.752.4357 (HELP).
How to Spot a Phishing Attempt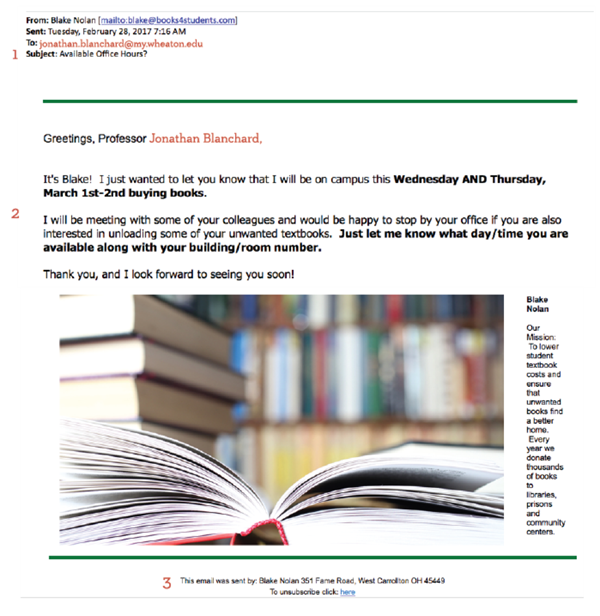 The image above is a screenshot of this phishing attempt. Several things indicate that this email is not what it claims to be:
The subject line is posed as a question, and is very vague. While subject lines like this don't always indicate a phishing attempt, it's still a sign to be more cautious than usual.
The subject of the email is vague, which is unusual for an official email.
A legitimate email from any institution should include contact information such as an email address and phone number. If you don't see that, it's often because the sender is only pretending to be affiliated with a company or college.
Always exercise caution when responding to emails. If you're unsure whether an email is legitimate, contact us at ait.service.desk@wheaton.edu or call 630.752.4357 (HELP).