Wheaton College senior Sarah Spacek directed "Blessed is She," a musical that brought together the voices of women in the Bible.
Drawing on a vivid dream she had during her junior year, Wheaton College senior Sarah Spacek directed and staged "Blessed is She," a musical based on the lives of women in the Bible—Eve, Tamar, Rahab, Ruth, Bathsheba, and Mary.
But because of COVID-19, Spacek didn't even know whether she'd be able to see this project through to the stage. Still, she worked all summer and fall 2020 with a dedicated and imaginative directing crew and cast.
"As we were rehearsing, there was this sense that even if we didn't get to do the show, we've already done something wonderful—we've already gotten to tell these stories and really create this vibrant community," Spacek said. "That would make it all worth it."
Still, in March 2021, "Blessed is She" was performed live to small socially distanced audiences on five occasions—the last of which was livestreamed. People are still watching the recording of the livestream.
Here's a Q&A with Spacek on her creative process:
Had you ever created something like this before?
I've been involved in theater since I was a kid. My mom is a performing arts teacher, so she put me on the stage really early. But I'd wanted to dive into the behind-the-scenes more, but this is the first thing I've ever directed.
My friend Sean Kisch and I actually wrote the music together. He has a master's in composition so I definitely used a lot of his expertise in putting this together. He would drum up a melody, and I would listen to it and give feedback, and we wrote the lyrics together. And all throughout quarantine, we were sending voice memos back and forth to create the pieces.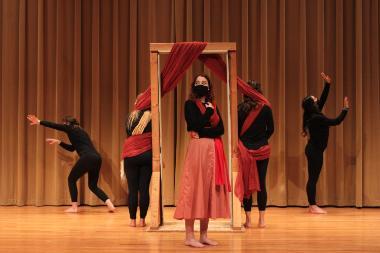 I heard that a dream was the inspiration behind this musical. Can you tell me about that experience?
Well, I knew that I wanted to do a show for my senior year. I really felt inspired to create something along the lines of the Bible and the arts—that combination. I had this dream midway through my junior year. It was just the weirdest thing. Eve and Mary and a few other women in the Bible were singing together, and I woke up and it was so vivid. I can still remember it. I was just fascinated by the idea because I'd never thought about Eve and Mary together because they were just so separate in the Bible, but having their stories combined.
There's a duet at the very end of the musical where Eve and Mary sing together. In Eve's song, there's a line: "And oh, to once again walk in his footsteps, and oh to once again hear him speak ." And having Mary to echo, saying: "And oh, to witness his first little footsteps, and oh to hear as he learns to speak." The fulfillment of what Eve was longing for all of those years.
I woke up from that dream, and I obviously didn't have those words yet. But there was so much of a connection between those two women that I hadn't seen before.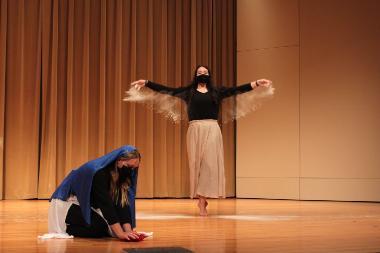 Tell me about the collaboration that made this musical possible?
There were two different teams. There was the directing team, which included composer Sean Kisch, and Wheaton students Kari Swanson who served as music director, Katherine Hoppe who served as stage manager, and Melissa Schill who served as choreographer, along with myself as director. The five of us really did a lot of the heavy lifting before we ever casted the show in terms of the vision, the movement, and the sound.
I wanted the process to be one where everyone could feel creative and joy-filled. It was a project where we were all doing a lot of things for the first time. My choreographer had never choreographed an entire show—the same with my composer. He'd never written an entire musical. A lot of us were just jumping and flying together.
After we had a cast, every rehearsal, in terms of making the show, was very collaborative. We would read the Scripture passages related to the scenes we were working that day. And we would go and create different vignettes by whatever we were inspired with in Scripture, which was very interesting. Often, we would create pieces in 15 to 20 minutes and blend those together with some of the thoughts I'd put together beforehand—and that's really how we made the entire show because there was no script. Other than the lyrics in the songs, there was no script and that was very intentional.
Wow! No script? Why did you want to approach this project without a set script?
The heartbeat of this idea was wanting to do dance and movement mostly.
I'm part of Workout, Arena Theater's acting ensemble. One thing we do every Christmas is to retell the Christmas story without words. We'd done that type of small form, creative, collaborative process together, and I just thought: 'what if we make this a really big version of that?' That was the inspiration for knowing that it's possible to make really beautiful and profound theater without dialogue.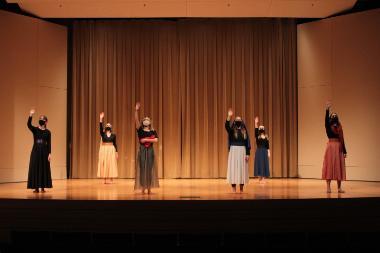 Why was Bible Study and Scripture so integral to your process?

Once I had the idea, I immediately dove into the passages related to the women. It was important to me as a director that everything we represented and did was honoring to and respecting of the women. I didn't want to put any words into their mouths. I didn't want to fix the stories or retell them in my own way, especially as we live in such a different time. Our understanding of womanhood is so different than their cultural understanding so having that foundation as an entire cast was really important to me, especially to just have everyone on board.

I'm directing the show but I'm in no way the authority on these women, and it was important to me that everything was really centered on God because these are His stories. One of the ways, we established this foundation was doing a Bible study where everyone in the cast would come with some type of art—whether it was a poem, a picture, a drawing, or a painting, or a dance they had made—something to say, 'I've read the passage, and this was what I took away." It brought out a whole bunch of questions I don't think we would've thought of on our own.

It's easy to look at these women and go oh, wow they had really unfortunate lives. Their lives were truly difficult, but as we were making this, I realized what a miracle that their stories were told—especially since women didn't have voices in the ways we do now. Just the beauty of them being included in the Bible was so profound to me, I wanted to embrace this with my cast and crew. In our world, we have so much more freedom than they did.

After viewing "Blessed is She," what do you hope people walk away with?

So many things. That the Lord works in mysterious ways. These women's stories are so difficult to read and to perform and to watch, and I hope that people see the show and see that God is faithful. And that doesn't always look like we expect it to and yet he remains faithful and he remains good, and that he uses the most unlikely people and the most unlikely circumstances to glorify his Kingdom and how beautiful is that.

--Interview edited by Emily Bratcher

Learn More About Arena Theater