Throughout the pandemic, Wheaton College Athletes persevered with their training, learning some important lessons along the way about community and the gift of competition.
Time Doesn't Stop, and Neither Will We
Featured Athletes in Video: Cross Country – Susannah Bennett / Sophomore '23; Soccer – Sarah Max / Sophomore '23; Basketball – Nyameye Adom / Junior '22; Football – Gabriel McGill Junior '22
It was March 12, 2020, the night before the start of the NCAA Division III Championship for Men's and Women's Track and Field, and Wheaton College senior Favor Ezewuzie was stepping into some compression boots to ease her muscles after a short, pre-competition workout.
Even as Ezewuzie was resting her legs, her mind raced with thoughts about the events she'd compete in over the next couple of days. Her times in the 60-meter hurdles, the 60-meter dash, and the 200-meter dash showed she was in the running for winning all three events. Her entire college track career had led her to this moment.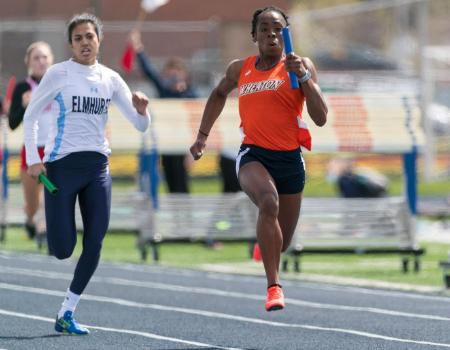 "She legitimately had a chance to be the athlete of the meet," said Head Track and Field Coach Scott Bradley '86. "She was contending for three national championships."
All of that ended in a moment.
Ezewuzie said she'll always remember her coach coming down the steps in the Airbnb where they were staying in Winston-Salem, North Carolina with the news: "They pulled the plug. They canceled the NCAA Championships."
"I'm an expressive person. I wear my emotions on my sleeve, and I couldn't even process what coach was saying," Ezewuzie said. "I just went numb."
Lamenting the Loss
In early spring 2020, higher education institutions around the world were grappling with how to keep students safe. Soon after the NCAA Championship organizers canceled, Wheaton College sent its students home to learn remotely for the rest of the semester, which also meant that the athletic season was over for Wheaton athletes involved in the College's 21 intercollegiate sports.
For seniors, this was not only the end of the season but also an abrupt end to their collegiate athletic careers, but even younger student-athletes struggled to maintain their momentum after COVID-19.
Men's Soccer: Finding Strength in Community
In late spring 2020, after the initial shock of everyone being sent home wore off, coaches and student-athletes got to work creating ways to train and connect remotely and later how to train within the constraints of COVID-Safe, Thunder-Strong precautions.
During the rest of the spring 2020 semester, the Wheaton Soccer team would work out twice a week together on Zoom. They also participated in a friendly competition: Wheaton Men's Head Soccer Coach Jake DeClute '98 M.A. '05 would send out a daily workout with exercises and drills that players would complete individually but then upload their times to a scoreboard. On Friday nights, the team would meet online for game nights.
When the team got back to campus in fall 2020, they practiced together with COVID-Safe, Thunder Strong precautions—meeting three times a week, wearing masks, and keeping close contact with one another to shorter timeframes, initially just 15 minutes and more recently 30.
"It was just so nice to be back with the guys," said Wheaton Men's Soccer defender Logan Russell. "To be on campus for the last couple of semesters has been awesome."
In other words, although COVID took away the soccer team's fall soccer season, it couldn't touch the team's tight-knit community.
"I saw the guys really taking care of one another—loving one another in a real way, especially because everyone is handling the pandemic differently," DeClute said. "This past year, some guys have developed more because of the extra practice. Others have been just completely disheartened. The team just really came together to get everyone over the line."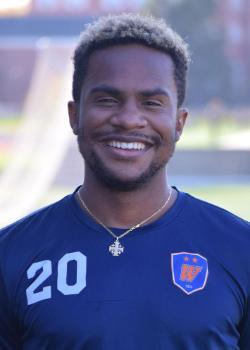 And for Russell, the pandemic offered an unexpected gift—getting to play—but for a different team. In March, he was called up to play in two World Cup-qualifying games for the Bahamas National Team.
"COVID gave Logan the ability to stay in school and do his classes online while getting the opportunity to play for his national team," DeClute said.
Track & Field: Putting Perseverance to Practice
Ezewuzie, a senior when the pandemic canceled the NCAA Championship, made the difficult decision to return to Wheaton for one more class in spring semester 2021 so that she would have eligibility to compete one last time in the NCAA Championship.
But it hasn't been easy. Spring and summer 2020 found her practicing for hours on her own at home in Boston with hurdles Coach Bradley made for her out of PVC pipes. When she returned to Wheaton, she practiced as late as 8, 9, and 10 p.m. to adhere to COVID-Safe precautions.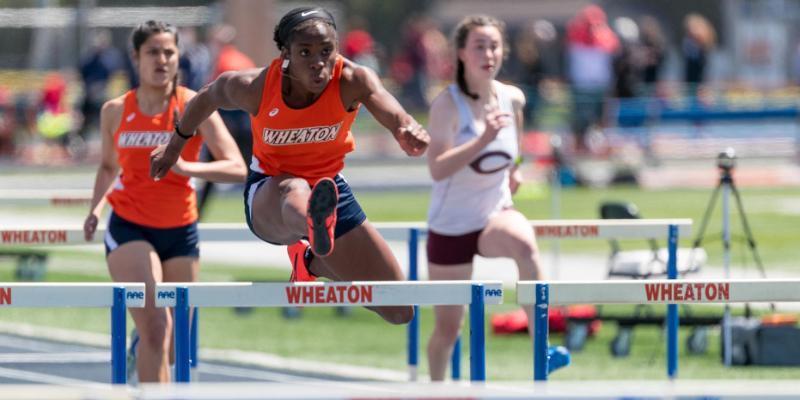 Even competing during the daytime has been unusual, since track meets previously frequented by hordes of cheering spectators were eerily quiet. At away meets, Wheaton student-athletes were bussed in to compete for their races in shifts and sent back to campus directly after. "It was very strange, but what was interesting is that the athletes still competed just as hard as they would during a normal season," Bradley said.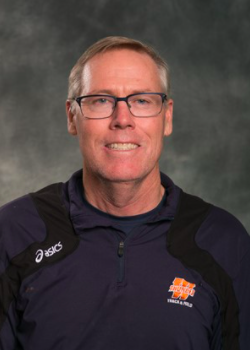 Ezewuzie in particular has shown an extraordinary level of commitment and perseverance, Bradley said. She was recognized for this in the opening week of the spring Track & Field season when she was named the CCIW Women's Outdoor Track Athlete of the Week.
"I had this dream of being a national champion, and there have been so many times I wanted to quit but I've felt this nudge from God saying 'not yet,'" Ezewuzie said.
Considering the Lessons Learned
At best, COVID-19 has been frustrating, and at worst tragic, but Wheaton Athletics discovered some bright spots in the past year-plus of persevering through the pandemic.
"We have a saying: 'Entitled to nothing; grateful for everything,'" DeClute said. "In a way, COVID brought this into sharper focus."
For so many years, DeClute realized he was taking an annual fall soccer season for granted when it was really a grace from God. "Everything that can be shaken has been shaken this year, but the things that can't remain," he said. "And those are God, friends, and family—and I see Wheaton soccer as being a part of all three of those."
Bradley agreed, saying, "I think COVID also made everyone a lot more grateful not just for the opportunity to compete, but also for community."
Russell is definitely grateful to have a team again and for the community he's found there, but he's also praying for a more normal season next year.
And as for Ezewuzie, she's looking forward to being in those blocks at the upcoming NCAA Championship in May.
"It's taken a lot of training in faith to get there, but I can't wait," she said.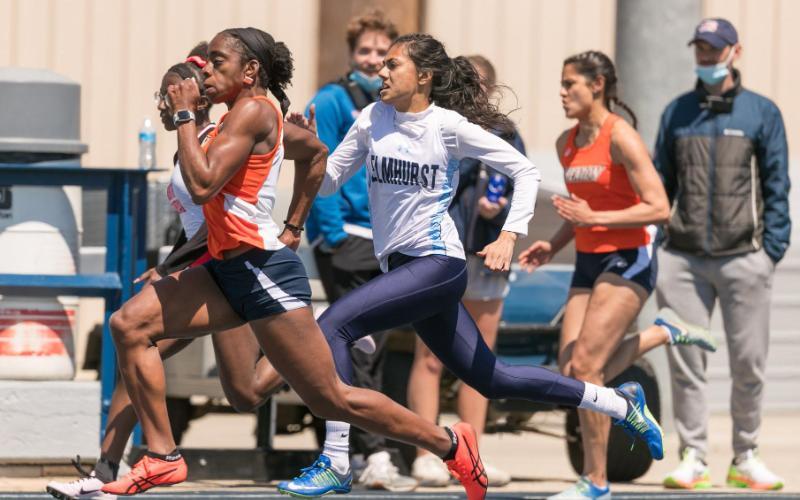 -- Video by Seth Chun
-- Story by Emily Bratcher
---
Congratulations Favor Ezewuzie!
On May 29, 2021, Favor Ezewuzie won the NCAA Division III Championship in the women's 100-meter hurdles at the NCAA Division III Outdoor Track & Field Championships. She had a time of 13.67-seconds. She is the 21st Wheaton student-athlete to win an individual National Championship.