Wheaton College welcomes Dr. Muhia M. Karianjahi, who is serving the College as a visiting assistant professor of Outdoor & Adventure Leadership (OAL) and OAL program coordinator.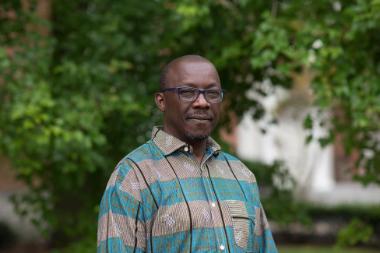 Name: Muhia M. Karianjahi
Education:
Ph.D., Education Studies, Biola University, 2013
M.A., Interdisciplinary Studies, Wheaton College, 2003
B.S., Civil Engineering, University of Nairobi, 1988
What was your favorite class in college?
Mathematics was always my favorite. I like the ordered systems of math, and I am an analytical thinker.
Before Wheaton, what were you doing?
I have been at Wheaton (HoneyRock) since fall 2013. Before then, I was running a nonprofit organization in Nairobi, Kenya, that designed innovations in youth ministry and rolled them out to churches. Key among the programs were a camp that we founded, and a Christian contemporary rites of passage program for youth
What big question are you trying to answer through your work?
I am very interested in how innovative programming works across cultures. My current specific question is what Christian camping means to the different parts of the Global South.
What's one interesting or intriguing thing that you have learned recently?
I am learning about how calling changes and settles as one transitions into the second half of life.
Do you get butterflies the night before the first day of school?
Yes, I do because I am always not sure I am prepared enough.
What would you have liked to tell the freshman version of yourself about going to college?
Christ is King. I was living in rebellion then.
When you're not teaching or researching, what do you like to do?
I love to climb mountains. This summer, I took my sons up Mt. Kenya (16,355 feet), which was the most fun thing I have done in a few years.
Read more about the M.A. in Outdoor and Adventure Leadership here.