The Northern Light is written four times a year to share updates from program managers, photos, and peeks into life at HoneyRock.
In this Edition of the Northern Light
A Note from the Executive Director | Introducing Catalyst | Meet the Advisory Board | Updates from Around HoneyRock | Facilitating Leadership Development on a Global Platform | Meet HoneyRock Graduate Students | Recent Blog Stories
---
A Note from the Executive Director
By Rob Ribbe, Executive Director
2020—What a year! There's been so much challenge and loss and YET so many opportunities and so much growth. As I look back on 2020 I'll remember it as one of the most stretching years ever as well as one of the most fruitful personally and professionally.
I spent more time in prayer and in deep-creative conversations with our team than ever before. I saw incredible sacrifice and service in our summer staff. I saw students—who lost so much—rise to the challenge and thrive. As I look ahead to 2021, I'm extremely hopeful and excited.
The need and desire for engagement, authentic community, and experiences in creation will explode in 2021 as COVID-19 hopefully subsides. This coming year provides incredible promise for HoneyRock.
This Northern Light highlights several ways HoneyRock has been able to step into new opportunities and a compelling future, two of which are introduced in this edition: an improved equestrian facility and expanded global impact.
Please join us in praying for a safe and COVID-safe spring semester for our 22 Vanguards and 20 Graduate students. Pray for our summer planning...it's challenging to plan for an unknown state of affairs but we run forward with what we learned from last year until now, confidently planning for a full summer of programming. Have you heard? Our 2021 dates are live!
Know a parent who's on the fence about sending their child to camp? We've recently developed two guides for camper parents that I would encourage you to share. You can download them with the links below:
5 Signs Your Child is Ready for Camp
3 Ways to Prepare Your 8th Grader for High School
It is humbling to have such a great team at HoneyRock and Wheaton and a fantastic board of advisors (meet them below!) to help us think deeply and prepare. We count you as an important part of that team. Blessings in 2021. – Rob
Registration for Summer Camp at HoneyRock is Open!
We are SO excited to return to our traditional summer lineup of programs this summer. You can see a complete list of our summer camp programs, dates, and cost with the link below.
Introducing Catalyst
Hear from our Camp Programs Director, Ashley Kiley, introduce our new program for 11-12 grade campers!
Learn About Catalyst
Meet HoneyRock's Advisory Board
By Rob Ribbe, Executive Director
Since the early days of HoneyRock, there has been a purposeful team of advisors to provide external support and input to the Director. The composition and size of the Advisory Board has changed over the years. Currently, it is a group of 9 people with various gifts, professional perspectives, and levels of experience with HoneyRock. We generally meet three times per year in person and occasionally as needed on Zoom. They have two, three-year terms. As the Executive Director, I have so greatly benefitted from these wise and faithful friends. They speak truth, challenge thinking, deeply encourage, and fully support me and the team here. I'm happy to introduce our current team with gratitude for their service:
Becky Eggimann, Board Chair: Dean of Natural Sciences at Wheaton College, Associate Professor of Biochemistry. WC' 00. Expertise: Higher education, natural sciences, faculty development, Wheaton Administration.
Todd Murphy: Associate Director, Northwestern University Center for Leadership... Ordained priest ACNA. WC '87. Camper parent. Expertise: Higher education, leadership development, professional coaching.
Liz Robertson: Student Development at Westmont College. Pursuing a Ph.D. in leadership at Pepperdine University. WC '04. HoneyRock professional staff 5 years. Expertise: student development, higher education, emerging adults, leadership.
Chris Traut: Retired Business Executive. Camper in the 70s. Camper parent. Expertise: Higher education, organizational leadership, business/finance, succession planning.
Wayne Frey: Retired fundraising professional, 16 years in Wheaton Advancement. Expertise: Donor relations. Campaign and fundraising strategy.
Kirk Weaver: Retired family ministry leader. Wilderness leader 16 years in the 60-70s. WC '78. Expertise: family ministry, curriculum development, spiritual formation, wilderness leadership.
Matt Erickson: Business Executive. Camper and camper parent. 4th generation HoneyRock family. WC '94. Expertise: Organizational leadership, business, finance, marketing.
Theon Hill: Associate Professor of Communication at Wheaton. Expertise: social change, race, and rhetoric.
Tiffany Kriner: Associate Professor of English at Wheaton. Multi-year professor at HR. Camper parent. Expertise: Wheaton, students, women in leadership, faculty, creation care.
Click on the photo to view a larger version. Photos follow the order of individuals listed above.
---
Updates from Around HoneyRock
By Scott Eppler, Site Manager
The grounds crew at HoneyRock has been busy all through the late fall and early winter expanding and improving our trail network to support more cross-country skiing, as well as summer pursuits such as hiking and mountain biking. HoneyRock/Wheaton College is blessed to own 1000 acres of property here in the Northwoods as well as accessing 100's of acres of neighboring private land, and 1000's of acres of public USFS land that our extensive network of trails goes through. Over the past several years we have steadily been widening, grading, and improving our cross-country ski trail network to accommodate our updated grooming equipment.
This year the specific focus has been on improving the trail to our very popular Black Bear property. Once again, we can enjoy a groomed and tracked trail all the way to the Black Bear cabin and back. Just this week we were able to groom the trail for the first time in over 5 years, and we are anxious for more snow cover so that we can open the ski trails for all to enjoy.
With our growing school year population, the threat of COVID keeping students closer to camp, and our overall desire to encourage people to get outside and enjoy our natural resources, the trail improvement initiative has risen to the top of the priority list. This is an exciting and challenging project that has been supported by our summer work crews, and in even greater part by our Vanguard work teams throughout the fall. It is a great experience for students to be working hands-on to develop and improve a resource at HoneyRock that will benefit them now and for years to come. It seems to me that this is just how Harve Chrouser, our founding director would have wanted it!
Over the past few months, this has felt like the common theme: change!
Information changes, new information is unveiled, and what I once thought I knew becomes different. As I reflect on this past semester and prepare for the spring, I am amazed at how far we have come. Days have turned into weeks and this past month we have wrapped up the end of the fall semester.
We entered the fall semester with students committing to self-isolate for fourteen days, provide a negative COVID test, and continue self-monitoring each and every day. With this structure, we have been able to allow students to live as a "family unit" going mask-free while around each other. As the case numbers near us have fluctuated, we have asked our professional staff and school year community to adjust travel and town runs.
The success of the fall semester is a testament to how well our students heeded our words of advice, recommendations, and ever-changing information. This is a resilient group of students and professional staff who are willing to look out for their neighbors and live into the COVID-safe practices we've developed. It does not come without its challenges, but I am so thankful that our school year community has had a fun, growing, and healthy semester despite the pandemic.
This spring semester has posed some new challenges as we debated, discussed, and labored over how to safely re-enter our HoneyRock after the return of students from Christmas break. While we altered our re-entry plan from the fall to make some improvements and fit the most recent information and data we have available.
As we live into this new plan, we are prayerful that the school year community may enter the "bubble" once again and be able to live life to its fullest while learning more about who God is calling them to be.
By Erin Sharp, Scott Eppler / Edited by Kathy Schumacher
HoneyRock's historic equine facilities have been home to thousands of campers, families, and guests since their inception in the 1960's. If fence lines and pasture grass could talk, they would share stories of accomplishment, grit, strength, and lessons on leadership as taught by one of God's most powerful teaching tools—the horse.
However, these facilities are showing their age. Sagging and splitting foundations, leaking roofs, freezing waterlines, and heaving fence lines struggle to withstand the rhythms of lengthy winters and busy summer months. In order to continue to provide life-changing opportunities to guests of all ages by using horses as a tool for ministry, much-needed upgrades are in order.
The current Vanguard Gap Year equestrian team is the largest amongst the students.
An expansion of this program area would allow for a study in Equine Management, Equine Programming, and Breaking and Training. The equestrian Vanguard program would continue to serve as an onboarding opportunity for the equestrian Fellow and Graduate positions which will further develop participants to step into equestrian management positions in the equine industry.
To allow for expansion of these programs we propose to begin improvements on the facilities in a phased approach. The first step in the process would be to build a new hay storage barn and feeding facility. This would be followed by a comprehensive Equestrian Center to include heated spaces to accommodate a classroom, tack storage, and restrooms. In the future feed storage, box stalls, equipment storage, and an attached indoor riding arena could be included.
The mission of our HoneyRock equestrian program is to provide a safe, Christ-centered, engaging environment where horses are used as a platform to equip participants with life skills that are useful within and outside of the equine industry. Please stay tuned as we work towards our vision of utilizing horses to further understand God's leadership in the lives of our students, guests, and staff.
Looking for a Quick Northwoods Getaway?
Our newly renovated private cabins create an incredible place apart for you and those you love to retreat and enjoy time spent with one another. Whether you're more of a cozy up and read a book type or one who likes to do all of the winter activities HoneyRock offers in a day (or a little bit of both!), we have an experience for you. Learn more about your Northwoods getaway options with the links below!
PRIVATE CABIN RENTALS | FAMILY RETREAT WEEKENDS
---
Meet HoneyRock Graduate Students
Tap the photo to read their stories!
---
Facilitating Leadership Development on a Global Platform
By Muhia Karianjahi, Assistant Professor of Outdoor and Adventure Leadership Graduate Program and Global Initiatives Manager
Since May 2020, I have been part of a global cohort of camp leaders from around the world. The group, facilitated by our Executive Director, Rob Ribbe, has formed the Executive Track of Christian Camping International's Global Leadership Program (GLP). It has been a major silver lining in the dark cloud of COVID-19 that has enveloped much of the world for the past 10 months. The mission of Christian Camping International (CCI) is to promote and support Christian camping throughout the world, as a means of serving the Church to fulfill the Great Commission of Jesus Christ. Though this training was envisioned way before the pandemic, the composition of the cohort of global leaders, the depth of engagement by its members, and testimonies of its impact has so far turned out to be even better as a result of the pandemic.
A global CCI gathering planned for April 2020 in Sydney, Australia, pivoted to online events as a result of the pandemic. The Executive track of the GLP is one such offering. One of the stated purposes of the training is to "build a global cohort of camp leaders who support and challenge one-another towards continual growth and God-honoring effectiveness." Since May, the cohort has met online for six sessions and explored topics such as understanding what leadership means around the world, the character of a leader, and the shepherding role of leadership. In between the main sessions, small groups organized around common time-zones to discuss readings and resources. We also encourage and pray over one another. I have the privilege of being in a group of four leaders, two from Canada and one from Mexico.
These are just a few examples of how I have experienced God "make all things new" (Revelation 21:5) amidst the pandemic.
Our first online gathering consisted of 54 leaders representing 20 nations and numerous languages, cultures, backgrounds, and experiences. Many of my fellow participants would not have made it to the gathering in Sydney due to limited availability away from their vocations, the expense of travel and accommodation, and the complexities of acquiring visas. As a direct result of the pandemic, the cohort of leaders is a much more accurate representation of Christian camping around the world! The wisdom of God far surpasses our wisdom, and his plans are perfect (1 Corinthians 1:18-31).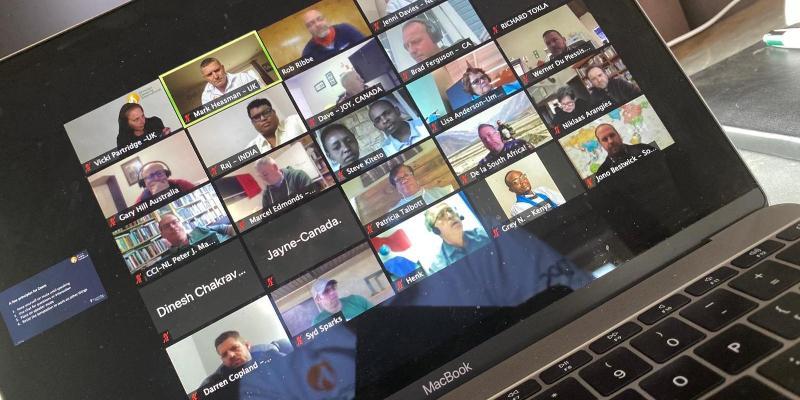 We have been able to encourage one another to prepare well for our sessions by sending each other reminders and notes via email. For many in the camp world, setting aside time to read widely does not come easily, and testimonies include "feeling like fellow students" again after many years. Our different cultural starting points as we read assigned books and Scriptures have served us with rich, well rounded, and sometimes surprising perspectives and insights. Our meetings as a small group and global cohort continue through March 2021 when this program comes to a close.
We are all eager to see how God will lead us to continue growing together as we serve the Church to fulfill the Great Commission of Jesus Christ. Meanwhile, we can testify as Joseph did in Genesis 50:20 that what Satan meant for harm to Christian camping, God has used to "germinate" his Kingdom in ways we would never have expected. God is making delicious lemonade out of a very bitter global lemon!
---
Stories from HoneyRock
Tap to read the full story.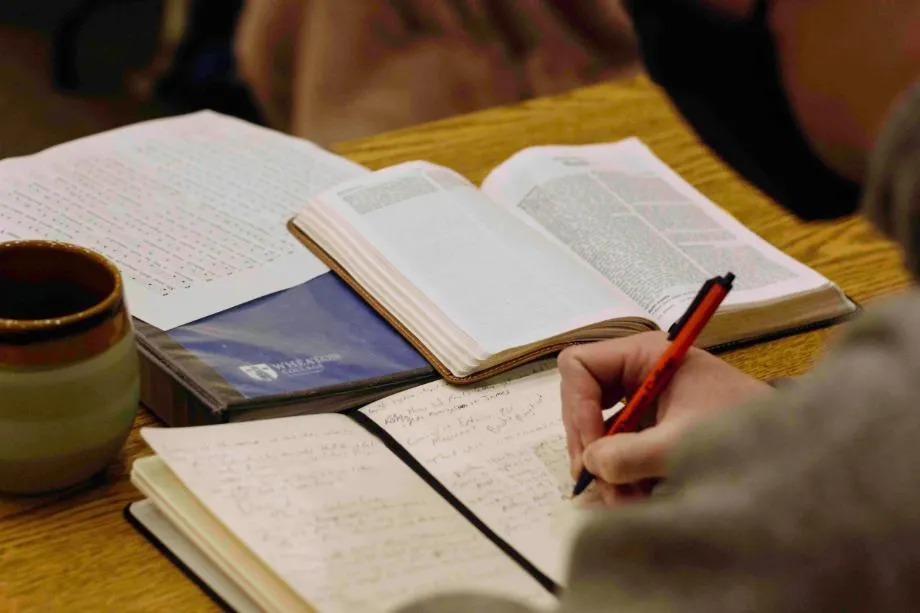 Exploring the Vanguard Advent Seminar at HoneyRock
What happens when a New Testament professor, a Director of Music (and professional organist!), and an Art History professor gather at HoneyRock? In the words of one Vanguard, "One of the most memorable experiences of the first semester, the Advent Seminar."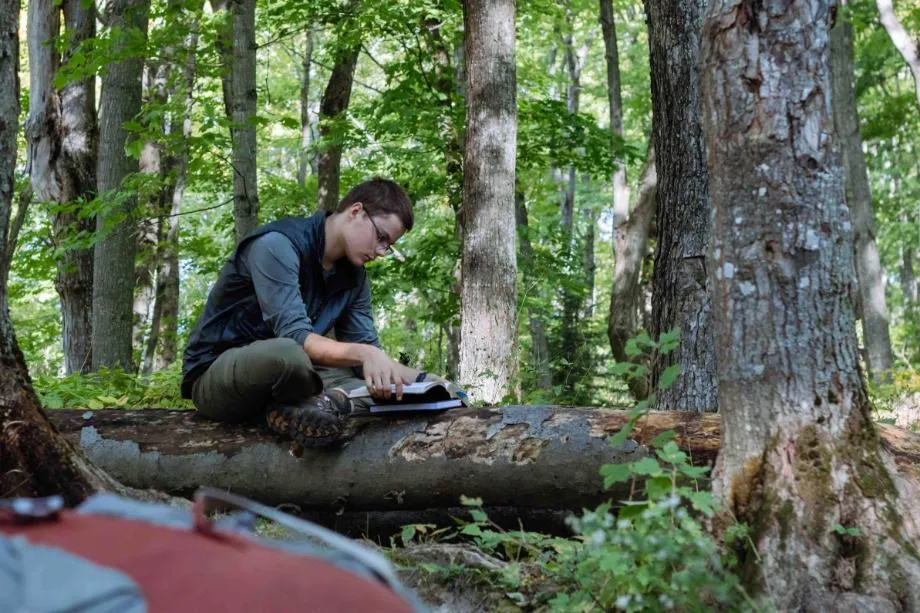 Why Vanguard Gap Year?
Jacob Estep shares about his journey to—and the first couple of months in—Vanguard, the Christian gap year of Wheaton College.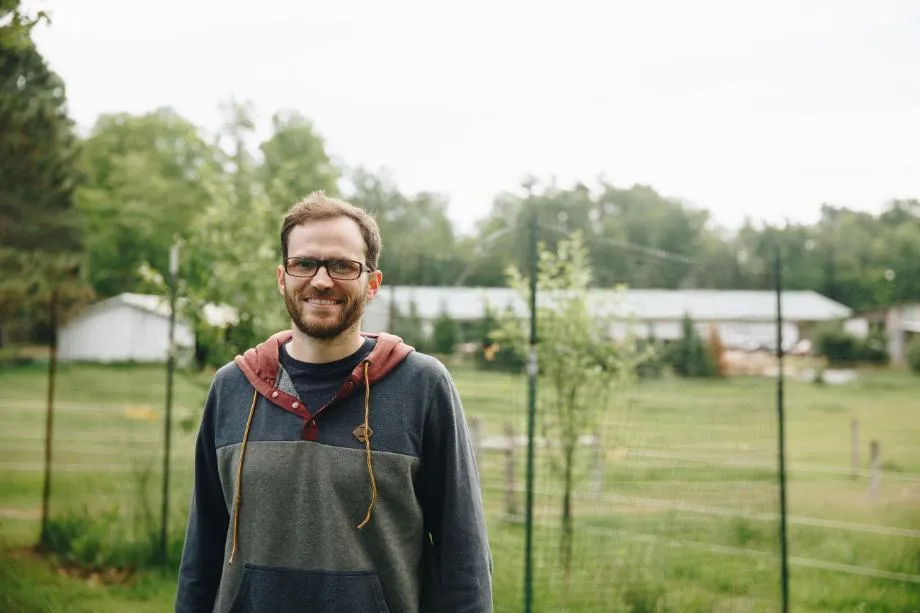 From the Archive: Helping our High Schoolers Reveal and Replace Idols with Christ
Upheaval and uncertainty tend to highlight our deep-rooted fears and idols. Our emotions, actions, and things we cling to for comfort might point to idols in our lives that have taken over where Jesus should be in our lives. While I'm writing about juniors and seniors in high school confronting their idols, this is just as applicable to me and you...
---