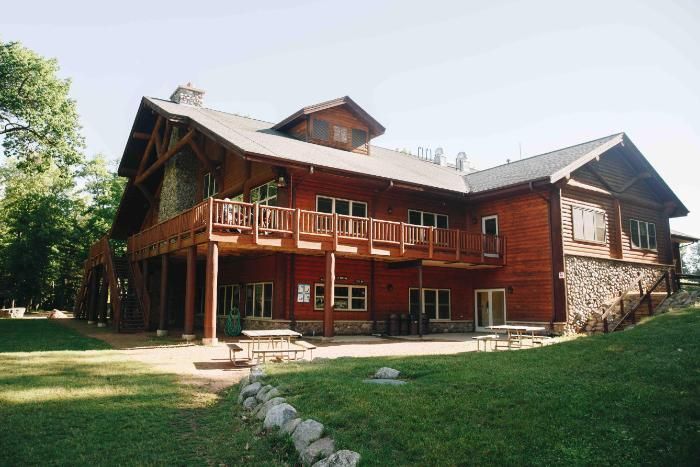 In This Edition of the Northern Light
Note from the Executive Director | School Year Graduations | Running to the Rock | Summer is here! | Executive Director Search Update | Site and Facilities Updates | Meet our new staff! | Meet our new horses | Dr. Vlacho Retires | Upcoming Events at HoneyRock
---
A Note from the Director
Spring is always a season of transition here at HoneyRock. In a practical sense, the change from winter to spring is evident; the snow has finally melted and the buds are slowly appearing. From a program standpoint, we have celebrated the graduation of our Vanguards, Fellows and Graduate Students, which is always an amazing time of reflecting, naming, and praising the Lord for his work in their lives. As our school year community departs, HoneyRock is calm and quiet for about a week, but you can sense anticipation and excitement in the air. We know that a year of planning, recruiting, hiring, and praying is about to come to fruition as cars, vans, and buses of people start to arrive from all over the world. Nervousness, awkwardness, and excitement are palatable.
Our summer staff theme this year comes from Psalm 27:4. "One thing I asked of the Lord. that I may dwell in the house of the Lord...and behold the beauty of the Lord." It is our hope and prayer that all of our campers and staff will be drawn in by the beauty, character, and love of God, and that they would respond by making Him the one thing they pursue in their life. As you read this, hundreds of people are gathering at HoneyRock to learn, train, worship, serve, and grow their relationship with Jesus Christ. Please join us in praying for divine encounters through experiences in creation, community, and adventures of HoneyRock.
Summer 2023, here we go!
Rob Ribbe, Ph. D., '87
Running to the Rock—One Camper Parent's Run from Wheaton to HoneyRock
Yep, you read that right! Adam Pratt, a camper dad, is going to drop his child off at the HoneyRock buses on Wheaton's campus and then run the 350 miles north to HoneyRock to raise money for at HoneyRock. His goal is to raise $100 for every mile he runs, totaling $35,000. These funds will be used to replace and upgrade our wilderness trip equipment for our summer camp and student programs.
We will be updating regularly about his journey on our Explore page, and you're not going to want to miss out on following along on this incredible journey. Get updates by subscribing here!
School Year Graduations
Our 2022-2023 school year has come to a close! We are so grateful for what the Lord did in the lives of everyone in our school year community, and we celebrate where God will take everyone next.
Read updates from each program!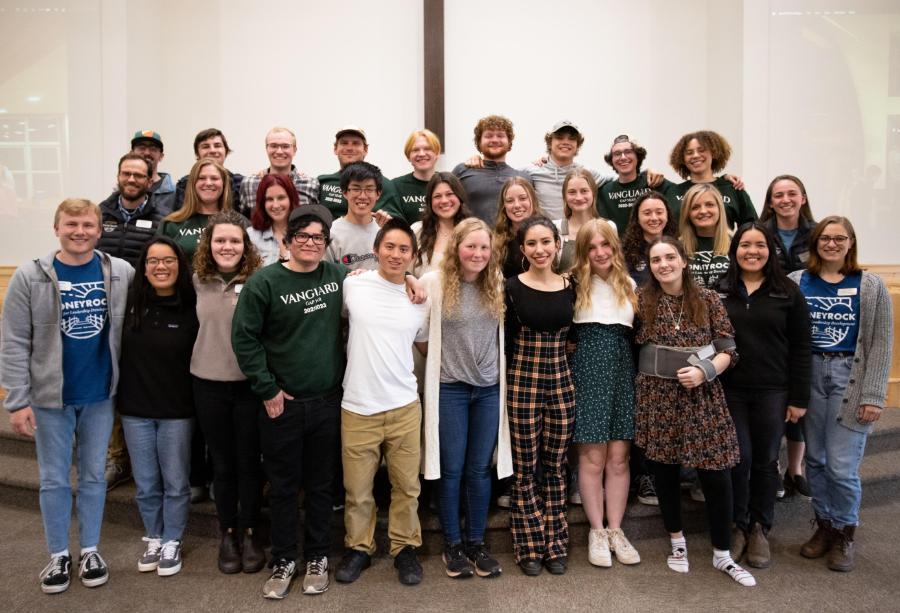 Our 2022-2023 Vanguards have completed their gap year program here at HoneyRock. Over the last few months, they traveled to Costa Rica or Mississippi and served in different ministries; these cultural immersion trips are often one of the highlights of the spring semester. Back at HoneyRock, they competed in broomball games, tapped maple trees to make their own maple syrup, continued projects in their vocational tracks, completed their spring literature of philosophy course, and more. Ultimately, they grew in their relationship with the Lord and with one another through their studies, friendships, mentoring, and times of individual reflection. We are incredibly proud of our Vanguards and all of the ways that the Lord grew them, and we cannot wait to see where the Lord takes them next.
Our Fellows faithfully led our Vanguards over the last 9 months. We are grateful for their dedication to the development of their Vanguard students. Each of our Fellows was also responsible over a specific area of camp, and were an incredible asset to our team. We know that these Fellows will be incredible leaders wherever they go next!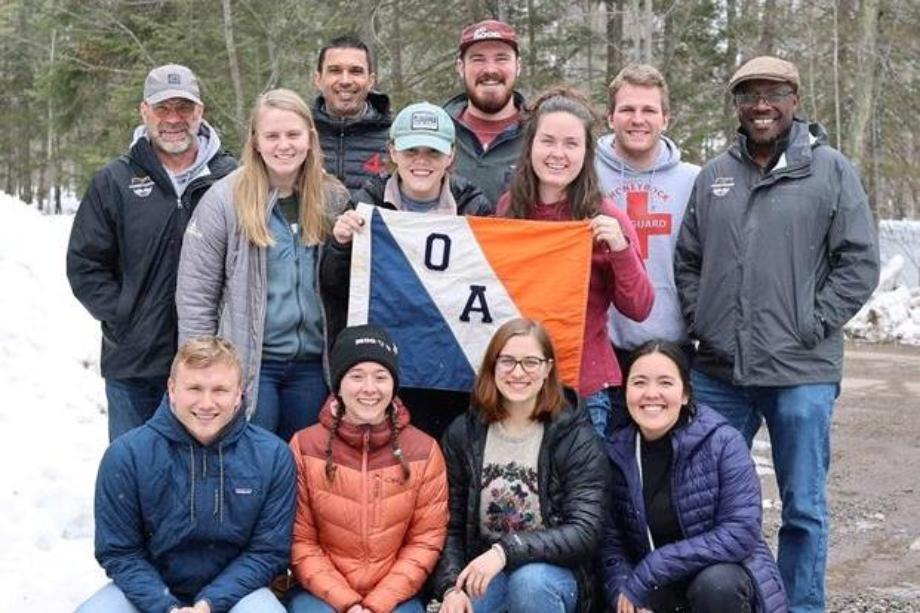 Ten of our graduate students recently completed their studies in the Outdoor and Adventure Leadership Masters program. These students have worked hard to complete their studies while also serving as Graduate Assistants at HoneyRock. We are confident that these students have been equipped to be leaders in their fields, and God is going to use them in mighty ways! Congrats!
---
Summer is here!
Summer is kicking off here at HoneyRock! We recently welcomed 22 international staff leaders from all over the world. The rest of our summer team will arrive over the next week, and then we will begin training and preparing for campers to arrive. We are so excited about what the Lord has in store for this summer for both our cabin leaders, campers, and the entire summer staff team!
Please join us in praying:
All of our summer programs are full or nearly full. Please pray for the campers who will be coming to HoneyRock!
Pray for the incoming Wheaton students who will be attending Passage this August, as well as the leaders and faculty who will be welcoming them.
Pray for our summer staff team as they serve this summer, that they would also grow and learn as they serve
Pray for safety, fun, and that all would behold the beauty of the Lord! (Psalm 27:4)
---
Executive Director Search Updates
We are in the midst of the search for our next Executive Director, as Dr. Ribbe transitions to a new position at HoneyRock. Missed the announcement? Read more here
The position has been posted, and we are currently receiving applicants. Our search committee, comprised of Wheaton College/HoneyRock faculty and staff, is hard at work processing applications as they are received. Join us in praying for their work!
We will continue to send updates, so please stay tuned!
Site, Facilities, and Activity Area Updates
Our team has been hard at work maintaining and improving our property. Learn more about the updates below!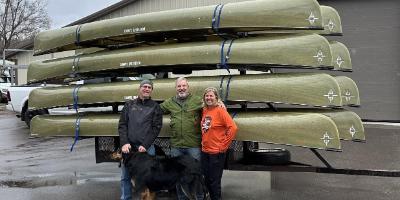 HoneyRock recently picked up eight Kevlar Canoes from Northstar Canoes. It is the first time HoneyRock has ever had lightweight canoes like this for our wilderness tripping. Six of the canoes are three-seater canoes that weigh only about 50 pounds. Say goodbye to milk crates as a 3rd seat in a two-person canoe!
We are so grateful to the HoneyRock Partner that made it possible to purchase these for our wilderness trips. These canoes will definitely be put to good use as we lead others in opportunities to engage with creation.
Speaking of wilderness trips, our Boat House has been reimagined and will now serve as the Trip Locker!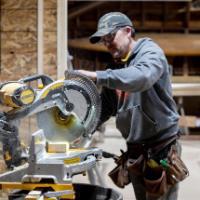 In our new Trip Locker, we will have the space and capacity to better care for our gear. Throughout the years of our wilderness trip programming, we did not have the space to hang and dry our gear. During the summer months, you would see gear hung on random clotheslines strung between trees, which was inefficient and a bit unsightly. With our new Trip Locker, we will have a large indoor space that will allow for better stocking, drying, and distribution of gear. We also will have all of our gear and supplies housed and distributed from one location, serving as a one-stop shop for all the wilderness trip needs (which includes close proximity to boats).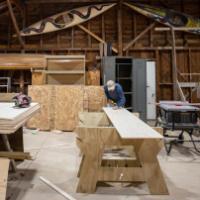 We have also crafted rolling lockers (custom-made by George Polcaster, our Facilities Manager, and his crew) that can be pushed down aisles and systematically filled for a 10-person camper group. Eventually, we will have 15 of these rolling lockers in operation, enough for our busiest periods of the summer and fall

Overall, this restructuring will allow us to steward HoneyRock's property well, and will increase the quality of our trip preparation significantly!
In the Winter '23 Edition of the Northern Light, Scott Eppler, our Assistant Director of Site and Facilities, shared about HoneyRock's recent participation in a timber sale on our property. We are excited to update you that this timber sale is complete! This will help keep our forests healthy for years to come.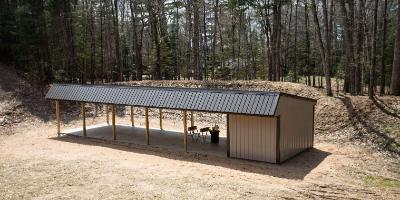 Our Site and Facilities team has been hard at work renovating our sports pavilion! The old building has been torn down, and in its place stands a new pavilion! We will utilize this space often for summer campers who choose to participate in our riflery activity area this summer.
Meet our new staff, Scott Clausen!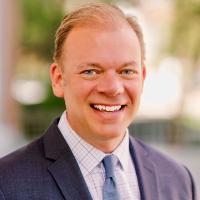 Please join us in welcoming Scott Clausen, our new Regional Director of Development for HoneyRock and the Billy Graham Center. When asked about why he's excited to join the HoneyRock team, he said, "As I approached the Third Act of my career, I knew I wanted to spend it doing Kingdom Work. I'd spent the previous 32 years in medical sales and was ready for a career pivot. My new role serving HoneyRock is ideally suited for me and I look ahead with great excitement at the opportunity to help foster the mission of HoneyRock for years to come."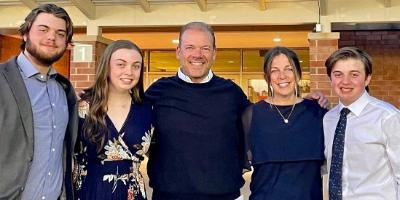 Scott and his wife Carolyn live in Geneva, IL and have three children. When not in Geneva, they enjoy relaxing at their home on the shores of Deer Lake, just a short boat ride away from where HoneyRock is located on Long Lake. Join us in welcoming Scott!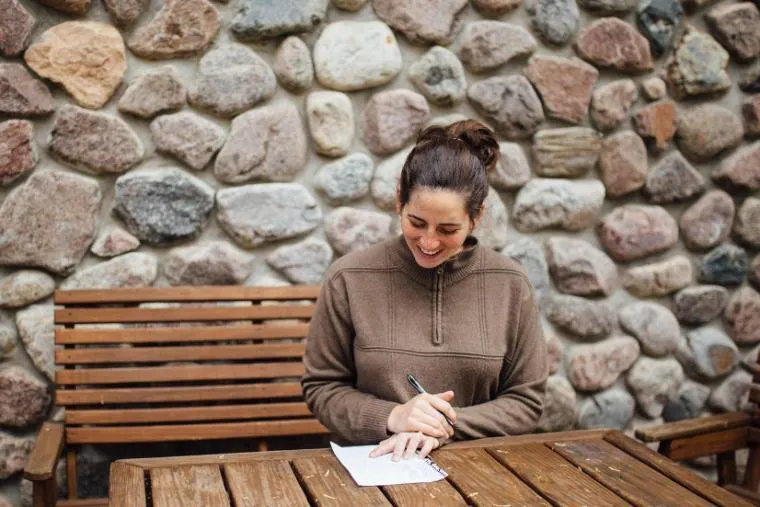 Now Hiring
We are now hiring for a year-round Business Operations Assistant to join our HoneyRock team!
Meet our New Horses!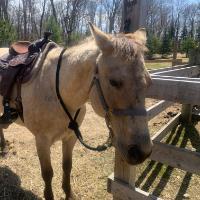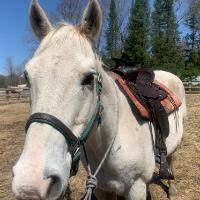 Beau (buckskin) and Cosmo (grey) have joined the herd here at HoneyRock! They are both sweet 20-year-old Quarter Horse geldings from Studnicka Cattle Company in Muscoda, WI. They are settling in nicely and integrated with the herd. We have taken them out exploring the trails and they are both brave and quiet trail horses. We look forward to introducing them to our campers and summer community!
---
The Retirement of Dr. Vlachos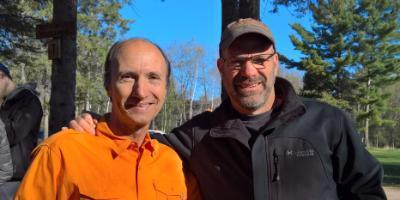 We want to extend congratulations to Dr. Vlachos on his retirement from Wheaton College after 16 years of teaching theology! Dr. V was a much-beloved professor in his many summers teaching at HoneyRock during Wheaton in the Northwoods (WIN) and the Passage orientation program. He deeply loved his students and carried on relationships with them long after his classes ended. Fun fact about Dr. Vlachos—he is the only Wheaton professor to complete the Hodag canoe challenge, a long-standing overnight canoe race of 54 miles from HoneyRock to Rhinelander. Congrats, Dr. Vlachos! We are grateful for the impact you've had on our students over the years. We will miss you!
---
Our Upcoming Events
We've got some great retreats in the works. Click below to learn more about them!