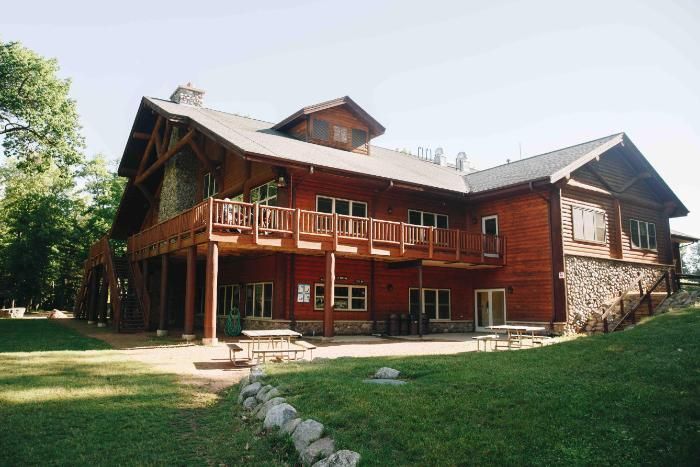 ---
In This Edition of the Northern Light
Note from the Executive Director | A Review of Summer | Wheaton Passage | Meet our New Staff! | Chrouser Re-Roofing | Girls' Camp & Northwooods Adventure | Bloodvein Trip | Equestrian Center Update | Meet the School Year Community | Professional Staff Retreat
A Note from the Director
Fall is always an exciting time here at HoneyRock. We are rejoicing after a historic summer of ministry! It was our largest yet, with nearly 1,000 campers filling every single bed! Without our incredible summer team of staff and volunteers, we couldn't have pulled it off—thank you!
It was also the first summer that Passage became the orientation program for every incoming Wheaton College student. We hosted 500 students and 50 faculty members at HoneyRock. The dedicated team of people who made this possible spans multiple departments of Wheaton College. I am blown away by how the Lord brought them together and made Passage such a success! To all who helped make this possible—thank you!
God did some incredible things here this past summer, and as we continue ahead this fall, we are encouraged by His sovereignty over all of the ministries we do here. We are relying on His grace as He leads us forward, and we are energized by the hope that what He is doing in us is important, eternal work.
As you read this Northern Light, may you be encouraged by all the Lord has done here, and energized by what is to come.
Blessings,
Rob Ribbe, Ph.D., '87
Executive Director
---
A Summer to Remember
by Ashley Kiley, Camp Program Director
What a summer! Personally, I walked into this summer full of hopeful expectation of what God would do. And wow, did He deliver!
The demand for summer camp amongst families seems to have never been this high. We were full this past summer. Although this reality brought us great excitement, it also meant that we needed to hire more staff to be able to meet the demand. Camps around the United States (including us) were struggling to find the college-aged students willing to serve. And so, we began to pray and ask the Lord to bring us the staff we needed, and we continued to search, and the Lord provided!
This summer was one that I personally will never forget. Our call to our staff this summer was to come, taste, and see (Psalm 34); it was an invitation for staff to lean in and experience God's goodness, both in their personal relationship with Him and in the experiences they had throughout the summer. Our staff members were each part of a summer leadership school, and it was so awesome to watch each of them be challenged, engage with campers and one another, and grow in their understanding and trust in the Lord. It was an honor to be a part of their experience.
Our campers had a blast as well! If you haven't been to HoneyRock during summer camp, let me paint the picture. Chrouser's lawn is filled with campers sitting in our pods, reading Bibles together and studying God's word. You can hear the faint roar of the ski boat motor in the background as it zooms across the lake. If you listen closely, you can hear the bustle in the kitchen as they prepare to feed hundreds of hungry stomachs. There's laughter and joy shared as groups walk down the path to their next activity session. And my favorite part, the camper worship that seems to always be going on around camp. It is bustling, and it is a beautiful sight.
Thank you to those who joined us in praying for summer! I want to personally invite each of you to join me in praying over all the details that go into planning for summer 2023. We are excited and expectant for God to continue to do big things!
Help us close the gap!
The rising costs due to inflation has left us with a $150,000 gap in our budget, and we need your help to continue our work without any interruptions. AND all donations given up to $75,000 will be automatically matched due to a generous donor!
Wheaton Passage was a Success!
by Nate Thompson, Wheaton Passage Program Director
Passage is a legacy program hosted by HoneyRock to facilitate the transition into Wheaton College for incoming first-year students. Before this year, Passage was an optional program with a 50% participation rate amongst incoming Wheaton students. This year was monumental because Wheaton College made Passage its official orientation program for all incoming students. As a result, HoneyRock facilitated programs for over 500 incoming first-year and transfer students during Passage. Students could choose from several options for their Passage experience, including wilderness trips near Lake Superior, adventuring at HoneyRock, equestrian activities at HoneyRock, or neighborhood engagement in downtown Chicago.
Northwoods Passage students go to HoneyRock for their Passage experience. Upon their arrival at HoneyRock, student leaders ushered them to Cathedral Pines for their welcome. String lights illuminated Cathedral Pines beneath a clear Northwoods sky. During Passage, students made new friends and memories in the canoes on Long Lake. They discussed the book Embracing the Love of God by James Smith on Chrouser lawn. They engaged with Wheaton's faculty, who continue to provide world-class leadership in introducing Christian thought. This year Dr. Emily Langan, Wheaton College's Communication Department Chair, facilitated the Life of the Mind discussion by asking "Why Play?" in light of one's academic journey.
Passage also offered three options for students in downtown Chicago. Downtown Passage, Woodlawn Passage, and Transfer Passage took place in Wheaton's neighboring city of Chicago. More than 100 incoming Wheaton students interacted with the diverse neighborhoods of Chicago to catch a vision of what it means to love our neighbors. Students visited Woodlawn, Austin, Chinatown, and Uptown neighborhoods and met with community partners to learn about real issues and God's work there. In addition, Urban Passage students engaged with creation in Chicago by rock climbing, kayaking on the Chicago river, cycling along Lake Michigan, and taking an Urban Hike along a rails-to-trail greenway project. Finally, a highlight of each day was the worship time shared across all Urban Passage sites: students, leaders, and faculty worshiped Jesus alongside one another as the L-Train rolled on outside the window.
2022 was a landmark year for Passage and HoneyRock. Through the Passage program, HoneyRock activated over 115 Passage leaders, four graduate assistants, over 60 staff members, and 50 faculty across Wheaton to provide an outstanding orientation program for incoming Wheaton College students. The Passage Team deeply appreciates those who have prayed with us during this journey, and we look forward to seeing how God continues to move through this program.
---
We welcomed two new members to our professional staff team in the last few months. Get to know Laura and Matt!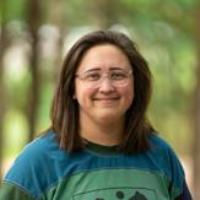 I grew up in a small town in southeastern Wisconsin with my four older siblings. I have had the pleasure being raised by two Lutheran school teachers who instilled in me a deep passion for the outdoors, the arts, and education. I graduated from Concordia University, Nebraska in 2017, receiving a BFA in Studio Art and a BA in Educational Studies. Throughout college and afterward, I worked at Camp Timber-lee (East Troy, WI) in a variety of leadership capacities from 2013-2019. Eventually, I found myself returning to my alma mater as an Undergraduate Admissions Counselor. During that time, I began to more seriously consider how I could bring together my training in art education, my heart for student development, and my experiences with outdoor ministry.
I was led to HoneyRock in the fall of 2019 to participate in the Fellows Program. While participating in Fellows, I decided to continue my education and in 2022 I completed my Masters in Outdoor and Adventure Leadership (OAL) with Wheaton College at HoneyRock. I've enjoyed working closely with the Vanguard Gap Year Program for the last three years. Now, I am looking forward to pivoting my focus towards marketing and I am eager to continue engaging with the mission of HoneyRock from a new perspective. I am grateful to serve as a conduit of HoneyRock within the greater mission of Wheaton College. I am thankful the Lord has provided this opportunity for further learning and service!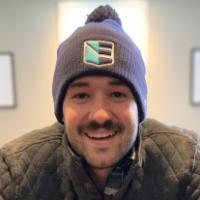 I grew up in Plano, TX with my parents, Mark and Cindy, and my little brother, Jacob. I was privileged to be able to attend Wheaton College and graduate in 2015. I majored in Christian Education, while participating in swim team and lacrosse. Our lacrosse team used to take winter trips up to HoneyRock to play broomball and bond as a team. During college I was able to counsel at multiple camps as well as work in the camp kitchen at Pine Cove in Texas. I also met my wife, Rachel, working in a camp kitchen! We have two dogs, Franklin Bones and Guinevere Lake.
After college, I taught Bible and coached lacrosse and swimming for two years at a private Christian high school. While I loved the coaching, teaching was not my calling, so I started working in the culinary industry to support my coaching. It is funny how the Lord works because I found a passion for working in kitchens and the ministry and evangelism that happens in them. I have worked in a variety of kitchens, from fine dining to brunch, for the past eight years.
I am very excited to be called to serve as the Food Service Supervisor. While we were originally planning on being in Orlando, the Lord unexpectedly placed a call on our lives to be in the Northwoods serving at HoneyRock. I believe in the power of food and hospitality to facilitate ministry that can change lives, and am excited to be a part of that process at HoneyRock!
Chrouser Dining Hall Re-Roofing
Our beloved Chrouser Dining Hall has hosted thousands of people in the 26 years since it has been built. I myself have enjoyed quite a few great meals with dear friends while seated on those wooden benches. This building is a staple in the HoneyRock experience, which is why we have been working hard on some much needed upgrading. We recently spent around $59,000 to re-roof Chrouser; it's really looking great! This spring, we will be working on the deck, which will be another significant investment. Because of the significance this building has on the experience of our guests at HoneyRock, we continually work to keep Chrouser in good shape; this will allow many more meals to be shared, friendships to be deepened, and fun to be had!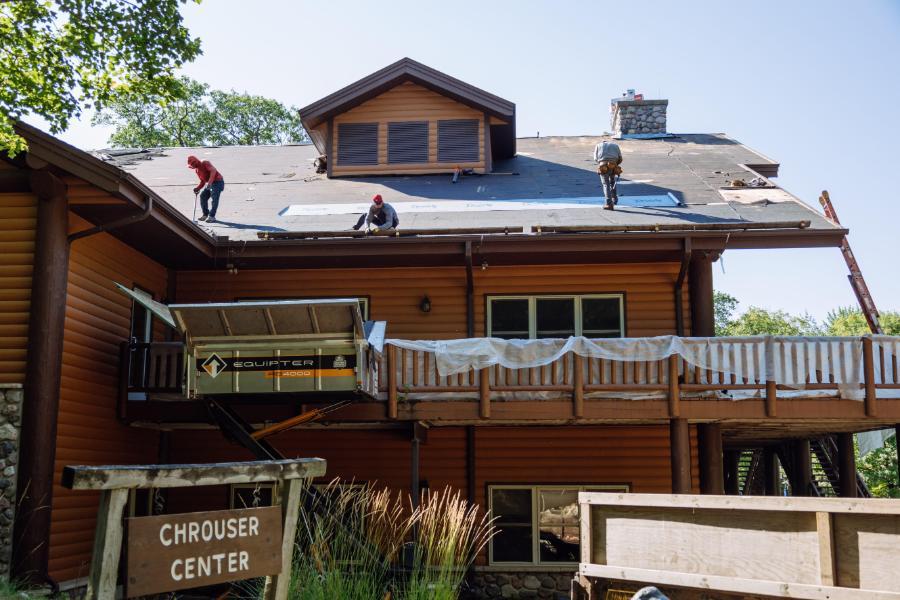 ---
---
Girl's Camp and Northwoods Adventure
HoneyRock has a rich history that spans 71 years. There are countless stories of life-changing experiences that have happened here. This fall, we were able to celebrate some of those memories with two retreats—Girl's Camp Reunion and Northwoods Adventure!
Following directly after Girls Camp Reunion was our annual Northwoods Adventure Retreat! Old friends and new came together for a week of reconnection and relaxation while enjoying the beautiful fall colors! First time Northwoods Adventure speaker and former HoneyRock summer staffer, Pastor Jeff Root of Glenn Ellyn Covenant Church, spoke on Psalm 77 and the Lord's faithfulness throughout the week. To learn more about how you can get involved with Northwoods Adventure, email Rachel Nichwitz, our Group Program Manager.
This momentous occasion brought together women who directed, led, or participated in HoneyRock Girl's Camp from the 1960s through the 1980s. Many of the women who joined us had not been back to HoneyRock in many years, nor had they seen each other! Many songs were sung, skits performed, and even a themed Banquet dinner! It was awesome to have these women join us again at HoneyRock to make some new memories and share their experiences. Learn more about our Girl's Camp Retreat and the rich history behind the program.
---
A Trip down the Bloodvein
By Jackie Ribbe, Business Operation Assistant
On Aug 19th, 2022, soon after the last Passage staff had left HoneyRock, Rob (Executive Director) and Jackie (Business Operations Assistant) Ribbe and Mike (Adventure Program Manager) and Annabelle Odberg set out with a third couple from Park Falls, WI to Bisset, Ontario Canada to embark upon a two-week canoe adventure down the Bloodvein River. This much anticipated trip had been planned since 2019, but was delayed two years due to COVID-19 travel restrictions in Canada.
Our adventure started with a 20-minute flight from Bissett to the middle of Artery Lake by seaplane, with our gear loaded on board and canoes strapped to the pontoons. The remaining 12 days were spent paddling 150 miles of the river that contained 77 rapids, half of which were class III or above requiring portaging or lining. We enjoyed several delicious meals of Walleye, Catfish, Bass and Pike caught by various members of our group. We also feasted on wild blueberries growing in abundance along the river's edge. Sightings of black bear, moose, wolves and eagles were accompanied by two weeks of warm and sunny weather.
Other highlights were exciting rapid runs, swimming in waterfalls, starry night skies, and good company. It was a good thing we all got along as we did not see another person until the thirteenth day of our trip!
As you can see, even outdoor professionals need a break from their work to enjoy experiences in creation. We would all attest that it was an EPIC adventure!
Fun fact: While new to us, the Bloodvein River is not new to HoneyRock. It was traveled in the 1990's by summer HoneyRock high school groups called the "Canadian's".
---
Equestrian Center Updates
By Melissa Hougas, Equestrian Program Manager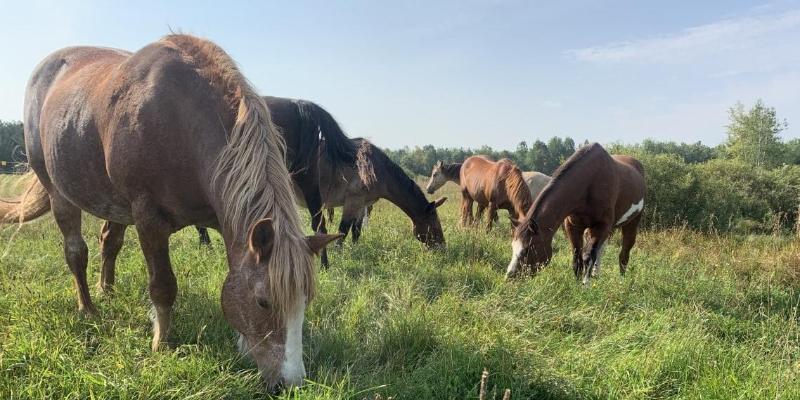 Summer at the barn was busy, but very fulfilling. The horses worked patiently with the campers who were learning the basics of horsemanship. We had a very strong Wrangler team and saw great progress in lessons. The horses helped show the campers God's unconditional love, responsibility, trust, and so much more. It was amazing to see the Aha moments throughout the summer and the riders connect with their horses. Claire, one of our Wranglers, had to say about her summer experience, "Working and living on this camp puts you in a place where you can't help but pay attention to God because he is so incredibly evident...The Lord worked in so many ways over the next two months. I watched my team pursue him, and teach what they were learning about his character through the horses. By working with the horses, campers (and wranglers) learn their own strengths and weaknesses; their fears, tendencies, and how they are growing. They learn how they relate to God and those around them."
We had a fantastic group for Equestrian Passage and focused our discussion on Acceptance, Forgiveness, and Spiritual Formation through our interactions with the horses. The horses were then able to head out to pasture for a much-deserved time of rest. Their joy was contagious as they galloped around the pasture in true freedom showing off God's beautiful creation and grace.
Around the barn, we have been taking advantage of having less horses at camp by reconstructing some fencing in preparation for the new facility. The new setup will allow for more pasture rotation and an efficient way to bring horses in for activities. We are very thankful for the help in this project and fencing training from Scott Eppler and the hard work of many others on camp that are assisting with this project.
Learn more about our Equestrian Center Project
We are in Phase 3 of our Equestrian Center Project, building a comprehensive Equestrian Center with an indoor riding arena, classroom, office, tack storage, box stalls, and equipment storage.
---
Our School Year is Underway!
Our graduate students, Fellows, and Vanguards have all arrived and begun their programs at HoneyRock! Learn more about our 2022-2023 School Year team!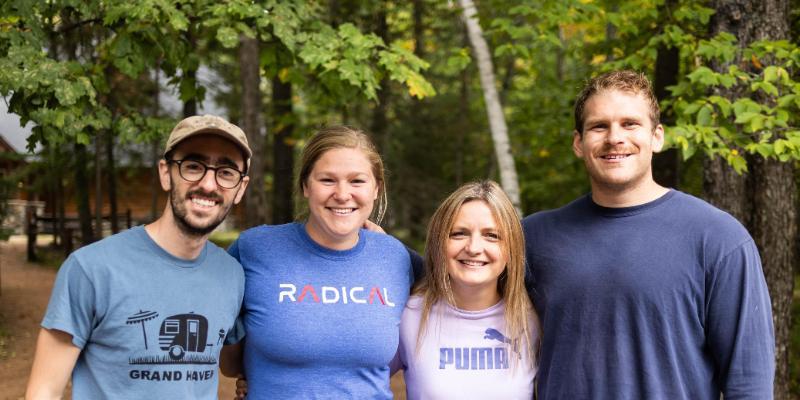 Meet our 2022-2023 Fellows! These college graduates work closely with our Vanguard Gap Year program to cultivate a thriving community!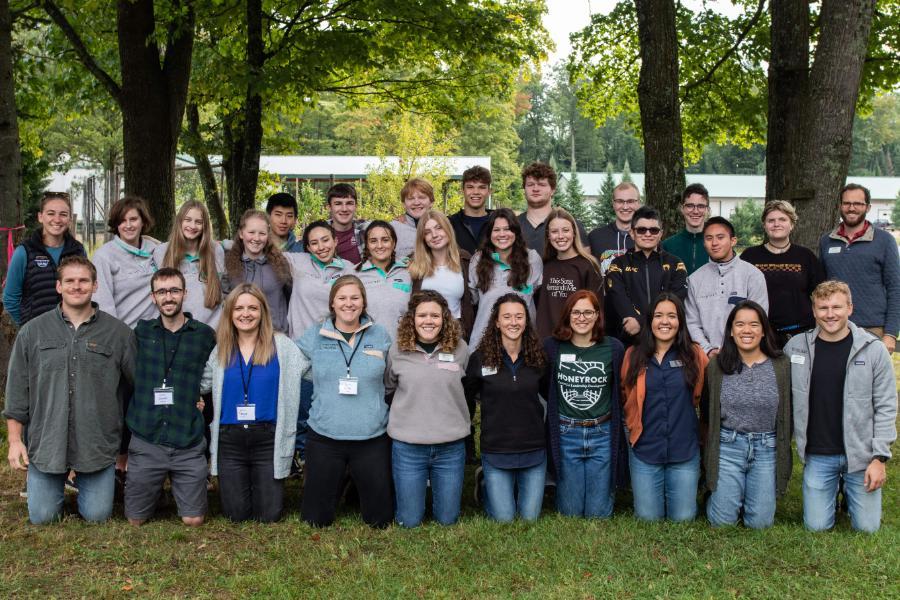 Meet our 2022-2023 Vanguards! Our Vanguards have been busy this fall, taking classes, heading out on wilderness trips, and participating in a technology fast (no tech for 6 weeks!). We are so excited for the year ahead with these students!
---
Professional Staff Retreat
Our professional staff gathered together for 3 days to reflect on what God has done, celebrate, and strategically plan for the future, as well as have a little fun together. It was an incredible time of rest, fellowship, prayer, and bonding!