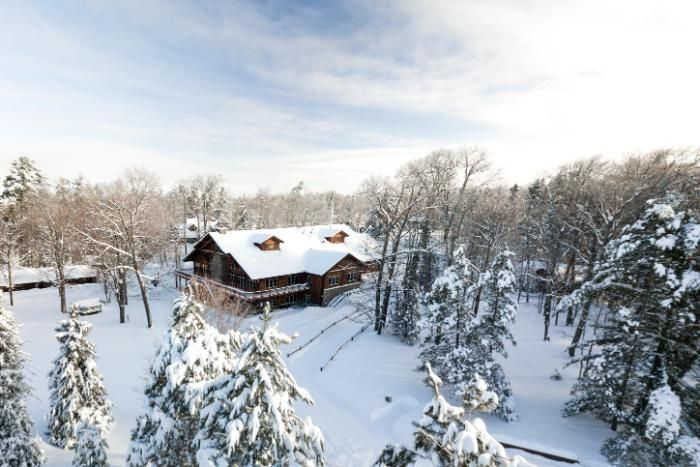 An easy, fun, Northwoods retreat for your whole family.
You gather two or more families to come retreat and play in the Northwoods. We cook, we clean and everyone has fun!
Seasons: Fall & Winter
Price: $50 per person over 6 years old per day + Cabin Rental
To Reserve: Email honeyrock.retreat@wheaton.edu
Make a trip up north with your family and friends for an all-inclusive retreat (including meals) at HoneyRock! If you gather the people, we'll do everything else. You'll have time to enjoy HoneyRock's fall or winter activities, share family-style meals, and spend quality time with those you love most. With you as the guide, we'll put together a relaxed schedule that the whole family will love.
Family Retreat Details
Some cabins may not be available during the dates/months listed below due to program use. Please call our Guest Group Program Manager for up to date information on rentals: 630-752-6024
Peak Season Dates September - May: Labor Day Weekend, New Years (December 29 - January 2), President's Day Weekend, & MLK Day Weekend
Mid-Level Seasons: September, October, January, & February
Low-Level Seasons: November, December, March, & April
Please note that we are closed to guest group rentals during the week of Christmas to allow our staff time to spend with their families.
**Cabins with a double asterik have 2 or more full baths. Cabins with no asterik have 1 full bath.
| Cabin | Cabin Type | Occupancy | Peak Season Per/Week | Peak Season Per/Night | Mid-Season Per/Week | Mid-Season Per/Night | Low-Season Per/Week | Low-Season Per/Night |
| --- | --- | --- | --- | --- | --- | --- | --- | --- |
| Engedi | 2-Bedroom | 5 | $2,500 | $395 | $1,750 | $275 | $1,625 | $250 |
| Kenozha | 4-Bedroom** | 8 | $2,500 | $395 | $1,750 | $275 | $1,625 | $250 |
| Living Waters | 3-Bedroom + Loft ** | 8 | $3,000 | $475 | $2,100 | $330 | $1,890 | $300 |
| Wellspring | 4-Bedroom ** | 10 | $3,000 | $475 | $2,100 | $330 | $1,890 | $300 |
| Vanguard Center Apartments | 1-Bedroom (Studio Style) | 2-3 | N/A | $155 | N/A | $130 | N/A | $115 |
| Dorm | 1-Bedroom | 10 | N/A | $100 | N/A | $75 | N/A | $50 |
We'll provide the bed linens and towels! Since you'll be staying in a cabin, you'll also have all of the basic kitchen tools, dishware, and silverware. While you know the basics of what to pack for your family (clothes! toiletries! on-the-road travel snacks!), we've provided a list of additional optional items you might consider including:
General:
Bible and journal
Headlamp + spare batteries
Camera
Small backpack
Personal travel mug
Winter Clothing Suggestions:
Winter Coat
Fleece or down vest
Ski goggles or sunglasses with strap
Gloves and mittens
Warm Hat
Snow Pants
Long Underwear / Layers
Winter face mask or balaclava
Handwarmers
We ask you do not bring personal sleds (we provide!) and the typical "do not bring" things including alcohol, tobacco products, fireworks, video games, DVDs, etc...
Fall is a beautiful season in the Northwoods of Wisconsin.
Canoeing: Take in the beautiful leaves from Long Lake.
Climbing: Use our indoor or outdoor wall to climb
Horseback Trail Rides: Explore our miles of trails from horseback!
Mountain Biking: Whether you just want to ride around HoneyRock roads OR check out our trails, biking in an awesome way to spend an afternoon.
Hiking: Start at the Trailhead and explore HoneyRock!
Basketball, Pickleball, Sand Volleyball
All of the gear needed for these activities is provided and you'll get a host who will teach newbies how to do some of the more technical activities. These activities are only offered to family retreat guests, so you'll have prime access to them!
*Activities offered may vary; offered weather-permitting.
HoneyRock has so much fun to offer in the winter! Here's what you can do during your winter retreat at HoneyRock:
Big Hill Tubing: Fly down Ski Hill in a big inner tube! If you get chilly, you can hop in Ski Tip, our woodfire warmed cabin at the base of the hill.
Winter Canoeing: While Long Lake freezes over in the winter, the channel stays open and allows for canoeing.
Cross-Country Skiing: We have miles of trails, at varying ability levels, for you to enjoy.
Snow-Shoeing: Walk across the lake and through the woods with ease as you explore different areas of HoneyRock.
Ice-Skating: Put on a pair of skates and glide around our home-made rink!
All of the gear needed for these activities is provided and you'll get a host who will teach newbies how to do some of the more technical activities. These activities are only offered to family retreat guests, so you'll have prime access to them!
*All offered weather-permitting.
Frequently Asked Questions
To run as a family retreat weekend, we do require that three cabins are reserved.
Typically, this means at least three families must, together, book a weekend.
If you can't find two additional families, check out our private cabin rentals! While we aren't able to provide food or activities during your stay, you'll still be able to enjoy the beautiful Northwoods as a family. Our cabins offer cozy fireplaces or woodfire stoves and unrestricted access into town for local adventures.
Currently, our model only permits a Friday arrival, Sunday departure for a 2-day/2-night stay for weekend visits.
If you would like to do a week-long winter family retreat, let us know in your email! We will work to determine available dates and pricing.
Once you schedule and pay a deposit for your retreat, we will share the name of your retreat host.
As a current graduate student living, studying, and working at HoneyRock, your host will be your guide and primary go-to for anything you need during your stay. Hosts will create your weekend schedule, help teach and facilitate the winter activities, and serve any needs that arise during your time at HoneyRock.
The family who recruits the other two families and is the point of contact for their group's retreat host will receive a 10% discount.*
If any family in the group is a Wheaton College staff or faculty member, that family will receive a 20% discount. Please let us know when you reserve your weekend if you are currently employed by Wheaton College.
*If you are both a Wheaton College employee and the recruiting family, your Wheaton College discount will override the 10% discount.
Reserve Your Family Camp Weekend at HoneyRock
We can't wait to see you at HoneyRock this winter! To reserve your weekend, email us at honeyrock.retreat@wheaton.edu
We thoroughly enjoyed our time in the Northwoods and want to thank you and the rest of the HoneyRock team. From Kat's helpful assistance, Abigail in the ski shack, Tim the wrangler, and Kayle and Gabby with indoor rock climbing, everything was terrific! Thanks for helping us craft a lovely time in God's snowy, beautiful creation for our family. — Carol, Family Retreat Guest