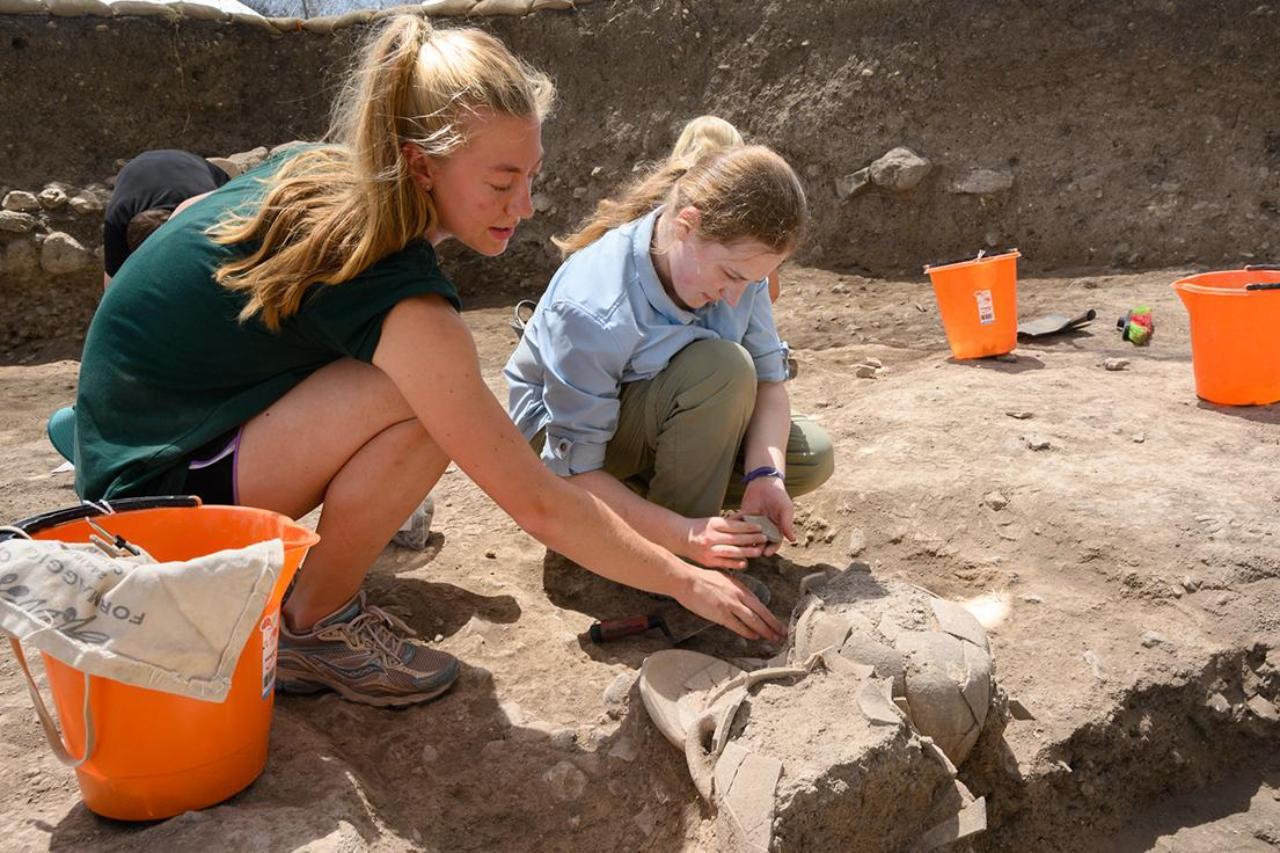 Tel Shimron Excavations - 2019 Edition
In select summers, Wheaton students learn alongside professors and other archaeologists as they study at JUC and join the excavation at Tel Shimron.
Program Overview
In seven weeks, develop expertise in the geography and archaeology of Israel that you can use in Biblical Studies, Historical Theology, or any other field where the land and history of Israel have played an important role.
Study the Land: Jerusalem University College (June 13- July 3)
Spend three weeks in Jerusalem taking JUC's intensive short-term program in Historical and Geographical Settings. Discover the ways that Biblical events can be placed in their proper geographical, historical and cultural context.


Excavate the Land: Tel Shimron Excavations (July 3 – July 30)
Join us for four weeks of the second field season at Tel Shimron, a site perched high above the Jezreel Valley on the Nazareth Ridge in Israel with a commanding view of Mount Carmel to the southwest.
Occupied for the whole of the Biblical period, Shimron saw the rise of ancient Israel, Jewish Galilee, Rabbinic Judaism, Christianity, and Islam. Come with us to discover the past and learn how to reach across the cultural divide to the world of the ancients.
Sponsoring Department: Biblical and Theological Studies
Program Leader: Dr. Daniel Master
Term: Anticipated Summer 2022
Anticipated Travel Dates: June 12 - July 30
Application Deadline: April 1, 2022
Estimated Cost: $6,700 based on 2021 summer tuition costs. Cost of summer tuition per credit hour enrolled for 2022 TBD. (Airfare not included)
Scholarships and Financial Aid: Tel Shimron Excavations is currently offering up to $2,600 in scholarship awards and promotions for qualified students. Contact Excavations Coordinator, Angela Walters, for more information about scholarships: angela.walters@wheaton.edu.
Prerequisites: None
Eligibility: Open to Wheaton College graduate students
Sponsor Organization: Museum of the Bible
Partner Organization: Tel Aviv University
Highlights: The excavation portion of the program involves students and volunteers from multiple universities, giving participants field experience in a biblically and historically significant archeological dig.
Course Offering
Graduate students register for the following 8 credit-hour course:
ARCH 525: Archaeological Field Work (8 hrs.)
Field experience involving excavation, interpretation, and studies in related regional archaeology. Students will learn methods of investigating history (critical analysis of primary and secondary historical sources to interpret the past) to help them understand the diverse people who live(d) in the Jezreel Valley and its environs.
Program Fees
The estimated program fee covers tuition and room and board: $6,700.00 (airfare not included)
Estimated Additional Expenses: Students are responsible for the cost of international airfare to and from the program, any visa fees, vaccinations, and all personal expenses.
Expense Estimate for international airfare: $1,100.00
Learn More
If you have specific questions or would like to know more about the Tel Shimron Excavation program, contact Dr. Daniel Master, Professor of Biblical and Theological Studies, for further information. Contact: tel.shimron.excavations@wheaton.edu
How to Apply
To apply to the Wheaton College Tel Shimron Excavation program, visit GoGlobal, Wheaton College's registration system for off-campus study and international travel, research, and internships.