The 8th Annual Lecture in History of Christianity
In celebration of the 500th anniversary of the Reformation, the History of Christianity M.A. program invites you to the inaugural "Mark A. Noll Annual Lecture in the History of Christianity" on Monday, October 30th from 4:30-6:00 PM in Barrows Auditorium.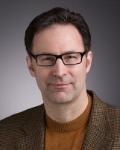 We are delighted to have alumnus Dr. Ronald K. Rittgers, Erich Markel Chair in German Reformation Studies and Professor of History and Theology at Valparaiso University, delivering a lecture entitled, "Martin Luther and the Reformation of Love: The Heart of the Protestant Revolution." Additionally, Jill Baumgaertner, Professor of English Emerita, will be reading an original poem that she wrote commemorating the anniversary.
This lecture is free and open to the public. There will be a dinner break where attendees can purchase a meal in Anderson Commons. Then at 7:30 pm in Barrows Auditorium, Wheaton College's President, Dr. Philip Ryken will be speaking via live stream from Concordia University on a panel discussion, "The Reformation at 500". For more information please feel free to contact: Krista Sanchez, bts.graduate.studies@wheaton.edu."