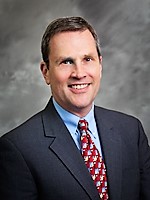 Karl Sandin, MD, MPH is a physiatrist and public health practitioner in Wheaton, Illinois. He graduated magna cum laude from Wheaton College in 1982, Feinberg School of Medicine of Northwestern University, and the Fielding School of Public Health at UCLA. Dr. Sandin moved to Houston, Texas, for his residency in physical medicine and rehabilitation at Baylor College of Medicine and then practiced physical medicine and rehabilitation in Santa Barbara, California, for 17 years. During those years, he was also the medical director of the Rehabilitation Institute at Santa Barbara, president of the county medical society, a CARF surveyor, a board member for Santa Barbara Health Initiative and American Academy of Physical Medicine and Rehabilitation, and a professor of public health at Westmont College.
In 2007, Dr. Sandin received his master's of public health from UCLA resulting in the establishment of an out-patient cognitive remediation program for people with dementia and completion of a research project in carpal tunnel syndrome care with RAND. That work led Dr. Sandin to the Courage Kenny Rehabilitation Institute in Minneapolis, MN, where he was physician-in-chief through 2013. A national leader in quality measurement in rehabilitation, Dr. Sandin brings enthusiasm and commitment to medical rehabilitation and the care of people with disabilities.
Dr. Sandin is listed as one of the US News and World Report top doctors for 2018.