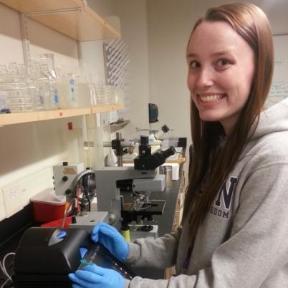 Before attending medical school at East Tennessee State University, Erica Andres '14 worked as a research assistant in Pediatric Infectious Disease at Vanderbilt's School of Medicine in Nashville, TN for two years. She studied coronaviruses including SARS-CoV and MERS-CoV which have the capacity to cause severe and lethal human disease.
Her specific project focused on identifying compounds that work against these viruses and determining their mechanism of action. She had the opportunity to work with pharmaceutical companies, present her work at both national and international conferences, have her data submitted to the FDA in support of a Phase 1 Clinical Trial, and wrote a first author paper. Due to the nature of these pathogens, she was certified to work independently in her lab's Biosafety Level 3 laboratory (which includes wearing a Hazmat suit and respirator).
She shared, "It has been a difficult job with a very steep learning curve, but I am grateful for the opportunity to have been able to learn from some of the nation's top virologists. It has been a very humbling experience, but also a gratifying one as I can see how far I have come since I started here. I think the most important things are to work hard, have a positive and humble attitude, be committed to improving your skill set, and always be willing to ask for help when you need it." She also commented, "If students are looking for something to do after undergrad while they apply to medical school, the NIH has a great post-bac program that not only pays, but provides opportunities to publish research and get good recommendations."

While at Wheaton, Erica studied Biology and was awarded the Sugarbaker scholarship.