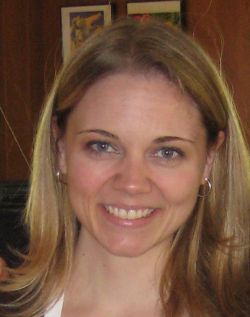 I graduated from Wheaton in 2003 with a double major in German and Music.
I am currently a speech-language pathologist working at a University-affiliated hospital, seeing both inpatients and outpatients. My caseload consists of patients who have suffered a stroke or other brain injury, for whom I provide speech and language therapy, treatment for cognitive-linguistic deficits, and treatment for swallowing disorders. I also treat patients with voice, neurodegenerative, or fluency disorders. We have a large population of patients with head and neck cancer that we see for swallowing difficulty after radiation treatment as well. A new population we are targeting is foreign physicians completing their residency programs in the U.S. who desire to work on accent reduction.
I completed a two-year Masters program in Communication Disorders and Deaf Education in 2007. During my graduate program, I taught a phonetics lab as part of a Graduate Assistant position. Taking Linguistics at Wheaton as part of the requirements for the German major definitely played a role in obtaining this assistantship in graduate school.
Developing an ear for language in general through my undergraduate degree in German has helped me throughout my graduate studies and professionally on a daily basis. Having an awareness of cultural values other than my own has also been beneficial to me in providing culturally sensitive patient care.