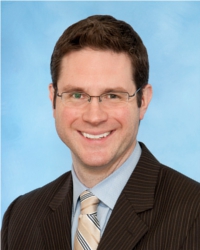 "I was a Biology major at Wheaton ('97) and a requirement for that major was Bioethics. I loved that course and so I stayed at Wheaton and completed a MA ('99) in theological studies before going to the University of Illinois College of Medicine. The master's in theology has given me a more robust framework with which to integrate my faith and the lifelong learning that is a part of the profession of medicine. After med school I did a general surgical residency at Emory University. During my time at Emory I took a research sabbatical to do a fellowship in clinical ethics at the Emory Center for Ethics as well as complete the MA in Bioethics from Trinity International University in Deerfield, IL. I became board certified in general surgery and then went to Harvard to do plastic and reconstructive surgery training. Interestingly, at Harvard they are pioneering face transplant techniques and we did three face transplants during my training. I then completed a craniofacial surgery fellowship at the University of Michigan.
Currently, I am a clinical assistant professor of plastic surgery at the University of Michigan and am faculty of the Center for Bioethics and Social Sciences in Medicine. In my practice I primarily surgically correct congenital anomalies in children and reconstruct adults horribly disfigured by traumatic injuries to the face and head. I also am the Chair of the Pediatric Ethics Committee at the C.S. Mott Children's Hospital, Co-Chair of the Adult Ethics Committee at the University Hospital, and Chief of the Clinical Ethics Service at the Center for Bioethics & Social Sciences in Medicine at the University of Michigan. I regularly teach courses in ethics at the undergraduate campus, as well as the Medical School, and I also teach ethics to the surgery residents at Michigan. One of my main interests in the moral formation of surgeons and I am currently writing a book on surgical ethics.
Wheaton gave me great preparation for medical school. In the first year of medical school I distinctly remember pulling out the notes I took from the late Dr. Bruce's physiology class, because he explained things so much better than my med school professors! Fundamentally, though, Wheaton prepared me to be reflective, to conscientiously work to integrate my faith with practice of surgery and to value intellectual integrity."