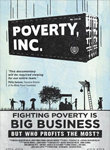 "The West has positioned itself as the protagonist of development, giving rise to a vast multi-billion dollar poverty industry — the business of doing good has never been better.
Yet the results have been mixed, in some cases even catastrophic, and leaders in the developing world are growing increasingly vocal in calling for change." (www.rocoeducational.com/poverty_inc)
Visit povertyinc.org for further film details and to view the trailer.
Panel Discussion
Tuesday, February 23
7:00-9:00pm
After a viewing of the powerful documentary, Poverty Inc, a panel discussion was held on campus with professors Winnie Fung and James G Huff Jr along with film co-producer Mark Weber.
Co-sponsored by the Pol/IR and B/EC departments, CACE, CUE, GLOBUS, and HNGR, this event is free and open to the public.
For further details, contact fpe@wheaton.edu