The Intersection of Politics, Philosophy, and Economics
Preparing students for a life of service and leadership at the intersection of politics, economics, and philosophy.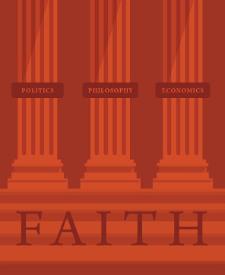 The Wheaton Center for Faith, Politics and Economics works with all the necessary departments to provide students with the opportunity to earn a PPE certificate.

The Certificate in Politics, Philosophy, and Economics (PPE) works to recognize, encourage, and deepen Wheaton College students' ability to engage a wide variety of public policy issues with the skills and knowledge drawn from the intersection of all three disciplines. Students familiar with all three disciplines will be better prepared to understand and work on solutions to a wide variety of problems in both the private and public sector.
Faculty teaching elective courses
Bryan McGraw, Department Chair, Associate Professor of Politics, Dean of Social Sciences
Tim Taylor, Assistant Professor of International Relations
Kat Alexander, Assistant Professor of Politics
Jeremy Cook, Associate Professor of Economics
Matthew Forsstrom, Assistant Professor of Economics
Enoch Hill, Assistant Professor of Economics
Jason Long, George F. Bennett Professor of Economics, Department Chair
Possible jobs/careers
Foreign service
Politics
Non-governmental organizations (NGOs)
Journalism
International business
Teaching
Public relations
Law
Risk Analyst
Consultant
Economic research analyst
Project manager
Finance
Business Management*
Think Tanks*
Local Government
Intelligence Agencies
Federal Law Enforcement

Selected Electives
How many credit hours to get the certificate 32-34 hours
Required Introductory Classes
PPE 201 (Introduction to Political Economy)
Quantitative Class (MATH 263/363, BEC 321, PSCI 361)
Electives
Two classes from each discipline among the following: (22-24)
Politic Science and International Relations
PSCI 145 (Intro to Political Philosophy)
PSCI 311 (Constitutional Law)
PSCI 343 (Political Ethics)
PSCI/PHIL 366 (Modern Political Thought)
PSCI 386 (Congress and Policy Process)
IR 315 (Politics of Global Development)
IR 325 (Justice Among the Nations)
IR 348 (Middle East Politics)
IR 356 (European Politics)
IR 362 (Urban Politics in a Global Age)
IR 375 (Globalization)
IR 379 (International Political Economy)
Philosophy
PHIL 311 (History of Philosophy – Ancient/Medieval)
PHIL 312 (History of Philosophy – Modern)
PHIL 251 (Global Justice)
PHIL 3XX (Critical Race Theory)
Economics
ECON 211 (Microeconomics)
ECON 212 (Macroeconomics)
ECON 347 (Urban Economics)
ECON 361 (Evolution of Global Economy)
ECON 362 (Wealth & Poverty of Nations)
ECON 364 (Health Economics)
ECON 365 (Economic Growth & Development)
ECON 366 (International Economics)
ECON 378 (Economics of Labor & Poverty)
Capstone Seminar (PPE 494) (2)
Total Hours (32-34)