The End of Socialism
February 11, 2020
Dr, James Otteson, Executive Director of the BB & T Center for the Study of Capitalism and Teaching Professor of Political Economy at Wake Forest.
Watch the Otteson Video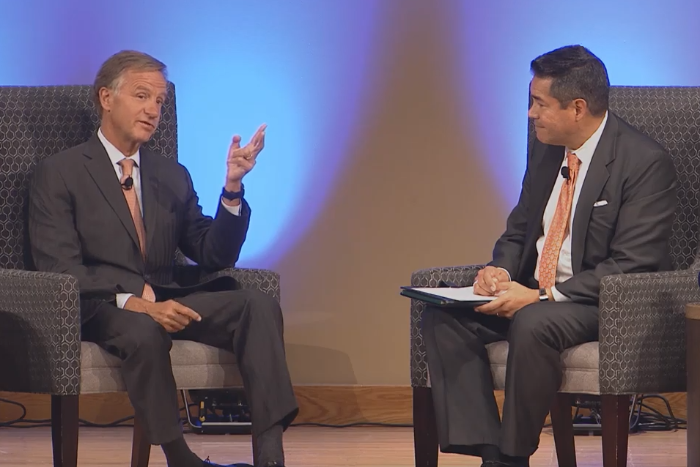 The Role of Faith in the Public Square
October 29, 2019
Hon. Bill Haslam, former Governor of Tennessee, interview with David Iglesias
Watch the Haslam Video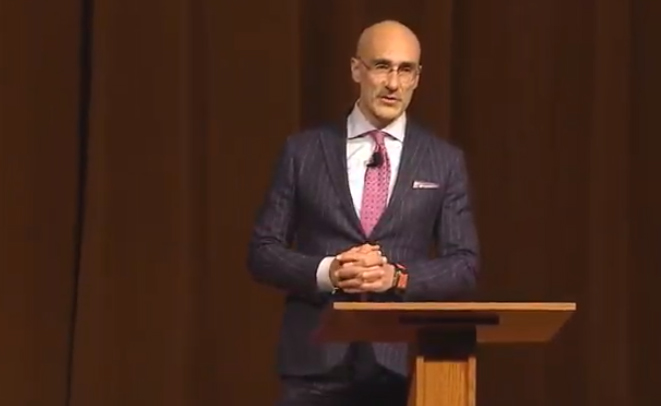 Love Your Enemies
April 2, 2019
Arthur Brooks, President of the American Enterprise Institute, "Love Your Enemies: Saving America from the Culture of Contempt"
Watch the Brooks video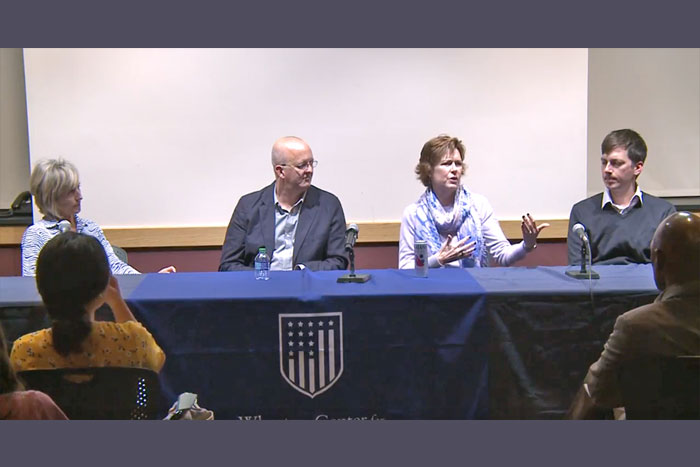 We Both Work…Who Does the Laundry?
September 26, 2018
Panelists: Kristin Colber-Baker '86, Global Director, Mars, Inc.; Bonnie Wurzbacher '77, former Chief Resource Dev. OFC and Sr. VP, Coca-Cola; Dr. Bryan McGraw, Dept. Chair/Assoc. Prof., Politics; Dr. Jeremy Cook, Asst. Prof., Economics
Watch the panel discussion
The Financial Crisis of 2008: A View from the Inside
September 24, 2018
Steve Preston, Secretary of the U.S. Department of Housing and Urban Development (HUD) from 2008-2009
Watch the Preston presentation
Robotics & Emerging Technologies: Friend or Foe of the American Worker
November 1, 2017

Nigel M. de S. Cameron, Ph.D., President of the Center for Policy on Emerging Technologies in Washington, D.C.
Watch the Cameron presentation
Video Resources
The Healthcare Labyrinth - Where Do We Go From Here?

February 28, 2017
Sally Pipes, President and Chief Executive officer of the Pacific Research Institute.
Watch Video

Christian Political Witness in the Age of Trump

April 4, 2017
Peter Wehner
Watch Video



Income Inequality: The Role of Markets and Government

January 19, 2017
Sam Peltzman, Bruce Meyer, and W. Bradford Wilcox
Watch Video

The State of Religious Liberties in America

December 6, 2016
Rich Baker, Kassie Dulin, Al Gombis and Jenniefer Marshall
Watch video

Addressing America's Over-Incarceration Crisis

April 18, 2016
David Iglesias and Cynthia Roseberry
Watch Video

How the Immigration Debate Affects U.S. Presidential Elections

April 7, 2016
Ana Navarro and Ruben Navarrette, Jr.
Watch Video

Friendship Across the Aisle

March 17, 2016
Tony Hall and Frank Wolf
Watch Video

Poverty, Inc. Documentary and Panel Discussion

February 23, 2016
Panel: Winnie Fung, James G. Huff, Mark Weber
Watch Video

Israel: Facing the Current Challenges in the Middle East

February 17, 2016
The Honorable Roey Gilad
Watch Video

Faith and Public Service: Making a Difference at the White House and US Mint

November 17, 2015
Ed Moy, Former US Mint Director and special assistant to the president for presidential personnel at the White House
Watch Video

The Ongoing Eurocrisis in a 21st Century that will be Dominated by the U.S.

September 8, 2015
Johan Van Overtveldt, Minister of Finance, Belgium
Watch Video

Immigration Panel Discussion

Fall 2014
Ruben Navarrette Jr., Paul K. Charlton, Matthew Soerens, Alex Nowrasteh
Watch Video

High Impact Giving

October 3, 2014
Bruce Wydick, Professor of Economics and International Studies, University of San Francisco
Watch Video

The Mystery of the Invisible Hand

September 29, 2014
Kenneth G. Elzinga, Robert C. Taylor Professor of Economics, University of Virginia
Watch Video

Poverty of Nations

January 23, 2014
Wayne Grudem, Research Professor of Theology and Biblical Studies, Phoenix Seminary
Watch Video

Public Education Reform

April 10, 2014
Dian Whitmore Schanzenbach, Associate Professor, Northwestern University
Watch Video

Human Flourishing and Economic Growth

January 17, 2013
Stephen L.S. Smith, Professor of Economics, Gordon College
Watch Video

God, People and Management: East Meets West

April 22, 2013
Joseph Maciariello, Zhao Xiao
Watch Video

Public Sector Unions

November 15, 2012
Max Schanzenbach, Assistant Professor of Law, Northwestern University
Watch Video

Energy Markets and Politics: Responsible Stewardship of God's Resources

October 30, 2012
Seth Norton, J. Dennis Hastert, Floyd Kvamme, Bob Inglis
Watch Video

Economic Impact of the Supreme Court's Health Care Decision

September 25, 2012
Thomas A. Lambert, Associate Professor, University of Missouri - Columbia School of Law
Watch Video

Fiscal Imbalances 2 Panel Discussion

Spring 2012
Bill Scholl, Casey Mulligan
Watch Video

Missionary Roots of Liberal Democracy

March 27, 2012
Robert Woodberry, Assistant Professor of Sociology, University of Texas at Austin
Watch Video

Politics, Economics, and Energy

March 15, 2012
William A. Von Hoene, Jr., Executive Vice President of Finance and Legal for Exelon
Watch Video

Political Economy of Transportation: How the Globalized Food Supply Chain Benefits our Economy and Environment

February 22, 2012
Pierre Desrochers, Associate Professor of Geography, University of Toronto
Watch Video

Symposium on Development and Human Dignity, Part 2

November 16, 2011
Erica Field, John L. Loeb Associate Professor of Economics, Harvard University
Watch Video

Fiscal Imbalances Panel Discussion

October 20, 2011
Dennis Hastert, Bobby Rush, Andrew Biggs, Casey Mulligan, Michael Gerson
Watch Video

Mayor Daley Visits Wheaton College

March 3, 2011
Richard M. Daley, Mayor of Chicago
Watch Video

Financial Investment and Entrepreneurship

October 28, 2009
John P. Calamos
Watch Video