David Iglesias, J.D.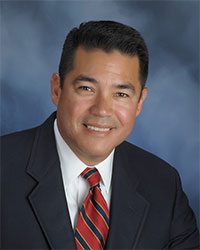 David Iglesias is the Director of the Wheaton Center for Faith, Politics and Economics in addition to being an Associate Professor of Politics and Law at Wheaton College. Previously, Professor Iglesias served as a state, federal and military prosecutor with a focus on national security and terrorism cases. He was the presidentially appointed, Senate confirmed, United States Attorney for the District of New Mexico between 2001 and 2007.
Professor Iglesias was recalled to active duty U.S. Navy status between 2008 and 2013 in support of Operation Enduring Freedom. He served as a team leader, senior prosecutor and spokesman with the U.S. Military Commissions, in Washington, D.C. and Guantanamo Bay, Cuba, handling war crimes and terrorism cases. He supervised the conviction of the U.S. v. Noor Uthman terrorism case; one of only six completed war crimes cases since the Commissions were re-established.
Born in Panama to tri-lingual, tri-cultural missionary parents, Mr. Iglesias graduated from public high school in Santa Fe, New Mexico, from Wheaton College in 1980 and the University of New Mexico School of Law in 1984. He testified before the U.S. Senate and House in 2007 concerning the U.S. Attorney firings and wrote a book about the topic entitled "In Justice" which was published in 2008. He also appeared on "Meet the Press", "Larry King", "Hardball", CBS Evening News, "Daily Show with Jon Stewart" and wrote op-eds for the New York Times and L.A. Times to name a few of his media interviews.
Iglesias initially served on active duty as a U.S. Navy JAG officer between 1985 and 1988 at the Pentagon and Naval Legal Service Office, Washington, D.C. He was a defense counsel in a 1986 Guantanamo Bay, Cuba, court-martial that partially inspired the movie, "A Few Good Men." Then LT Iglesias also defended legendary Navy SEAL, Dick Marcinko, author of the "Rogue Warrior" books and former commanding officer of the Navy's best known SEAL team, in military legal proceedings. He also represented Albuquerque police officers in civil rights cases between 1991 and 1994 where he successfully defended eleven trials before state and federal juries.
Iglesias was selected as a White House Fellow for the 1994-1995 year. Iglesias was one of 17 Fellows chosen from more than 1,250 applicants. He was a special assistant to the U.S. Secretary of Transportation. In 1998, he was the Republican nominee for New Mexico Attorney General. He also served as a prosecutor with the NM Attorney General's Office, General Counsel for the NM Taxation and Revenue Department, senior associate for the Walz law firm, executive advisor for Southwest Border issues for Booz Allen Hamilton and led a national security consulting team, The Soufan Group, in Singapore. Iglesias was named as an honoree in Esquire Magazine's 2009 "Best and Brightest" issue and was recognized by the New Mexico Trial Lawyers for "Honorable and Professional" conduct in 2009.
Iglesias served on active duty in late 1999 at Fifth Fleet, Bahrain, in support of Operation Southern Watch and in the Persian Gulf. He was selected as "Reserve Officer of the Year, U.S. Special Operations Command, 2001." His personal military awards include the Defense Meritorious Service Medal (two awards), the Meritorious Service Medal (three awards), the Joint Service Commendation Medal, the Navy Commendation Medal (two awards) and the Navy Achievement Medal. He retired from the U.S. Navy in 2014 as a Captain.
As U.S. Attorney, Iglesias was a member of the Attorney General's Advisory Committee and chaired the Attorney General's Border and Immigration Subcommittee. In 2008, Iglesias testified before Congress on voter fraud issues and in 2004 about Justice Department enforcement actions regarding mobilized Guard and Reserve members experiencing employment issues. Since 1998, Iglesias has taught foreign military, intelligence, Ministry of Defense and law enforcement personnel in South America, Eastern Europe, Africa and Asia about border security, law enforcement, counter-terrorism and rule of law issues with the Defense Institute of International Legal Studies, the Joint Special Operations University and the Justice Department. Professor Iglesias has taught U.S. National Security, Leadership, Criminal Procedure, and Civil Rights/Police Action. (10 Feb 2017)