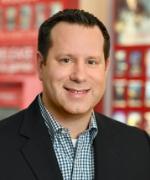 We are thankful for Galen Smith's contribution to our fall 2019 newsletter, class presentations, one-on–one student meetings, training session with Shark Tank students and presentations to our Faith & Market students in the fall of 2019 and the spring of 2021.
Galen became CEO of Redbox in 2016, previously serving as CFO of parent company Outerwall since April 2013, and SVP of finance at Redbox Automated Retail from 2011-2013. There he was responsible for financial operations and business negotiations including studio deals with Sony Pictures, Universal Studios, and Warner Bros. Prior to that he was an investment banker at Morgan Stanley in the Consumer and Retail Investment Banking Group. He also has served as Director of Development at Wheaton College and served as an adjunct faculty member from 2004-2007 in Wheaton's business/economics department.
Galen earned his B.A. in political science from Wheaton in 1998 and an M.B.A. from the University of Chicago in 2004. He and wife Hollie have two daughters, Abi and Ava. He serves on the board of Career Builder and the Seattle Pacific Foundation Board.