Lecture
Wednesday, February 17, 4:00-5:00pm
Meyer Science Center, Lecture Hall 145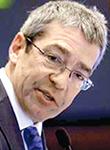 The Honorable Roey Gilad arrived in Chicago in the summer of 2012 to assume his post as Consul General of Israel to the Midwest. From his base in Chicago, Consul General Gilad is responsible for 11 states. He is the highest ranking Israeli official in the Midwest.
During his 26 year tenure with Israel's Ministry of Foreign Affairs, Mr. Gilad has served in various positions outside of Israel including: Second Secretary in Kenya, Media Counsellor in The Hashemite Kingdom of Jordan and head of the Political Affairs Department in the UK.
Mr. Gilad received a Master's Degree in National Security at Haifa University, as well as a Master's Degree in Middle Eastern studies from Hebrew University in Jerusalem and a Bachelor's Degree in Middle Eastern studies from Tel Aviv University. Mr. Gilad is also a graduate of the Israeli National Defense College.
This lecture is free and open to the public.
For further details contact fpe@wheaton.edu or call 630.752.5975