One of America's most prominent teachers of economics explains the connection between the fall of Adam and the rise of Adam Smith.
Monday, September 29, 2014
7:00-8:00pm
Coray Alumni Gymnasium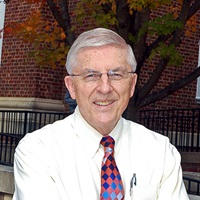 Kenneth G. Elzinga is the Robert C. Taylor Professor of Economics at the University of Virginia. He was the first recipient of the Cavaliers' Distinguished Teaching Professorship at the University, a recipient of the Alumni Association's Distinguished Professor Award, the Commonwealth of Virginia's Outstanding Faculty Award, as well as awards in education from the Kenan and Templeton foundations. A former Fellow in Law and Economics at the University of Chicago and a Thomas Jefferson Visiting Scholar at Cambridge University, Mr. Elzinga also serves on the national Board of trustees of InterVarsity Christian Fellowship and the Board of Trustees at Hope College.