An Effective Solution to the Poverty of Nations Based On Scripture and Economics
An address by Wayne Grudem
Thursday, January 23
7:00-8:30pm
Coray Alumni Gymnasium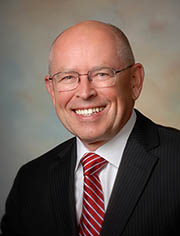 The Wheaton Center for Faith, Politics and Economics hosted a lecture by evangelical theologian and author Wayne Grudem.
The lecture, titled "An Effective Solution to the Poverty of Nations Based on Scripture and Economics," took place at 7 p.m. Thursday, January 23.
Dr. Grudem is a research professor of theology and biblical studies at Phoenix Seminary in Arizona. He served as general editor for the ESV Study Bible and has authored more than twenty books, including Systematic Theology and Business for the Glory of God. His most recent book The Poverty of Nations: A Sustainable Solution is the topic of this lecture.