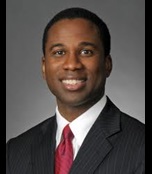 Shundrawn A. Thomas, a native of Chicago, Illinois, is a gifted executive, teacher, author, husband, and father. As a trusted advisor and motivational speaker, Shundrawn tirelessly uses his time and talent to empower and encourage individuals in the areas of faith, family and finance.
Professionally, Shundrawn serves as Executive Vice President and Global Head of Northern Trust's Exchange Traded Funds Group. In this capacity, he is chiefly responsible for developing long-term strategy, executing operating plans and developing talented professionals. Shundrawn is widely respected by professional colleagues for his dedication to excellence and his principled business approach. In 2009, Shundrawn was recognized by Diversity MBA Magazine as one of the nation's top 50 diverse executives under the age of 50. In 2011, Black Enterprise Magazine recognized Shundrawn as one of the 75 most powerful blacks on Wall Street.
Previously, Shundrawn served as President and Chief Executive of Northern Trust Securities, Inc. a wholly owned subsidiary of Northern Trust Corporation. He has also served as Head of Corporate Strategy for Northern Trust Corporation. As a direct report to the Chief Executive Officer, he supported the executive management group with key strategic planning initiatives. Prior to joining Northern Trust, Shundrawn served as a vice president for Goldman Sachs where he advised some of the world's largest institutional investors. Shundrawn was also previously employed with Morgan Stanley holding positions in sales, trading and research. Shundrawn served as a Trustee of Wheaton College from 2009-2020.
Shundrawn is also an entrepreneur, previously serving as a founder and managing partner of Adelphos Holdings LLC, a business with retail and publishing interests. He and his wife are the proprietors of Tree of Life Resources LLP, which develops faith-based multi-media content. His passion for communicating and creativity led him to write and publish several faith-based books.
Shundrawn serves his local community as an Elder of Look Up and Live Full Gospel Ministries located on Chicago's Southside. His business and civic engagement have afforded opportunities to speak and lecture nationally on subjects including faith, marriage, leadership, ethics, strategy, and personal finance. Shundrawn holds a Bachelor of Science in accounting from Florida A&M University and a Masters of Business Administration from the University of Chicago's Booth School of Business. Shundrawn is happily married and he and his wife Latania have two sons, Javon and Micah. Shundrawn enjoys reading, writing and running.