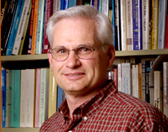 Bruce Howard – Carl R. Hendrickson Professor of Business
In conjunction with his teaching career, Dr. Howard maintains an active professional association with Tyndale House Publishers serving on their Board of Directors. Dr. Howard also serves on the Advisory Board of Performance Trust. He has work experience in health care administration and banking. Dr. Howard has traveled to Kazakhstan to teach and present papers at Kazak-American Free University and University of Kazakhstan.
Related Publications:
"Who's Running Corporate America?", Journal of Business & Economics Research, Volume 8, Number 3, March 2010, pp. 103-116.
"Getting A Grip On Your Finances", Networking, The Episcopal Network for Stewardship, Sept 2005, Vol. 10 No. 5.
"Say Goodbye to Greed: 3 Great Ways to Do More For Others and More For Yourself", Catholic Digest, February 2005, pp. 102-109.
"I Want to Invest, but Where Do I Start?", Christianity Today, Christianitytoday.com/money/articles/iwanttoinvest.html, November 4, 2004.
"Getting A Grip On Your Finances", Christianity Today, christianitytoday.com/money/articles/gettingagrip.html, September 29, 2004.
Howard, Bruce D. "Borrowing Trouble? The Impact of Debt on Church Life", Leadership, Vol. XXIII No. 4, Fall 2002.
Charting the Course: Values for Navigating Life in the Marketplace, Intervarsity PressAuthentic/Paternoster Publishers, 2008.