On January 17, Stephen Smith of Gordon College shared with us from his new book, Economic Growth: Unleashing the Potential of Human Flourishing.
This work, co-authored with Bruce Webb and Edd Noell, looks at moral and policy arguments related to human flourishing and economic growth, including a discussion on the morality of wealth.
Co-sponsored by AEI.
View event video >>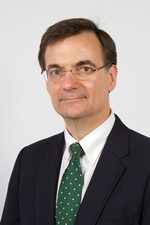 Stephen L. S. Smith is Professor of Economics at Gordon College. A former Visiting Scholar at the U.S. International Trade Commission, he earned his Ph.D. in economics at Stanford University. His teaching and research focus on international economics and economic development. Dr. Smith is co-editor of Faith & Economics, published by the Association of Christian Economists.